Data Hub
11.10.21
Read Time

: 4 Minutes
Data analysis has become an integral part of day-to-day life at football clubs around the world, fuelling the success of teams at all levels of the game. It has also become an accepted part of football culture, as commonly discussed in the media as Tactics and Transfers.
Some might argue we've played a small role in making data analysis a bigger part of the footballing landscape but, beginning with FM21, we wanted to go even further and revolutionise the depth of data and analysis available within Football Manager. We wanted to give you the power to harness the same detailed metrics and reporting methods that top teams use to find a winning edge over their rivals.
Last season, we introduced a raft of new features around performance analysis including the addition of xG and deeper pre- and post-match analysis. In FM22, we're introducing a dedicated Data Hub alongside some brand new metrics and more interaction with your team of analysts. These improvements not only allow you to view reports and key metrics but also let you tailor analysis to your needs and shape the direction of your analysts' work. The Data Hub is powered by your on-pitch performances and your team of analysts now have more tools at their disposal than ever before…
The New Home of all your Data
You'll immediately notice that the Data Hub takes its place as a new addition on the sidebar in FM22, cementing it as one of the core areas of the game. Our main goals when creating the Data Hub were to make it clearer and easier to see how your decision-making affects your chances of success on matchday, to diagnose problem areas and to judge which players are making the most effective contributions.
You'll need to play a few league matches before the Data Hub is active, but you'll be informed once it's ready and there's a brand new tutorial from your backroom staff to help you find everything easily.
This is the Overview screen where you can see a selection of key metrics – ideal for managers who just want a quick snapshot of how their team is stacking up against the rest of the league. One of the most useful sections on this screen is the Key Findings panel that picks out the most consistent trends from your recent matches.
The type of information that might be listed includes analysis of your team's shots on goal, xG tables and opposition insights that can illustrate the ways your opponents are responding to your tactical setup. You can click into any of the individual key findings to pull up a data visualisation that shows exactly what your analysts have noticed.
Even if you don't want to fully immerse yourself in the world of data analysis, it's worth checking into the Overview screen as you make your way through the season as you may notice a pattern of Key Findings that keep cropping up which could be rectified before they begin costing you on the pitch.
Elsewhere on the Overview screen you'll see polygon graphs relating to your team's overall performance and how they stack up against the rest of the league in key attacking and defensive categories. Just like Key Findings, you can click into any of the visualisations to see them in more detail. Your reports and data visuals all live on the right-hand side of the screen, available whenever you need them at the click of a button.
Get More out of your Analysts
If you're the type of manager that constantly seeks marginal gains, then the Ask For function is made for you. The Ask For system provides a wealth of potential statistical and visual information that allows you to fully customise your own suite of data analysis to deliver the information most relevant to your team's success.
Using the Ask For system, you can explore even more detailed reports from your analysts on a wide variety of data in just the same way that real-life managers study analysis to inform their pre-match planning, test their assumptions and strategise for success.
When you click the Ask For button a menu pops up giving you the power to search by key word for specific analysis including updated and re-designed data visualisations. You'll also see suggested data visualisations such as shot maps and xG tables that you can click into immediately. Each of these visualisations can be expanded for more information and pinned to your Data Hub allowing you to create your very own unique analytical dashboard to power your decision making.
For example, if you wanted to see how your strikers were performing in aerial battles compared to the rest of the league you could simply search for 'Aerial' using the Ask For system to see all potential aerial data. You could then select the 'Aerial – Forwards' visualisation to see each of your forward players' aerial data and compare how they stack up against their peers.
Team, Player and Performance Analysis
Let's move on to look at another section of the Data Hub - the Team analysis page. Clicking on the Team tab within the Data Hub brings up a customisable dashboard relating your overall team performance. Here you have the ability to view visualisations relevant to your team or your upcoming fixture and comparisons to the rest of the teams in your league across multiple categories. You can also organise and remove previously pinned visualisations via the "Edit" button.
Using the same functionality as the Overview screen you can select each visualisation on the dashboard for a deeper dive into the data. In addition the dropdown Team tab menu lets you view Shot Accuracy and Analyst Reports for previous games.
The Players tab also includes similar functionality to the Team page but focusing on data that shows how your individual players stack up against their peers in the league. Just like with the Team data, you can fully customise the dashboard to bring in the categories you care most about and take out the ones that you don't.
Additionally, you can view data for each area of the pitch which is especially helpful to diagnose potential problem areas by position. For instance, you might see that your defenders are strong in the air but your full-backs' crossing leaves a lot to be desired which will require a re-think of that 4-3-3 system with overlapping Wing-Backs you had lovingly created.
We've also brought several of the new elements we've highlighted such as Key Findings and team performance graphs to existing screens such as the next opposition report – which can be found on the Next Opponent tab - along with the last match analysis report which can be found on the Matches tab.
New Visualisations
While using the Data Hub, you'll notice that there are some new and reworked visualisations of data in FM22. These have been designed to mirror the way that real analysts present complex data sets and help to bring to life more elements of the huge amount of data stored in Football Manager.
We'll take a look at the Match Momentum graph first. This brand-new graph gives you a clear perception of the flow of a match so you can see where the momentum shifted over the course of 90 minutes. It measures both teams' dominance of possession and the danger they posed as a result and is a great visual guide to show where certain in-match decisions were particularly effective.
For example, you may have just lost a game and did not have had much momentum in the first half, but the momentum graph shows that you dominated periods of the second half, meaning that you might want to incorporate the tactical tweaks and line-up changes you made in the second half into the start of your next match.
Over the course of the season, you might notice regular patterns on the momentum graph that you may want to address on the training ground or as part of your pre-match preparation – for instance if your side is consistently on the back foot in the last 15 minutes then you could choose to work on improving stamina amongst your squad.
Another new visualisation for FM22 is the Zone Map. As the name suggests, zone maps split areas of the pitch up into six zones – three in your own half and three in the opposition's territory. Zone maps can be used to visualise a whole range of different data categories such as: where your team is gaining possession, where your players are attempting to play their passes and where your team are performing the majority of their defensive actions.
On the left-hand side of many of the visuals, your analysts will also provide you with a summary of the data presented including whether you were performing above or below average in that category.
Finally, we've reworked pass maps for FM22, introducing colour coding and clearer directional arrows to ensure that it's easier and quicker to see your passing network and which are the most frequent passing combinations.

A New Era
The introduction of the Data Hub marks a new era in the way you can work with data in Football Manager. The Data Hub not only allows you to access more information, faster but you're more in control than ever before of what insight you receive from your analysts. You're able to delve deeper than ever before and discover more detailed, data-driven reasons as to why your team are performing the way they are. Put simply, in a sport often decided by marginal gains, it's now easier for you to see exactly what you need to do to extract the maximum performance from your squad.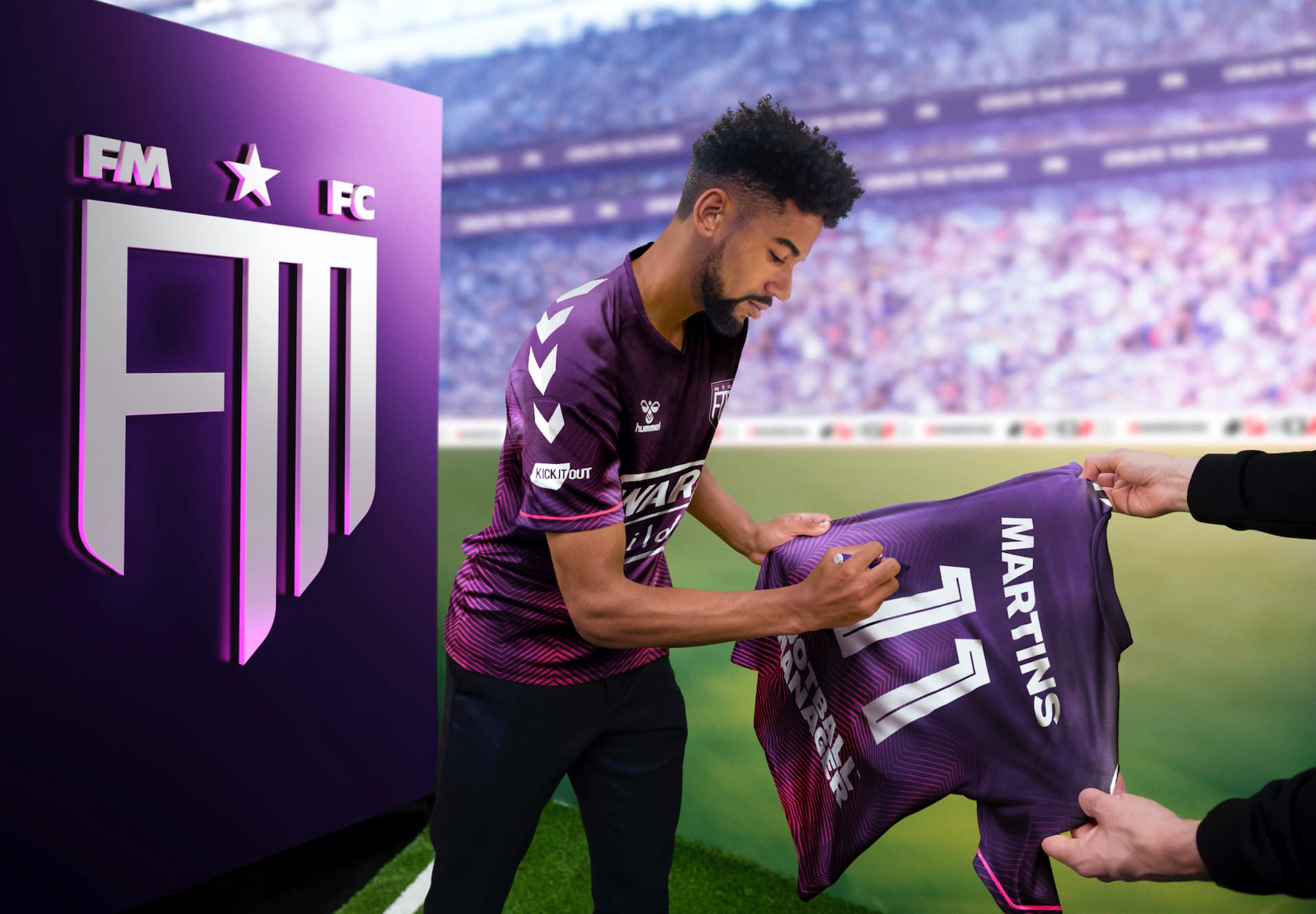 JOIN THE SQUAD
GET REWARDED
Sign up for FMFC to get feature drops and game info before anybody else, content more relevant to your game preferences plus member-only rewards and incentives.