FM22 Mobile Features Unveiled
28.10.21
Read Time

: 4 Minutes
Football Manager 2022 Mobile releases on November 9th on iOS and Android, packed to the brim with new features and improvements that elevate the most immersive football management title on mobile to new levels. If you want to get ahead of the game you can pre-order on the App Store or pre-register on Google Play.
You can look forward to expanding your horizons with a brand-new league and the ability to load more nations at once than ever before. There are also upgrades to the transfer and scouting systems in the game and more media activity throughout your club's season.
Let's dive in and take an in-depth look at the features in this year's game.
MAKE YOUR MARK ACROSS THE GLOBE
FM22 Mobile now includes the ability to load up to five leagues at once, giving you the power to take your tactical blueprint to more corners of the globe than before.
We've also added the South African league as a playable competition in the game, opening the door to the African continental competitions for the first time. Now you can take on the ultimate globetrotting journey and try to capture titles across five different continents.
SCOUTING OVERHAUL
There are more ways to nail your recruitment in FM22 Mobile thanks to an enhanced scouting system that brings across more elements from other titles in the FM series.
One of the biggest additions in this area are Scouting Assignments. Anyone who has played the desktop version of FM will be familiar with these but they allow you to send your scouts out to look for specific types of players in specific areas of the world. They're a powerful tool that can help you quickly identify the players who can immediately improve the quality of your squad.
We've created an easy-to-use Scouting Assignment creator, similar to the Tactic creator, to make it a breeze to set up an assignment. You can not only select how long you want the assignment to last but specify a number of different factors you want your scouts to take into account, including: location, position and role, ability, age and contract status. You can also select which of your scouts you want to take on the assignment.
In addition to Scouting Assignments, we've also reworked next opposition reports to include more information such as what Tactical Style your opponents are likely to use against you and stat comparisons between the two of you. There are more ways to filter the scout result and player search screens as well we've included mini scout reports in news items.
TRANSFER EXPERIENCE REVAMP
In FM22 Mobile, we've made major under the hood changes to the transfer system that affect everything from negotiations to the way that AI clubs look to build their squads.
AI clubs will now be more intelligent in the market, looking to not only sign the players that can make an instant impact in their team but also looking to bring in stars of the future who can set them up for success in seasons to come. This means that there'll be more competition for you to deal with when it comes to signing wonderkids and you may find that your best players are on the radar of more of your rivals.
We've refined the way negotiations work too so that the AI respond more intelligently to your demands, leading to more realistic transfer deals going through. You also have a couple of new ways to get the upper hand over your rivals in negotiations. Firstly, there's the ability to lock part of your transfer offer so it can't be changed, and you can now respond to each offer individually when there are offers from multiple clubs interested in one of your players.
MEDICAL CENTRE
Making its debut in FM22 Mobile is the Medical Centre. Another element of the game that will be familiar to desktop players, the Medical Centre is where you can get all the insight into the condition and fitness of your squad.
You can use the Medical Centre to plan ahead to avoid potential injury crises. The Overview screen gives you a general idea of the health of your squad, any current injuries to any of your players and a list of players that are at potential risk of injury. The Injuries screen allows you to view more information on current injuries within your squad, including the expected return date for the player(s) and the severity of the injury.
The Assessment screen is particularly helpful to help you plan for future fixtures as you can see an assessment of each player's current injury risk and tiredness levels. There may be some players that are at an increased risk of injury so it could be worth resting them for the next game unless it's a crucial fixture. Alternatively, you may see that some players are lacking match sharpness and need more first-team minutes to get to peak condition, meaning you might want to include them in your matchday squad. By regularly checking into the Assessment screen you can better inform your team selection ahead of each match.
MEDIA AND NARRATIVES
The media circus is as active as it's ever been in FM22 Mobile. The press are now a regular companion on your journey through the season, commenting on your team's performance in the form of Narratives.

Narratives have existed in Challenges for a few years but will now trigger throughout normal gameplay. Whether you're going to be challenging for the title or battling against relegation, there'll be more media interest in you and your squad from the very start of the season and you'll have to navigate your way through the media circus to keep your squad motivated.
There are more media items in the game now too such as a module for when a player is unable to settle at a club.
NEW FACES
Newgen faces will appear for the first time in FM22 Mobile, allowing you to finally put a face to the name of your superstar striker or world-class defender.
We've also redesigned the home screen to give you more easily accessible, pertinent information about your squad such as key highlights from the Medical Centre and more information on your upcoming fixture.
Finally, we've redesigned the game setup flow to make it easier to create the ideal setup for your FM22 Mobile save.

FM22 Mobile adds even greater levels of realism and immersion to the series in the most complete offering in FM Mobile history. Whether you want to dominate across the world of football or want to get stuck into the world of scouting, there's something to enjoy for every type of manager.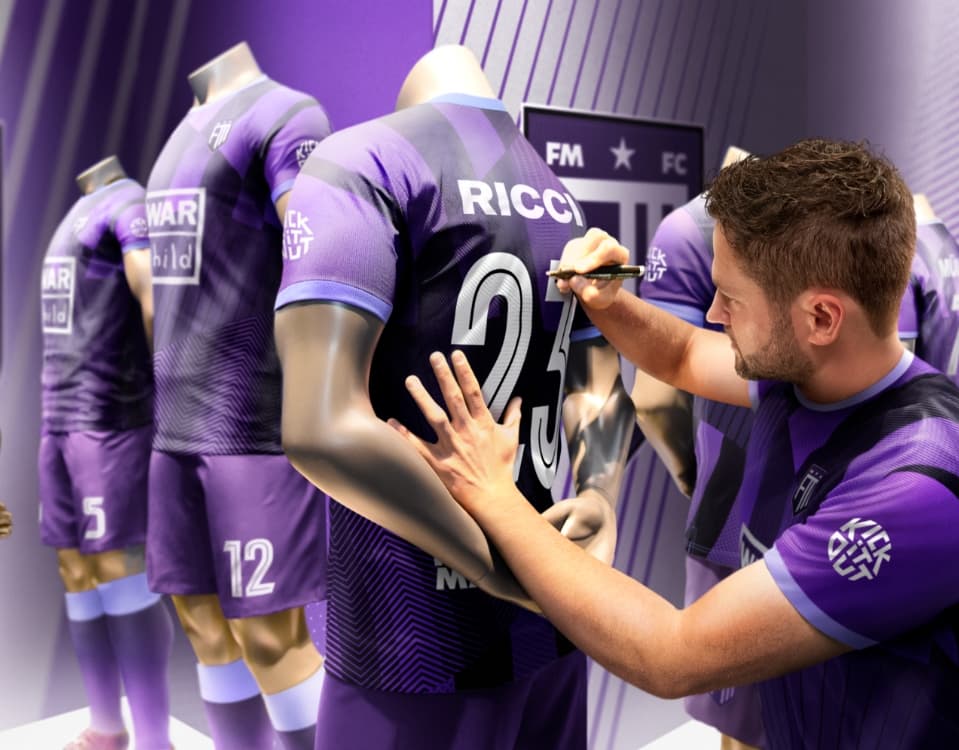 JOIN THE SQUAD
GET REWARDED
Sign up for FMFC to get exclusive feature drops and game updates, personalised content, plus member-only rewards and incentives.
Join the
squad