Match Experience
11.10.21
Read Time

: 4 Minutes
Every year the match team here at the studio seek to get even closer to creating a perfect simulation of real football. Most years there are one or two areas of the match AI, animations or overall visuals that they place an emphasis on enhancing or updating for the upcoming release. This year, however, the team have been able to implement a suite of new additions that take our match simulation to new levels of authenticity.
At the centre of all of these improvements is our new animation engine which is debuting in FM22. We'll go on to talk about the technical details about the new engine and the different elements that have been enhanced because of it over the course of this blog but you'll notice a vast difference when playing FM22 to the overall feel and flow of play in matches.
The new animation engine has enabled us to introduce new elements to the match engine that simply weren't possible with the previous engine. Some of these are subtle additions that replicate the flow of play of real football, and some are larger more in-your-face changes that are felt across every match.
Let's take a look at what makes the new animation engine so special.

New Animation Engine
The goal with implementing our new animation engine for FM22 was to give our animators more control to create more believable actions on the ball. In FM21, we significantly improved our off the ball animations with a new locomotion system but it led to somewhat of a disconnect in quality between on the ball and off the ball animations.
We'll get into how we've overhauled on the ball animations shortly but let's dive into some technical details about what makes this year's new animation engine such a significant development for the series.
One of our main points of focus for FM22's animation engine was to build a new system built around the new addition of root motion. This means the movement of our 3D models is now based off of the animation of their skeleton which enables us to give a much broader range of movements to the 3D models in-game.
The previous animation engine tied players to the 2D discs that formed the basis of our switch from the 2D to 3D view. With FM22's new animation engine, players can move off those discs to give themselves more flexibility of movement and motion and it allows them to make more realistic touches on the ball too – more on that shortly.
The impact of the new engine can be felt from the moment you play your first match in FM22. You'll immediately notice that players move much more naturally and realistically than before. For example, a player moving to receive a pass in previous years would make very few movements before controlling the pass and would often 'slide' before they reached the ball. Adding root motion means that is a thing of the past in FM22.
In addition to building a new engine, we've also worked tirelessly on improving the context and logic on which animations are selected.
Dribbling
We've already touched on the fact that on the ball animations have been vastly improved for FM22 and the main factor in that has been a new dribbling system that we're introducing this year. You'll notice in FM22 that players now take much more varied and definitive touches on the ball and, thanks to the new animation engine, have a much broader range of options available to them when they are dribbling.
Something that we see a lot of in real football is players is players pivoting on the ball and passing it backwards to a team-mate if the space for them to move into is closed down. In previous years, it wasn't possible for players for to do this in FM because of the fact that they were tied to the 2D disc. As a result, they would often have to make decisions with a low probability of success such as crossing the ball into the box with just a single team-mate to aim at.
In FM22 we've been able to replicate the pivots on the ball that you see week in, week out in the real world. Additionally, we've worked hard to improve the AI decision-making when dribbling so that players are now much more aware that they can play the ball backwards to a team-mate to retain possession, potentially creating a higher quality chance at the end of the attacking move. Players can also receive the ball on the half turn more often as well, giving them more potential to open up space in front of them.
We've added in a whole new range of dribbling animations as well as players are more aware of the ball at their feet than ever before. You'll see much more variety now when players turn on the ball and look to cut inside – some of these are subtle additions but there are some major new movements that have been added such as Cruyff turns.
Pressing
Dribbling and on the ball improvements are just one aspect of how we've improved the overall flow of play over the 90 minutes of match action. The main defensive development this year has been an overhaul to the pressing system in the game.
For FM22, we've added pressing triggers as part of a complete overhaul of the existing pressing system. This means that players on the defending team have much greater awareness of when they should and shouldn't press. Everything is much more closely linked to your defensive team instructions – such as line of engagement and defensive width – and those team instructions now dictate the angle that players will go and press the ball. This also leads to defenders working better as a unit when pressing.
Each player now has the concept of their sprint capacity so know when they have the energy to press and when they need to conserve energy and drop back into their tactical position. Each player's sprint capacity is based on their Stamina attribute so it's more crucial than ever to implement training sessions around fitness and conditioning if you're going to play a Gegenpress style. It's also worth noting that if you have a squad that is lacking stamina then playing a Gegenpress system over the course of 90 minutes isn't the best idea in FM22.
We've also refined defensive shape and structure as part of our pressing overhaul. For instance, strikers will more often defend and press behind the ball and there is much more vertical compactness between the lines. There's also a new opposition instruction built around pressing triggers that you can use to target players in the opposition backline who are weak on the ball.
Further AI Enhancements
Outside of the pressing revamp, the match AI in FM22 has taken another step forward with a suite of upgrades that make them the most intelligent in the series' history.
One of the most significant areas we've worked on this year is accuracy and inaccuracy, making sure that the number of errors on shots, passes and headers is more realistic compared to real-life data. As part of this, we've rebalanced the way that the length and difficulty of a pass affects the accuracy so, for example, long-range through balls will have less chance of finding their target. The way under hit and overhit passes look in the match is also significantly improved. Errors have also been applied to first touches for the first time, so it'll be more obvious when players have overhit or mistimed their first touch. This all leads to a more realistic representation of how possession and momentum shifts over the course of a match.
The changes we've made to accuracy and inaccuracy go hand-in-hand with the overhaul to the pressing system in FM22. If your players are pressing too hard and lacking condition during a match as a result then you'll see your team making more inaccurate passes, taking heavier first touches and making more errors. It's worth bearing that in mind when you're setting up your tactical system and making your second half substitutions as forcing your team to cover plenty of ground in the first half can have consequences as the clock ticks down to the final whistle.
In addition to the changes to accuracy and inaccuracy and the decision-making improvements we've made as part of the dribbling overhaul, we've put a significant amount of work into our decision-making when players are on the ball. For instance, players will now show more patience on the ball and play fewer direct passes, allowing them to show more variety in key situations such as low crosses from out wide or cutting the ball back from the byline. You'll notice far more passes being played in general as we felt that getting the ball from the back to the front was a little too fast paced and one area we've focused on in particular is getting central defenders to play more passes as they look to patiently create an opening.
To ensure the new Wide Centre-Back role (we're getting to that in a moment, we promise) works as it does in the real-world we've revised the way that the overlapping and underlapping team instructions work in the match engine, not just for players on the ball but also how players off the ball react and operate around players overlapping or underlapping. You'll more frequently see players waiting for their team-mate to overlap/underlap, holding the ball up to let the overlap/underlap happen or looking for a second option if the overlap/underlap is shut down. Team-mates will also look to cover for any defensive gaps caused by the overlap/underlap.
Wide Centre-Backs
We loved seeing the reaction from so many of you to this feature when we included it in our teaser trailer last month. It's something that we've wanted to get into the game for a couple of years, but we needed to take the time to make sure it was being implemented properly which meant adding in the changes to the pressing system and overlap instructions that we've already talked about.
You'll be able to use Wide Centre-Backs as part of any defence with three central defenders and will include the ability to set attack, support and defend duties to the role to reflect the wide range of ways the role is deployed in real-life. Setting a Wide Centre-Back to Attack duty will result in them looking to overlap and underlap more frequently and create two vs one situations in the middle of the park. A Support duty will result in your Wide Centre-Backs looking to occasionally break forward and overlap or underlap to create a more advantageous attacking situation for your team. A Wide Centre-Back set to Defend will still support the wide areas, but instead of overlapping or underlapping they will look to provide security and recycling passing options to team-mates. They'll often position themselves at the base of your attacking triangles in wide areas.
In addition to setting the role up to work realistically across various duties, we've also spent a lot of time ensuring that the rest of the team will adapt its shape to prevent themselves from being overexposed to counter-attacks when you're using the Wide Centre-Back role. We've implemented a large number of positional rotations for different situations – such as when your central or defensive midfielder can't drop and cover for the overlapping Wide Centre-Back – to ensure that players will respond logically to the Wide Centre-Back role, regardless of the system you're playing.
We can't wait to see how you'll innovate your tactics in FM22 with the Wide Centre-Back role.
Additional Improvements
When viewing match stats during a game, you can now view first half and second half stats as well as the overall totals from the match. We've also added in more contextual information such as the attendance and weather conditions to the match stats page on the touchline tablet. xG is not only viewable on the match stats screen but it's now included in match reports as well so you've got a clear idea of what the final outcome should have been.
For those of you who prefer to play with the 2D match view, we've added a new feature to auto adjust the zoom level based on the dimensions of the pitch. This is especially useful when playing in smaller stadiums where the default zoom level may not be optimal.
Finally, whether you play in the 2D or 3D view, you'll benefit from more variation in the commentary around the most common match events.
A New Chapter
The match improvements that we've laid out over the course of this blog represent the beginning of a new chapter for the Football Manager match engine. Our new animation engine creates new possibilities that we've just scratched the service of in FM22 and lays the foundation for what we hope to achieve in future versions of the game.
The improvements to pressing, accuracy and dribbling in FM22 have created the most authentic on-pitch action in the series history while the addition of Wide Centre-Backs gives you new ways to showcase your tactical ingenuity.
Quite simply, the FM22 match engine is the best that FM has ever seen.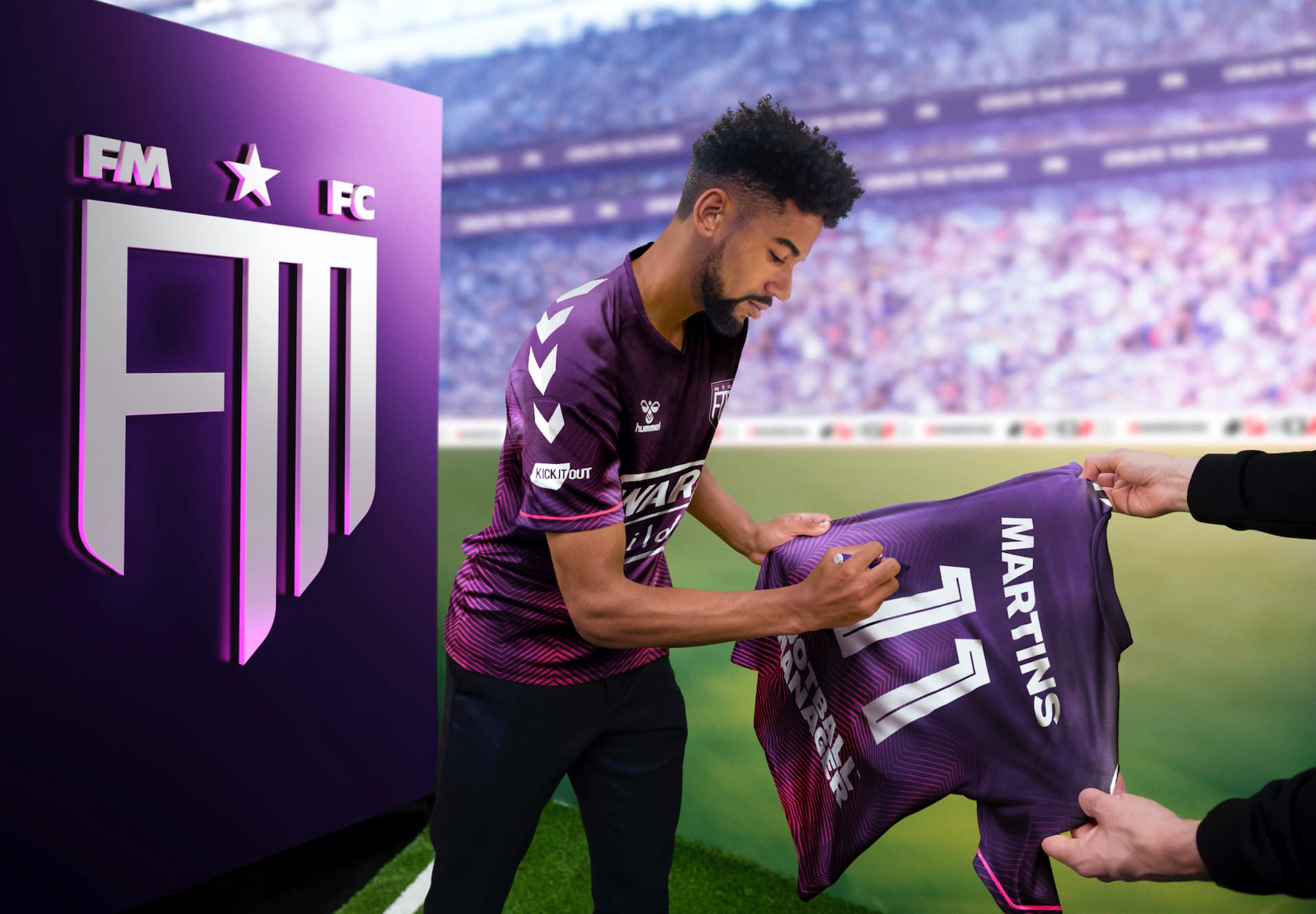 JOIN THE SQUAD
GET REWARDED
Sign up for FMFC to get feature drops and game info before anybody else, content more relevant to your game preferences plus member-only rewards and incentives.