Staff Meetings
11.10.21
Read Time

: 4 Minutes
Important, regular communication between managers and their backroom teams is vital to the smooth running of any football club.
Previous iterations of Football Manager have included frequent backroom advice delivered in the form of inbox items but in FM22 that's profoundly changed. Don't mistake this upgrade for a simple lick of paint – our drastic staff interaction overhaul is anchored by the all-new weekly Staff Meeting.
Numerous discussions with real-life football professionals working across a variety of levels and departments have given us a real insight into many details of intra-staff communication at football clubs: how frequently meetings happen, who they typically involve and the sort of things addressed to ensure that everyone is working in unison for the ultimate benefit of the playing squad.
As you'd expect, every club does things slightly differently, but the general consensus is that there's typically one big meeting every week, featuring everyone from the manager themselves to scouts, analysts and the Head of Youth Development. This real-life insight provides the inspiration for FM22's brand-new Staff Meetings.
Bringing weekly reports on Coaching, Recruitment, Player Development and Staffing together all in one place means you'll spend less time wading through inbox items and more time making the decisions that matter. There'll be fewer interruption from day-to-day admin leaving you more time to focus on the tasks most important to you. The Staff Meetings are a crucial element for making your club run as efficiently as possible, deal with everything in one place and turn your team into the title-winning machine you want them to be.
Let's get into the specifics of how the new Staff Meetings work…

What do the meetings look like?
Before we get into the core sections of the meeting, we thought it'd be worthwhile walking you through their functionality and the options that you, as manager, have at your disposal to make the most of them.
Suggestions presented to you in staff meetings can be dealt with in a variety of ways: you can accept them straightaway, agree to action them after the meeting, ask your staff to remind you in a week, move to the next item or skip that section in its entirety. Likewise, for every suggestion you receive, you'll have the option on the left-hand side to get a second (or third, maybe even fourth) opinion from another staff member. Don't like your Assistant Manager's pick for Vice-Captain? Ask one of your first-team coaches to see if there's a better option in your squad.
Once the meeting is completed, you'll receive a summary of the topics discussed and, if required, a follow-up inbox item, listing those actions you said you'd pick up afterwards. If, for whatever reason, you haven't got time for the meeting any given week, you can simply request a high-level summary direct to your inbox. Likewise, you've always got the option to adjust the frequency of the meetings, making them weekly, fortnightly or monthly.
Coaching
The first section in each Staff Meeting is Coaching and ultimately this is the one that'll probably prove most beneficial to you, week in, week out, during the season.

When first stepping into the managerial hotseat at your club, your backroom team will address things like suitable captains and vice-captains, your best set-piece takers and areas you should get your players to work on in training ahead of the upcoming season. For all the training activities your staff recommend, including player trait alterations and improving the weaker foot skill of your players, they'll offer contextual reasons as to why it's worth pursuing for that individual.
As the season progresses, they'll also flag anyone struggling for fitness and suggest adjustments they think need to be made to training. With all this information more clearly at your disposal, you'll be better placed to rotate during busy periods of the season and keep a happy, healthy squad on track for success.
Recruitment
Recruitment is one of the best parts of any Football Manager save and incorporating regular updates from your scouting team in the Staff Meetings greatly enhances your prospects of dominating the transfer market.
Your Recruitment Team will let you know which of your players are likely to push for a new contract in the near future, the transfer policy the club ought to be pursuing and anyone you should be looking to stick on the transfer or loan list. When you're approaching a transfer window, they'll also flag any players heading towards the last six months of their contract, meaning you won't run the risk of losing a star player on a pre-contract ever again.
Combining all this information in one, regular interaction should help you avoid the sort of squad unhappiness that can derail a campaign. With the whole team satisfied with their current deals and long-term prospects, everyone will be working in perfect harmony and you'll have more time to focus on pre-match preparations.
Development
The third section of the Staff Meeting covers Player Development.
Directly linked to your squad's Dynamics, in this area you'll be kept abreast of player personality changes, movement in the squad Hierarchy and any training unhappiness that might have arisen recently. Additionally, if you're not complying with a pre-agreed Playing Time Pathway, your staff will let you know about it. Rectifying any issues early will prevent disruption within the squad and keep your players focused on the goals ahead – big victories and climbing the table.
It won't be every week, but you'll also receive clear explanations of your current support levels within the squad – if things aren't going well, hopefully this will enable you to act before it's too late. No one likes being sacked.
Your Head of Youth Development plays a key role at this point, reporting on the highest potential youngsters in your squad. It's up to you whether you're bold enough to embed them straight into the first team or feel they'd be better off spending some time maturing out on loan.
Staffing
Last but by no means least, the final section of your weekly Staff Meeting is dedicated to Staffing itself.
Any gaps that need to be plugged in either your Coaching team or Scouting and Transfer departments will be addressed, while your existing staff will highlight areas and positions you can improve upon. This includes your Medical team, perhaps the most essential for keeping your best players fit for the season's key moments. No one wants to lose their star striker or dominating centre-back ahead of a Cup Final – by receiving more direct prompts to improve the quality of your Physio and Sports Scientist team, hopefully serious injuries will be a thing of the past.

A New Fixture in Your Calendar
Remember, if you aren't a fan of big meetings don't worry! Your staff can always send you some information to the Inbox instead. But not all of it. Some things are best discussed in person…
FM22's brand-new Staff Meeting will get you and your backroom team working in perfect harmony. It'll cut down the number of inbox items you receive, make your management more organised and help propel your squad and staff to new heights. It's one calendar appointment you won't want to miss.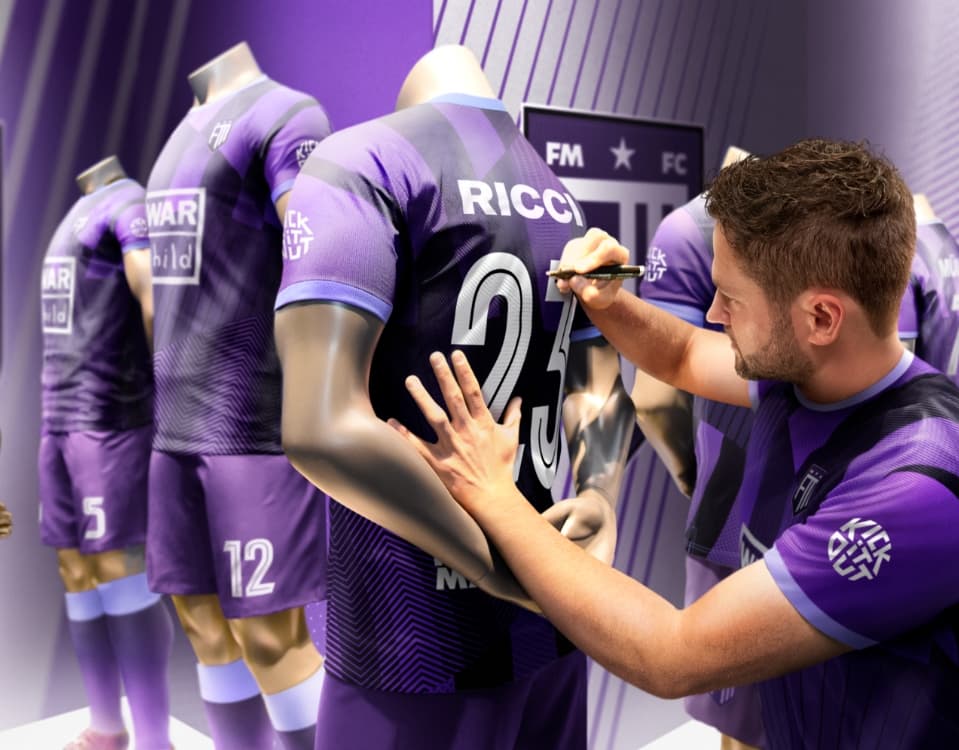 JOIN THE SQUAD
GET REWARDED
Sign up for FMFC to get exclusive feature drops and game updates, personalised content, plus member-only rewards and incentives.
Join the
squad