Football Manager 2023 Console - New Features revealed
Back in September we revealed that in addition to launching on Xbox and Xbox Game Pass from November 8th, we would be making our PS5 debut with the newly renamed FM23 Console.
Like you, we're counting down the days until you'll be able to take your seat in the digital dugout. Before then, we're here to give you a taste of what's to come in FM23 Console by delving into the new features, game upgrades and licensing updates that'll make this year one to remember.
New features for a new campaign
This year, we've placed a real emphasis on reflecting the insights we've gleaned from close relationships within the real world of football. Our Recruitment changes have been powered by an understanding of how clubs execute their planning, scouting and transfers over multiple seasons and our Tactical Instructions have been freshly aligned with terminology from modern football analysis. We've also introduced hundreds more features that advance our everlasting pursuit of creating complete football authenticity.
In FM23 Console, matchdays now have a more 'hands-on' feel to them. To make the core avenues through which a manager can influence a match more obvious, we've introduced new radial menus and worked on creating a refined user interface. We've also remodelled the Touchline Tablet, evolving something that appeared sporadically between highlights to the go-to place for match stats, player stats, latest scores and tactical advice. Those additions, combined with controller functionality and focus improvements, combine to provide a more active match experience, pulling you into the heart of the on-pitch action.
Within the Tactics menu, players will notice that the changes to the Out of Possession Tactical Instructions introduced to FM23 are incorporated into FM23 Console also. So, you'll see that the Offside Trap has gone, and we've changed the language around lines of engagement and defensive width to make it more obvious whether you're stopping crosses or inviting them, or using a High Press, Mid Block or Low Block.
Tied to this is the integration of Team Talks into a console edition for the first time. Available at half-time and full-time, these interactions with your players will allow you to make your voice heard with a range of reactions and become a difference-maker in every situation.
Squad building is a central element of Football Manager and we've introduced Recruitment Focuses to FM23 Console. A more accessible evolution of the Assignments previously available, these Focuses give you the tools to recruit the way you want to – you can set specific conditions for a role you want to fill or just identify a league/nation you're interested in and see what your Scouts find.
Sharing Football Manager stories is a key part of what makes our community so special, so for this year we've introduced the Dynamic Manager Timeline as a new way of displaying, tracking and sharing the milestones and achievements you record. Based on an Events system that tracks all the highs and lows of your career, the timeline will offer a snapshot of your most notable moments, from title wins to giving academy players their debuts, in chronological order. As the name of the feature suggests, this timeline is dynamic, so it will evolve with you as you continue along the path to footballing glory.
FM23 Console also includes a raft of accessibility changes. There are new and improved Colour-Blind options available for those with Protanopia, Deuteranopia and Tritanopia. During matches, the game will automatically pause at pivotal moments, allowing users to process the game at their speed. In a similar fashion, our new onboarding process ensures that whether you're an experienced player or a series newcomer, you'll get the right level of detail and responsibilities in every career.
Create the future
This season it's all about going bigger than ever. Don't just build a team, create a dynasty. It's time to tear it up.
With more than 2,000 clubs across 53 nations available for you to choose from, where will you create the future?
PRE-PURCHASE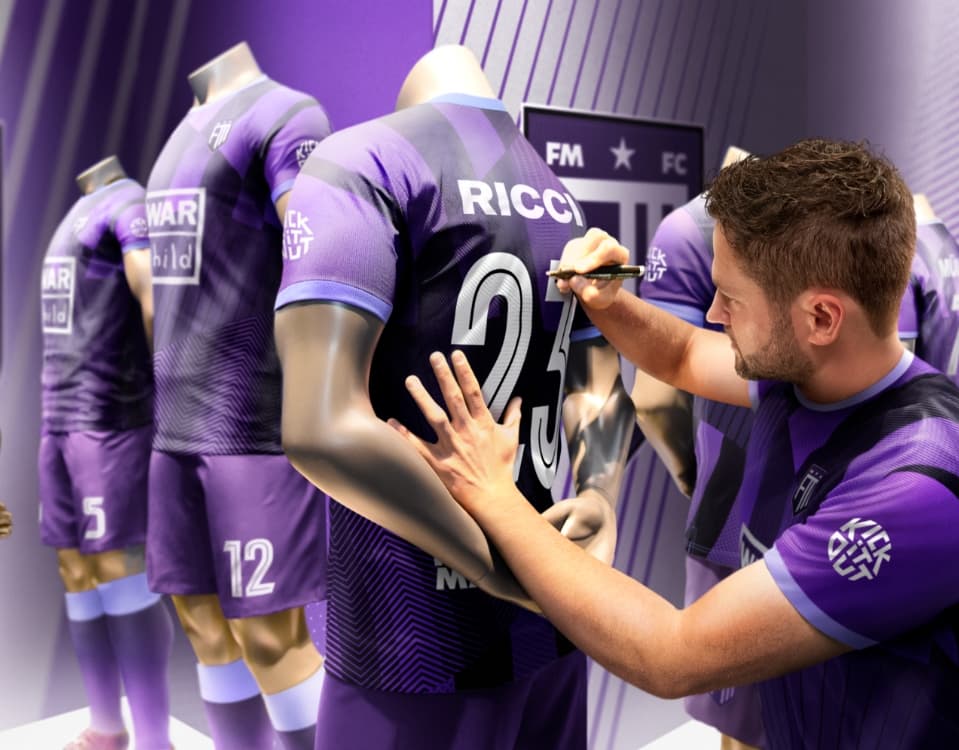 JOIN THE SQUAD
GET REWARDED
Sign up for FMFC to get exclusive feature drops and game updates, personalised content, plus member-only rewards and incentives.
Join the
squad