Using your staff for recruitment in FM22
Extra Time: Guides
01.02.22
The way you assign responsibilities to your staff can change the way you play Football Manager. Giving over more control to your Director of Football not only adds more realism to your game but also helps you get the best from your squad. Dan Gear explains how it's done.
European football has long favoured a model that sees a head coach look after the playing squad and a Director of Football or Technical Director oversee the recruitment team and organise transfers in and out of the club. You get an insight into this in Football Manager through Recruitment Meetings and in real-life several British clubs are beginning to adopt this approach, including Queens Park Rangers in the Sky Bet Championship who've got former England striker Les Ferdinand as their Director of Football.
Director of Football
In this example, the Director of Football will be in control of the buying and selling of players, although not in full control as you'll see later on. They're also responsible for the offering of contracts to players being signed and negotiating renewals with current players.
The main Attributes highlighted in FM22 as key for the Director of Football are Judging Player Ability, Judging Player Potential and Negotiating. While not essential, Favoured Formation is something worth factoring in as well because it certainly helps to shape your squad moving forward. Indeed, this person is going to be responsible for signing players for your squad, so it makes sense that they would share the same tactical vision as you.
Chief Scout
The Chief Scout is in charge of the wider scouting team and helping to find the next generation of players for the squad.
A successful Chief Scout in FM22 will be someone with strong Judging Player Ability, Judging Player Potential and Adaptability Attributes. Much like the Director of Football, it's useful to have this staff member favouring the same formation as you because then they're more likely to focus on those positions. People's mileage on the personality of a staff member will vary but a positive one is always favourable. Another factor to consider is the areas of expertise of your scouts – you want a group of scouts who have a wide knowledge base from around the world as this should bring you more detailed and diverse results.
Setting up recruitment staff
To adjust the responsibilities of your backroom team, head to the Staff menu and open the Responsibilities dropdown. As you'll see from the below, the Chief Scout is in charge of setting the scouting assignments.
The Director of Football meanwhile, is in charge of contact negotiations for new signings in both the first team and reserve/youth squads.
Using the Director of Football in the recruitment process
Step 1 - Identify area for improvement
The first step in any Football Manager recruitment process is analyse your squad and squad depth, identifying any gaps that exist. Looking at the QPR squad, one area that could be strengthened and improved is right-back.
Step 2 – Setting a short-term assignment
Now a weak area has been identified, you might be thinking of checking your Scout Reports to see what's already been found in this area. If there aren't enough yet, it's easy to just turn to the Player Search function.
What's often more beneficial, however, is to request a short-term assignment. From here, the position, role, age and many more factors can be specified for the Chief Scout. They'll then go out and find more suitable players for the position you want to improve.
Step 3 – Reviewing the Scouted list and Adding Transfer Targets
After identifying the position and getting the short-term assignment off the ground, wait for some initial recommendations to come in. After a little while, head over to the Scouted tab in the Scouting Centre. Here, you can begin the process of working out which of the options your scouts have found will work best.
When looking at the list of players scouted by your recruitment team, you can filter by position and some of the Attributes that are necessary for the role. From here, you'll be able to identify anywhere from three to five good targets.
The last step here is to add the players you like the look of as Transfer Targets. Doing this tells you Director of Football that you want them to try and sign these players. A good tip here is to create shortlists, usually of three players, that you'd like for a certain position and then prioritise them in the order that you want your Director of Football to sign them.
Another piece of advice to get the most from your Director of Football in this area is the Urgent/Hold dropdown available with any shortlist or assignment. By setting just one focus area to Urgent when you're ready for the Director of Football to begin negotiations, you can ensure they've got complete focus on getting your priority players over the line.
One thing you'll need to make sure you do is setting the right playing time for your transfer targets. This is a crucial element as it shows the Director of Football your intentions for the player, meaning they won't offer a contract promising too much or push the offer up if they don't realise you see that 19-year-old as a first-team player.
Step 4 - Wait
With all of those instructions in place, it's time for you to sit back and let the Director of Football do their work. They'll make the offers for the players you've brought to their attention, using the terms you've laid out.
Step 5 - Transfer confirmation
As you can see from the above, QPR's Director of Football Les Ferdinand sealed a deal for the top target in the shortlist for a new right-back. Had he been unsuccessful in his attempts to sign Kane Vincent-Young, he'd have moved on to the next target in the list.
Contract renewals
You can have as much or as little input in the contract renewal process in FM22 as you like. Much will depend on the Negotiating Attribute score possessed by your Director of Football – the better it is, the more likely they are to get a good value deal over the line. If it's not very good, however, you'll either struggle to agree terms with your best players or end up giving in to most of their demands, both of which could leave you in a difficult position for the coming campaigns.
In this example, we've kept control of the process until a certain point. When we're happy for a player to have a new contract, we'll ask the Director of Football to handle the renewal itself. If they're not going to cut it, we'll set them to be released at the end of the season.
Why play this way?
You might have read this and thought 'That's all well and good but why would you play FM22 this way'?
Well, the simple answer is that that this way makes a difference. Even if you want to still be in control of transfers, just getting the Chief Scout to be in control of setting assignments could help you find unknown players and potential wonderkids. It also gives you variety, meaning you probably won't end up signing the same players each save. This can be particularly useful when trying to set yourself a real challenge.
Likewise, getting the Director of Football to deal with contracts will free up your time to focus on developing your tactics and youth players. Giving them more control over staff recruitment and staff contract renewals also frees up more time for you, allowing you to enjoy a more streamlined gaming experience.
I've personally enjoyed making the transition myself in-game, taking less control of contracts and transfer dealings and instead playing the game as a Head Coach and just one member of a transfer committee. I hope this post helps you with trying it too.
Happy managing,
Dan Gear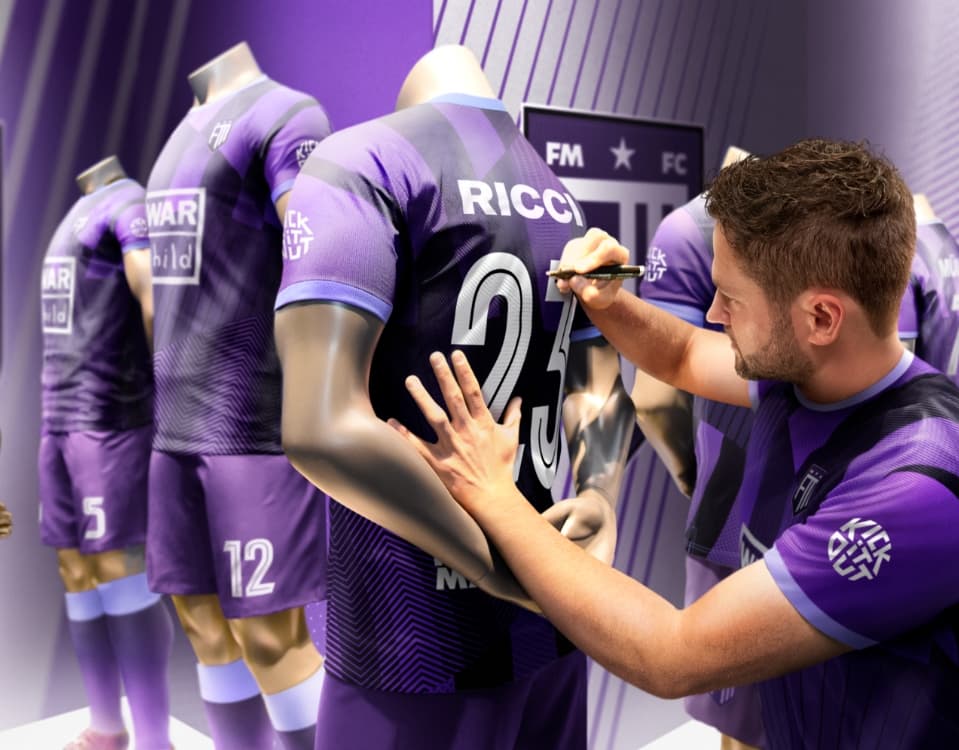 JOIN THE SQUAD
GET REWARDED
Sign up for FMFC to get exclusive feature drops and game updates, personalised content, plus member-only rewards and incentives.
Join the
squad