How we've changed FM22 to address the war in Ukraine
Making Football Manager is an ongoing quest to create a virtual world which is simultaneously authentic to the real world and also an entertaining escape for our players. This is always a complex challenge, but sometimes it's made significantly more difficult by real world events.
This occasionally leads us to a point where we have to make difficult decisions – Brexit and Covid being two recent examples of this – and in these situations we try our best to explain our thinking.
Our final winter update is normally something of a 'tidying up' exercise, where we reflect the transfer activity from those leagues and associations whose transfer windows close later than the majority and fix any minor gameplay issues which may still linger. This year, however, things are very different.
Russia's invasion of Ukraine on February 24th, and the chain of events it set in place, have resulted in dramatic changes within the world of football. With this blog, I want to explain how we've reflected those changes and the effects that those changes will have on your games – whether you decide to carry on with an existing save or begin a new career.
Where teams, leagues and federations have acted in real life, we have made changes to reflect that reality (including some players and staff leaving their clubs) but with one major exception, in that the Ukrainian league is still fully playable in-game, whereas it's been suspended in real life.
So… outside of that, what has changed?
If you choose to continue with a previously created save, where your career may be many seasons into the future, you won't notice too much difference, other than the fact that Russian and Belarussian clubs will only arrange friendlies within their own nations and play their continental competition matches at neutral venues, as will their national teams.
If, however, you decide to begin a new career, you'll notice that a lot more has changed. For a start, Russian clubs will no longer be eligible to compete in European competitions, nor will any of the Russian national teams take part in international tournaments, qualifiers or friendly matches.
In another change to new saves, Ukrainian players will be treated as EU nationals for three (in-game) seasons. This reflects the real-life situation where Ukrainians fleeing the conflict can work freely in the EU for up to three years without the need for a visa or work permit.
Also in new saves, where real-life sanctions have been imposed against a club owner, those sanctions are also reflected (to the best of our ability) in game. In a situation where that's happened to a club already up for sale, a deal is usually agreed within the first played season (which results in the removal of the sanctions). One other visible change in new careers is that any changes to real-world sponsorships due to the situation are reflected in game.
In order for us to make these visible alterations, we have also had to implement dozens of other 'under the hood' changes. For example, we've had to recalibrate the likelihood of players transferring to and from clubs in affected leagues; we've had to adjust the scope of press conference questions to reflect the new reality; and Russian clubs will no longer set 'reaching a continental competition' as a club vision. These are just a few examples of many, many changes which we've had to put in place.
As is always the case when dealing with these issues, we know that some of our players won't be happy with our choices – and the truth is that we wish we didn't have to make them. As an organisation that has supported War Child for decades, it's pretty clear that we do not condone war. We haven't set these rules ourselves, but we do feel it's important to reflect real world changes as much as possible in our work, otherwise we are no longer a simulation of that real world.
I'd like to thank the team that has been working on these changes for their super hard work through what has been a fast-moving and unsettling situation. I hope with all my heart that world leaders see sense and find a way to stop the war and the killing
of our fellow humans.
The update should be available across all of the different formats in the coming days, and the first roll out on Epic Store, Steam and Microsoft Stores (PC and the Xbox platforms the game is available for) is out now.
Stay safe,
Miles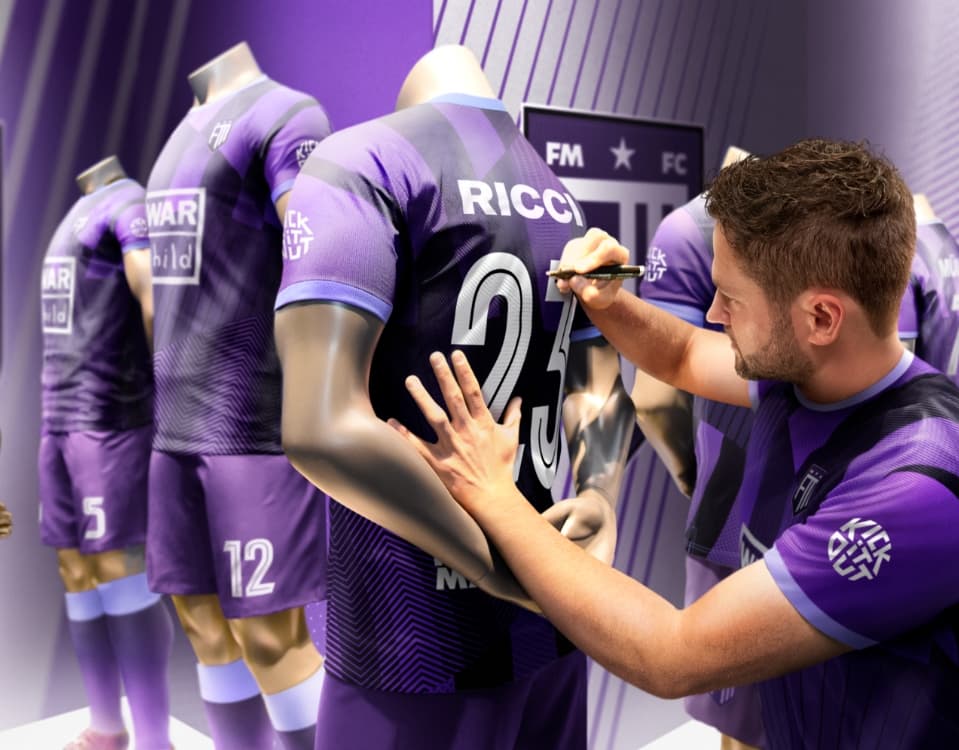 JOIN THE SQUAD
GET REWARDED
Sign up for FMFC to get exclusive feature drops and game updates, personalised content, plus member-only rewards and incentives.
Join the
squad