What makes a perfect False Nine in FM23?
Tactics: Player Roles
30.03.23
This article could, in all honesty, have just consisted of an image of Lionel Messi. However, that wouldn't be all that helpful for encouraging all of you to use one of my favourite roles in Football Manager, the False Nine, more often.
In this blog, Ihor Crusadertsar outlines the key characteristics of an ideal False Nine before highlighting some FM23 formations geared towards maximising the False Nine's unique skillset.
Defining The Role
The False Nine is a rather unconventional role and is even described as such in FM23.
Based on that definition, it is important to address a few misconceptions about what your typical False Nine can and cannot do.
When played as a lone forward, the False Nine will not break any goal-scoring records. Scoring goals just isn't their primary function, even though they are a striker. Likewise, while it might seem it's a striking role more akin to that of an Advanced Playmaker, racking up assists isn't the primary job of a False Nine either. Messi is really an extraordinary exception to the rule. Instead, they are a crucial part of the build-up play, a facilitator for more attacking teammates.
So, what makes them a 'false' nine? The idea is that they occupy the starting point of a traditional number nine, advanced and high up the pitch, but during possession drop deeper, effectively becoming an extra midfielder. By working to get on the ball centrally, they help to a) create midfield overloads and b) draw the opposition centre-backs out of position. In doing so, an effective False Nine will create openings for their more attack-minded teammates.
Often, a False Nine will be one of the stars of your team. They'll possess a certain skillset that makes them impossible to ignore and compels opposition defenders to try and mark them out of the game.
Identifying the Key Strengths
Part of the unconventional nature of the role is that it only really differs from a traditional centre forward when the team is in possession. Out of possession, False Nine plays just like any regular forward. But when in possession, the False Nine's incredible mobility comes into its own.
Typically, they receive the ball close to the opposition defence and control it expertly, even under immense pressure. As such, good First Touch, Composure and Balance are essential. With the ball under control, the False Nine will then immediately look to take the ball forward. Good Dribbling is therefore a prerequisite, as is Agility – their role is less about raw speed but rather about quick changes of direction that allow them to find pockets of space and open passing possibilities.
Key to the False Nine role is their off the ball movement, which sees them drift away from the opposition central defenders in order to receive the ball between the lines. Such deep movement is meant to give the opposition defenders a difficult dilemma - get out of position and follow the striker into midfield or let him be free and maintain their position. It's no real surprise, therefore, that the best False Nines create real havoc when they get their timing and movement right.
An elite False Nine will require top-notch visual-spatial awareness and the ability to analyse the field for opportunities both regularly and quickly. In Football Manager terms, this translates into a combination of Anticipation, Decisions and Vision - a trifecta of Mental Attributes that define a player's footballing intelligence. A player might have great Technical and Physical skills but without the right mentals they won't know how to best use their strengths to their advantage or possess the exquisite sense of timing that separates the merely good from the elite. Likewise, an elite False Nine should have the intelligence to anticipate the best passing angles available and predict the position from which he can avoid opposition pressure.
Other than the aforementioned ball skills like Dribbling, First Touch and Balance, your False Nine will need exceptional Passing and Technique to pull off those exquisite through balls for their teammates. Finishing, like for any striker role, is very important for your False Nine, especially because the player will often face intense defensive pressure from multiple sides. Unlike a Poacher, a False Nine will often find themselves shooting from distance, given their propensity to come deep to link up play. From this deeper position, they will also have to be capable of arriving late in the penalty area to get on the end of quick one-two pass combinations they've initiated.
Also worth looking for in a good False Nine are strong Teamwork and Work Rate Attributes. They not only encourage the player to follow the tactical plan closely but will also ensure that they work as hard as possible across the whole of the pitch. This is especially important since you want your False Nine to be an effective presence in both attack and midfield.
It might be a rather difficult combination of Attributes to find in a single footballer but nevertheless there are a few great examples of False Nines early in the game if you scout hard enough. Some might need a few seasons of development to unlock their full potential but there are others, like Brighton & Hove Albion's Alexis Mac Allister and RB Leipzig's Ilaix Moriba, who have the requisite skills from the off.
Tactical Considerations
There are two popular approaches to slotting a False Nine into a tactic in FM23.
The first is as a lone striker and this is by far the more popular use of a False Nine. According to the role's in-game description, this is as close to its literal interpretation as it gets – with the False Nine leading the line as a creative, deep-moving central striker.
Although the False Nine role was popularised just over a decade ago as part of a 4-3-3, I'll be the first to say that the 4-3-3 is not my favourite shape when it comes to getting the best out of a False Nine. Yes, it is a good formation for getting good performances out of your False Nine but it won't make them shine. Unless they're a generational talent, a False Nine in a 4-3-3 is too easily replaceable by other supporting lone striker roles, who can play just as well or even better in this formation.
If you were inclined to use the False Nine as a lone forward, I'd advise you to ensure that in the wide positions you have two pacey, technical wingers. If you also introduce a Mezzala or Central Midfielder on Attack in midfield, that should ensure that your False Nine will consistently be able to drop deep and link play while the others bomb forward into the space liberated by his movement.
So, the alternative approach to using a False Nine, and my personal preference, is as part of a striker partnership in either an aggressive 4-4-2 or a 4-2-4.
The creativity of the False Nine works well in partnership with a Poacher. As the False Nine drops into midfield, they drag a Central Defender or two with them, opening up space for the Poacher, who is typically someone that retains a high, central position. The two complement each other perfectly because just as the False Nine is a specialist at creating space for his teammates, the Poacher is a role that loves to exploit those gaps in the opposition defence. If you wanted to stick with a 4-3-3, you could replicate a similar effect by designating one of your wide players as a Raumdeuter.
To maximise this Poacher-False Nine combination, you should favour the Raumdeuter and Inside Forward roles in the wide areas. These roles like to drive into the space behind opposition defences, so they'll be able to reap the profits of your False Nine's hard work in stretching the play.
Looking at midfield, you need to ensure that you've got at least one attacking runner coming from deep. The False Nine coming deeper will allow you to employ someone more confident in bombing forward and meeting the play at the edge of the box. Again, Mezzalas and Central Midfielders on Attack duty are perfect here.
This guide to the False Nine outlines the key characteristics of the role and a couple of tactical approaches that you can use to try out one of the most versatile and creative roles in FM23.
Happy managing,
Ihor Crusadertsar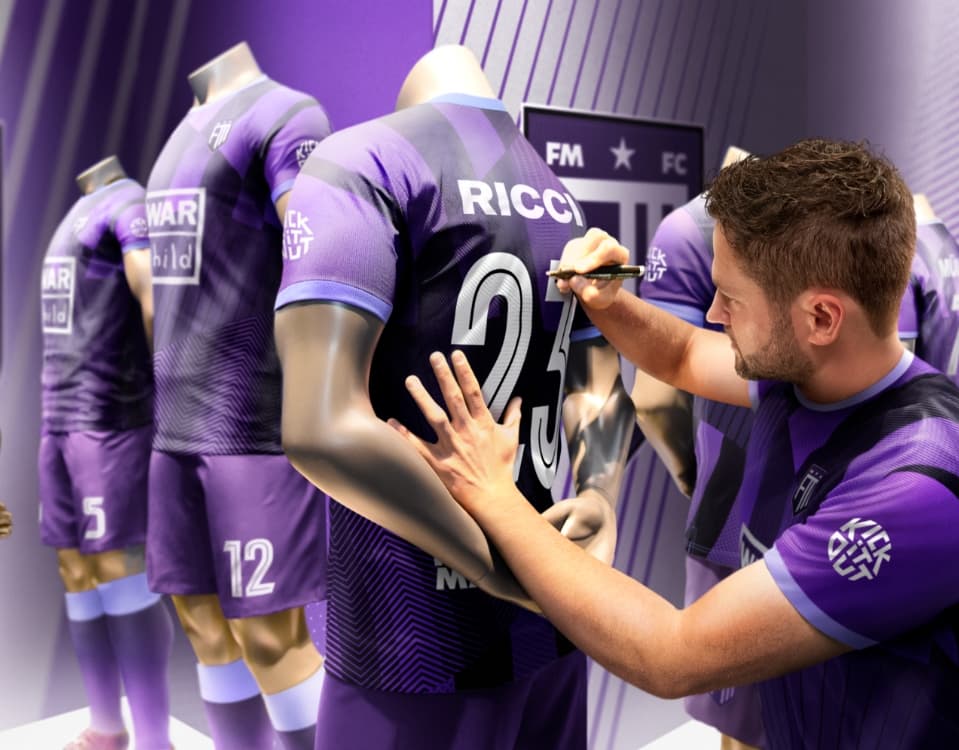 JOIN THE SQUAD
GET REWARDED
Sign up for FMFC to get exclusive feature drops and game updates, personalised content, plus member-only rewards and incentives.
Join the
squad