The best Bundesliga prospects by club: Part I
The Bundesliga has earned a reputation in recent years as a hotbed of emerging next-gen talent. This season has already seen a number of eye-catching performances from the current crop of young superstars that have begun making waves across Europe. Our friends at Scouted Football have used their expert insight to profile a selection of the best Bundesliga wonderkids who could make the difference to your team's fortunes in Football Manager 2019.
CHRISTIAN PULISIC
At just 20 years old, Christian Pulisic is now into his fourth Bundesliga season at Borussia Dortmund. In each of those seasons, his electrifying skillset has demonised defenders throughout Germany and captured the attention of viewers the world over.

The American's biggest strength is his speed, as reflected by his Football Manager attributes. His pace is best utilised when attacking, not least when challenging a defender with the ball at his feet. In such situations, Pulisic can be a menace. His close control when carrying the ball is very good, while his tendency to take little touches while running keeps defenders guessing and enables him to quickly change the point of attack. With good vision across the final third and a creative mind, Pulisic also creates chances for teammates. His technical ability enables him to execute cute passes and piercing through balls in and around the penalty area.

The directness of Christian Pulisic, the speed of thought of Jadon Sancho, the attacking movements of Marco Reus and sharp shooting of Paco Alcácer has combined to create one of the most potent attacking units in European football, let alone the Bundesliga, so far this season.

It can be argued that Pulisic is already the greatest US player of all time – superseding former Bayern München player, Landon Donovan – yet his career is only just beginning. In Football Manager you can take him to the next level.

DAYOT UPAMECANO
Dayot Upamecano is a perfect example of just why the Red Bull system is an exceptional sporting project. Joining from Valenciennes as a highly-regarded French youth international in 2015, he spent a fast-paced 18 months at Liefering and Salzburg in the second and first divisions of Austrian football respectively, before Ralf Rangnick fast-tracked him to Leipzig as an 18-year-old in the January of 2017.

The 20-year-old is among the best defensive prospects in European football. Many will already be familiar with his principal strengths: an ever-improving ability to read situations, an impressive tendency to win the majority of his aerial battles, notable athleticism and decent technical dexterity. On his day – when each of the aforementioned traits come together – he can make defending look easy.

When at his best, Upamecano dominates in defensive situations by gobbling up lateral and vertical space with his rangy strides, anticipating decisions and pouncing in front of attackers to cut out passes, or imposing his significant frame on – and engaging in physical duels with – smaller, weaker opponents. The French under-21 international tries to shut down attacks before they develop into something dangerous; an all or nothing approach strewn with risk, as he and Leipzig can testify, but when executed correctly, it is extremely effective.


Dayot Upamecano is one of a number of young French defenders establishing themselves in the Bundesliga, a long list which includes team-mates, Ibrahima Konaté and Nordi Mukiele. All three are responsible for key roles in the Bundesliga's best defence to date, and they also form a trio which epitomises the Leipzig philosophy, one which is fun to replicate in FM19.
Michaël Cuisance
Michaël Cuisance is on the verge of making it into a vibrant Borussia Mönchengladbach side, one which currently sits second in the Bundesliga table. Dieter Hecking is understandably reluctant to disrupt a well-balanced midfield that features Tobias Strobl, Jonas Hofmann and 21-year-old, Florian Neuhaus. That said, it is only a matter of time before Hecking must do so if Gladbach want to maximise the potential that Michaël Cuisance possesses.

The blonde-haired, Strasbourg-born 19-year-old has many of the requisite traits to become a legitimately exceptional ball-progressing midfielder. He exhibited his potential in the Bundesliga last season – the first senior season of his professional career – as he played a solid tally of 1,197 minutes in all.


What sets Cuisance apart is an amazing left-foot. He typically moves into deeper areas to receive the ball from defensive team-mates, and it's from these areas of the pitch that he can execute a plethora of passes, utilising his technique and vision. A pass that pierces through lines to find attacking midfielders, a raking diagonal out to an isolated wide player, a through ball into the path of a forward advancing behind the opposition defence – you name it, Cuisance can play it. As well as a tremendous passing ability, he's also adept at evading pressure – an invaluable skill which counteracts the relentless pressing of Bundesliga teams – with good close control and a nice burst of pace which enables him to drive away from players.
Maximilian Eggestein
Maximilian Eggestein's rise through the SV Werder Bremen ranks has been a steady process. Each season has brought a gradual improvement, working his way from the under-19 side into the B team by 2015, before making his breakthrough into the senior side as a 19-year-old in the 2016-2017 Bundesliga season.

This season, Eggestein has already surpassed his best seasonal goal tally as a professional player and is really establishing himself as one of the more important components in a functional Werder Bremen side aiming to break into Europe.


The soon-to-be 22-year-old is a box-to-box player relatively typical of the type that German academies have become adept at producing: a well-rounded technical and tactical midfielder who's team-oriented, hard-working and provides plenty of energy. He moves up and down the pitch trying to provide passing options for team-mates, break up play, or support attacking moves with runs from deeper positions. He does everything to a high standard and with a relentless commitment.

For seasoned Football Managers, the Eggestein name rings a bell – and with good reason. Maximilian is the older brother of Johannes, he of significant Football Manager fame. Johannes is also in and around Florian Kohfeldt's first-team, raising the enticing opportunity for you to establish an Eggestein era at Bremen.
Jordan Torunarigha
Berlin is an city falling back in love with its grandest football club, Hertha BSC. One reason as to why the relationship between both entities has rekindled is because of the plethora of young, talented players that the club relies upon to implement an engaging tactical approach.

In attack, Hertha have Javairô Dilrosun and Ondrej Duda, two players plucked from the relative obscurity of Manchester City's youth set-up and Poland's Ekstraklasa respectively. In midfield, Arne Maier is a promising number six, and, at just 19 years old, he is the player who acts as the driving force from deep, knitting defence and attack together. At the back, a core of young defenders combine to belie their age and collective lack of experience.


Another member of Hertha's young core players is Jordan Torunarigha. Like Maier and Maximilian Mittelstädt, the 21-year-old is a product of Hertha's fruitful youth academy having been at the club since the age of nine. Since making his debut in 2016, injuries have disrupted his breakthrough into the first-team.

Standing at 6'2" tall, he's a defender who possesses impressive athletic qualities. He covers ground quickly, while he uses his physique to regularly better his opponents in physical confrontations. Said athleticism combines with decent defensive traits – like a clean technique in the tackle – to create a good defender, one who still has significant room to improve.
Christian Früchtl
FC Bayern München is the grand, old institution of German football. As 28-time domestic champions and five-time European champions, much is excepted of the Bavarian club steeped in glory and tradition. Supplementing their dominance is a strong youth academy; a system which has produced countless domestic champions, a number of World Cup winners and bona fide legends of the game.

Christian Früchtl is part of a new wave of Bayern youth. He – along with central defender, Lars Lukas Mai, and attacker, Oliver Batista Meier – spearheads a talented 2000-born group's assault on the established old guard and their status as immovable first-team objects.


Usurping Manuel Neuer will be very difficult and will take time, but Früchtl approaches the task having modelled his game on that of his legendary team-mate. The 18-year-old is extremely adept at anticipating situations, whether it be to spring out an arm to save a shot from point-blank range, or to glide off his line to sweep up loose balls. Following in Neuer's pioneering footsteps, Früchtl is very much a progressive goalkeeper – a cerebral, composed teenager who acts as a first attacker when the ball is at his feet.

Posed with strong challenges from youthful, vibrant Borussia Dortmund and RB Leipzig sides, Bayern München's unflappable control over the Bundesliga may be slipping. Continuing to integrate the likes of Früchtl, Mai and Meier will be key in reinvigorating an old squad and a complacent club.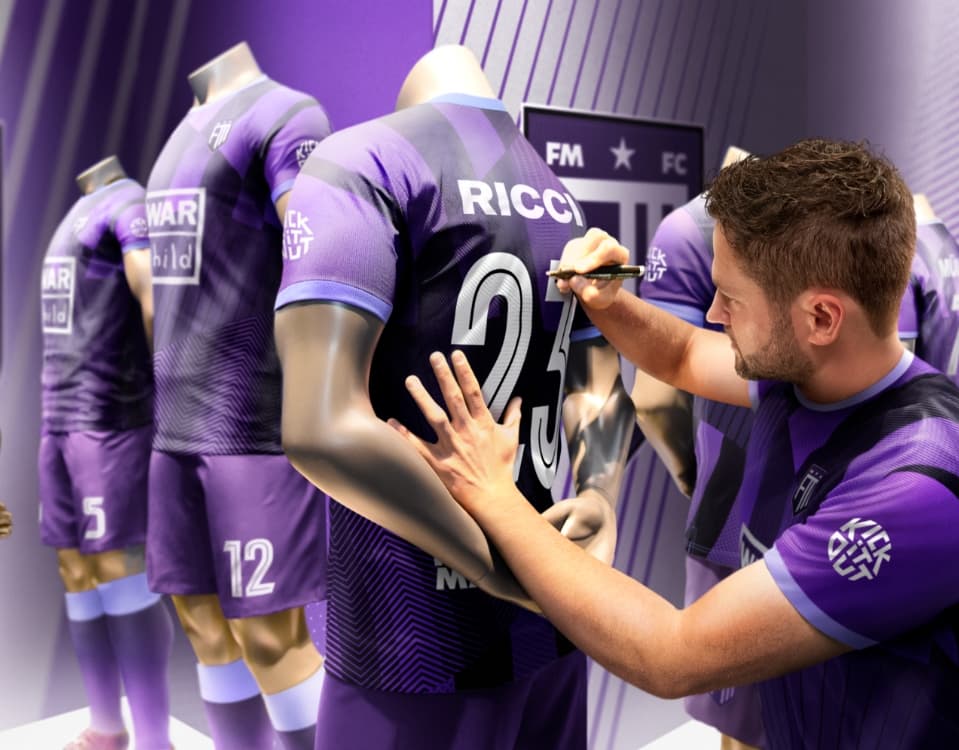 JOIN THE SQUAD
GET REWARDED
Sign up for FMFC to get exclusive feature drops and game updates, personalised content, plus member-only rewards and incentives.
Join the
squad