The best Bundesliga prospects by club: Part II
Part 2 from our friends at Scouted Football who have used their expert insight to profile a selection of the best Bundesliga wonderkids who could make the difference to your team's fortunes in Football Manager 2019.
FELIX UDUOKHAI
Felix Uduokhai is having a frustrating season. After breaking onto the Bundesliga scene as a 20-year-old a year ago, a knee injury curtailed his first season at VfL Wolfsburg, and he has yet to recover his role in the first-team, making just two appearances as a substitute this season. What doesn't help is that Uduokhai has been managed by three different coaches since joining the Lower Saxony club: Andries Jonker made way for Martin Schmidt, who was later replaced by current coach, Bruno Labbadia, at the start of 2018.


When Uduokhai was playing though, he impressed in the centre of defence with his technical quality, athleticism, confidence and composure. His profile is very much befitting of a modern centre-back. He approaches everything on the football pitch with an obvious serenity, and he's consistently capable of progressing possession from deep areas and dominating in individual duels.

What mustn't be forgotten is that this is only Uduokhai's second season in the top tier of German football, having made the leap up 1860 München in the summer of 2017. Setbacks are an important part of his development as a player and person – and he should be all the better for it.
EVAN N'DICKA

Over recent years, the Bundesliga has become a hotbed for young French central defensive talent: Abdou Diallo, Moussa Niakhaté, Benjamin Pavard, Dayot Upamecano, Dan-Axel Zagadou. You can add Evan N'Dicka to that list.

He only joined a handful of months ago – for a substantial fee at that from Ligue 2 club, AJ Auxerre – but the 19-year-old has been a tremendous find for Eintracht Frankfurt thus far. He's started every single Bundesliga game so far – finishing all but one – and it's not a surprise that a centre-back of his capabilities has become integral to the Adi Hütter system. Like Pavard, his quality on the ball stands out, particularly when he has time to pick positive passes through lines. Moreover, he reads the game well and has a handy knack of positioning himself intelligently to clear the ball away.


Like Upamecano, he is a very good athlete. Imposingly tall, his long-logged strides enable him to cover ground quickly, and they also give him a natural advantage in aerial duels. His skillset is well-reflected on Football Manager, making him Eintracht's most exciting prospect, along with Luka Jović.

Sporting directors throughout Germany have realised that France is producing excellent prospects at an extraordinary rate, and Eintracht's Bruno Hübner has joined in on the party. Expect more French players to move eastward to the Bundesliga over coming years.
FLORIAN MÜLLER

Since the start of the 2017-2018 Bundesliga season, five different goalkeepers have been included in matchday squads for 1. FSV Mainz 05. René Adler's decline has been hastened by persistent injuries; Robin Zentner has struggled; Jannik Huth and Finn Dahmen are little more than a back-up and a young stand-in respectively.

From the turmoil between the sticks, Florian Müller has rallied to take his opportunity to establish himself as the present and future of that position at Mainz 05. On his Bundesliga debut – his first ever appearance in a top-flight league – he saved a penalty to earn his team an important point as the season's end loomed.


Like his Bundesliga colleagues, namely Christian Früchtl, Constantin Frommann and Luca Plogmann, Müller is a goalkeeper who places equal emphasis on his work with the ball at his feet as he does at keeping the ball out of his goal. He's keen to sweep behind his defenders – see his Football Manager profile – and is adept at rushing out of his own penalty area to clear the ball away or to shut down an attacker. Said characteristic combines with an agile physical base, fast reflexes and a composed mentality to form a young goalkeeper reminiscent of Manuel Neuer in skillset.

Müller is becoming an important member of a remarkably young squad at Mainz. He and Ridle Baku are products of an ever-improving youth system, while Rouven Schröder is supplementing such homegrown talent with astute additions – like Aarón Martín and the Jean-Phillipes, Gbamin and Mateta – from foreign markets. There's a lot of talent there.
NADIEM AMIRI

Hoffenheim's recent rise is testament to the perfect synergy between coach, sporting director and playing squad. Julian Nagelsmann's exceptional and innovative coaching, the decent deal-making of Alexander Rosen, and the willingness of a young squad to consistently raise their level has transformed the Sinsheim club from relegation battlers to European contenders. A player who who has charted said journey in its entirety is Nadiem Amiri.


Amiri is a player who suits Julian Nagelsmann: his skillset is dynamic, he works hard, and he can perform in a number of roles. Over the past two seasons, though, Amiri has particularly stood out as an attacking eight – a role not too dissimilar to the one Pep Guardiola's employs at Manchester City. Alongside Kerem Demirbay, Amiri's ability to explode upfield – with great off-the-ball movements and technical ability, underpinned by a good turn of pace – creates angles and space for his team-mates, while his propensity to press tenaciously causes problems for the opposition – and both are pillars of the Nagelsmann philosophy.

Like Dennis Geiger, another young Hoffenheim midfielder, an injury has tarnished Amiri's season to date – he has yet to feature in a matchday squad – but there is light at the end of a particularly dark tunnel. He's back in training and will hopefully soon be back playing.
SIMON ASTA

Simon Asta epitomises the ever-changing face of the Bundesliga. Not only is he FC Augsburg's youngest-ever Bundesliga debutant, but, on the final Bundesliga matchday of last season, he became the first player born in the 21st century to feature in a Bundesliga game.


Asta has sandwiched his 10 minute senior debut by playing an almost ever-present role for Augsburg under-19s in the Junioren-Bundesliga, even captaining the side on a couple of occasions, and continuing his inclusion in German youth squads. While we haven't watched him in real life, his Football Manager profile certainly looks interesting. He looks like a functional right-back, one who can be depended upon in defensive phases and has the physical capacity – see his stamina and quickness – to be a threat going forward.
TÖRLES KNÖLL

Törles Knöll has taken an unorthodox route to the Bundesliga, navigating a pathway punctuated by a number of moves. Even as a teenager, he jumped between the four big clubs of the Hesse region: SV Darmstadt, Eintracht Frankfurt, FSV Frankfurt and 1. FSV Mainz 05. But it was his move north which enabled Knöll to become a Bundesliga player.

Having joined Hamburger SV in 2016, Knöll quickly established himself as the focal point of their B team. In just two years, he amassed 37 goals in 62 appearances in Germany's northern Regionalliga, earning him a call-up to the German under-20 squad and a move to 1. FC Nürnberg.


Knöll isn't blessed with notable speed. Instead, he's an out-and-out striker who works hard for his opportunities, utilising his slender frame in more wily ways, as reciprocated by his Football Manager profile. He spearheads attacks, waiting for his team-mates to move to the ball into attacking situations before he comes alive. Knöll likes to peel off defenders when the ball is in central areas, and attack the six-yard box when the ball is in wide areas – using cute movements to create separation from opponents and goalscoring chances for himself. When presented with a chance, his technique is sometimes erratic, but he is a composed finisher, especially from the penalty spot.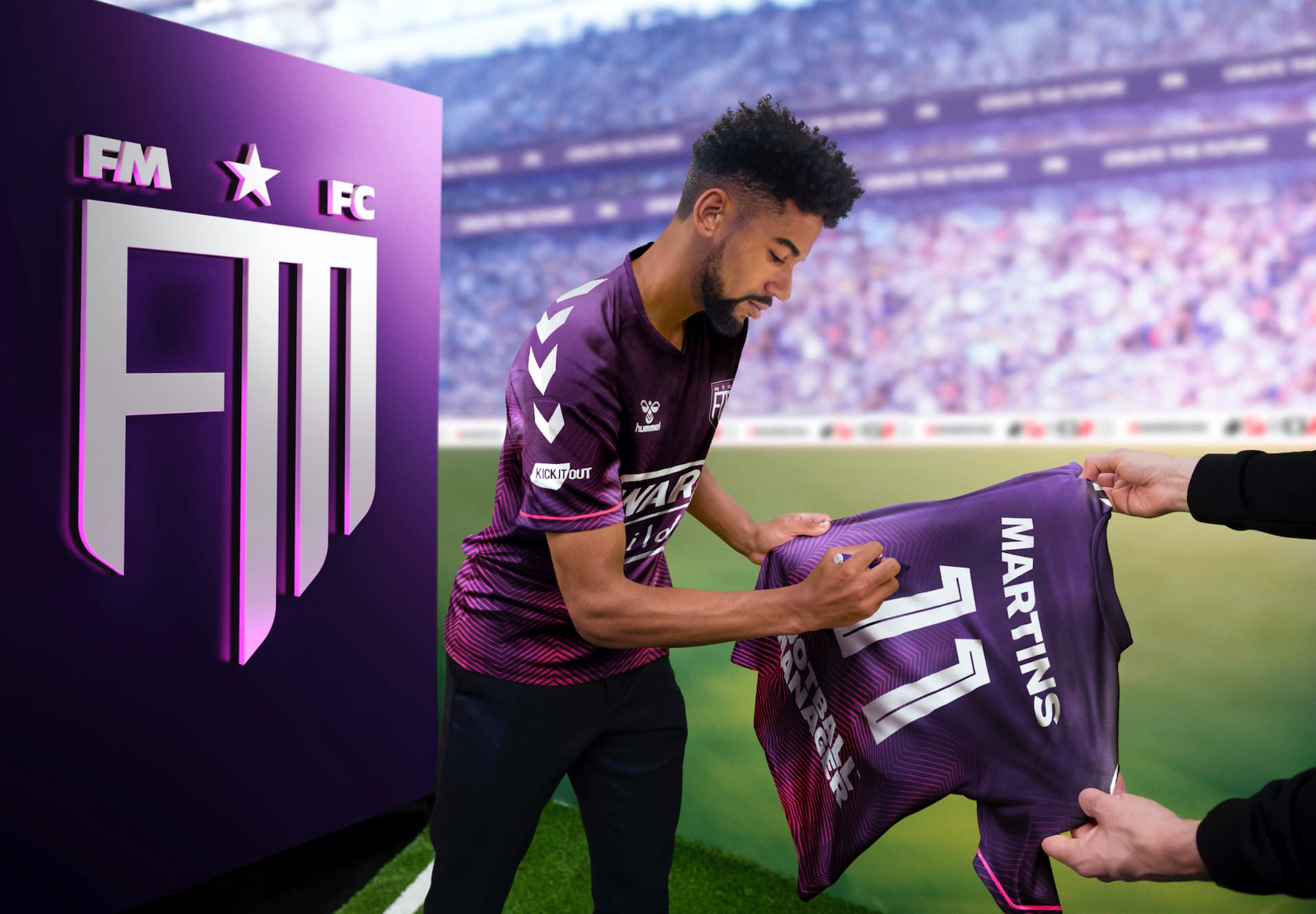 JOIN THE SQUAD
GET REWARDED
Sign up for FMFC to get feature drops and game info before anybody else, content more relevant to your game preferences plus member-only rewards and incentives.