The best wonderkids to manage in the FM19 winter update
When the team at SI told us that they'd used the Football Manager data to identify the six hottest prospects to have joined the Bundesliga during the January window and asked us what we thought, we were only too happy to share our opinion…
Alphonso Davies – FC Bayern München
Alphonso Davies swapped Canada for Säbener Straße this January in what was arguably the most exciting Bundesliga transfer of the window. An explosive winger, the second-youngest player to score a brace in MLS history and still only 18-years-old, Davies promises plenty.
The Canadian international – born in a refugee camp in Ghana – is an excellent dribbler and a persistent counter-attacking threat. Capable on both flanks, but with a preference for the left side, when he is given the opportunity to open his stride and gallop into the space ahead of him, he can be devastating.
Undoubtedly, Davies' forte is his speed, and his turn of pace in transitional phases of play is an asset for any side fortunate enough to have him. He isn't just a great accelerator though; the teenager is known for being a box of tricks at times. While he remains a very raw prospect with decision-making that is not always perfect, he certainly is daring.
Consequently, it is hardly surprising that Davies draws plenty of fouls, borne out of opposition players' frustration or simply due to the fact that his thinking – and putting it into action – is that vital half-a-second quicker.
A prodigious talent for sure, early signs indicate Davies is capable of taking up the mantle left by Bayern München icons Arjen Robben and Franck Ribéry. Having said that, he has a long way to go but at such a young age, has already given himself the best possible chance of achieving the feats of his predecessors.
Leonardo Balerdi – Borussia Dortmund
After emerging onto the first-team scene at Boca Juniors relatively unremarkably this season, and making just a handful of appearances, Leonardo Balerdi had suitors of Borussia Dortmund's ilk after his signature.
The 20-year-old centre-back is a tall and slight defender, surprisingly good in the air and adept with his feet. He tended to start as the left-sided centre-back for Boca Juniors and Argentina U20. Comfortable in possession and alert without it, Balerdi reads the game well, whether that be in finding a teammate with a pass or anticipating an opportunity to nick the ball off the toes of an attacker with their back to goal.
Balerdi has no issue bringing the ball out of defence, and is tidy in doing so. There are no frills to his game, he merely carries out his defensive duties in professional fashion. Balerdi's style is in contrast to the current Dortmund centre-backs, players like Abdou Diallo and Manuel Akanji who are much more capable at long-range, searching, cross-field passes.
The Argentine appears to be a good marker and, despite the small sample size to assess him from to date, does not seem to make rash or foolish decisions too often – reflected by his respective Football Manager attributes.
Lucien Favre has a player on his hands, and the Bundesliga has acquired another youngster from South American shores.
Lucas Ribeiro – TSG 1899 Hoffenheim
Lucas Ribeiro is your typical tall, imposing, young central defender. He is a player with a terrific physical profile for the role he fulfilled at former club Esporte Clube Vitória in Brasileirão, Brazil's premier division.
Ribeiro left his hometown – north eastern, coastal city, Salvador – in January for the landlocked climbs of Sinsheim, home to Julian Nagelsmann's TSG Hoffenheim. The Bundesliga club parted with a fee in the region of €3 million for the Brazilian's services, in particular his eye-catching distribution over long distances.
Ribeiro has a penchant for a long ball and is incredibly adept at executing passes of that nature – which is no longer a rarity for modern-day defenders – but for one who has only recently turned 20 years-old with little prior professional experience, it isn't half bad.
Based on his first professional season with Vitória, it would be sensible to have one or two reservations about Ribeiro's tactical discipline and understanding, but, having landed at Hoffenheim, he could not be better placed to improve that aspect of his game. His strong physical profile will stand him in good stead in the Bundesliga, and with injury problems plaguing the likes of Ermin Bičakčić and Benjamin Hübner, it may not be too long before Ribeiro has his first taste of European football.
For a side that regularly starts with a three-man central defence, this could greatly benefit Ribeiro.
Ozan Kabak – VfB Stuttgart
Joining Bundesliga outfit VfB Stuttgart in January, Ozan Kabak comes off the back of a hugely impressive first campaign with Galatasaray SK, particularly in the UEFA Champions League group stage.
The 18-year-old was one of the most capable and efficient tacklers during the first round. He averaged 4.3 tackles per 90 minutes across his four appearances, and no player with more than 20 attempts was beaten fewer times.
His reading of the game is excellent, registering high numbers of successful tackles and interceptions on a consistent basis, which is even more surprising given his age. He is not labored or cumbersome and, at six-feet and one-inch tall, he is a great height for a centre-back adapting to football in a top five European league. Kabak is a strong, physical defender, but uses his weight intelligently rather than as a remedy for lacking technical quality or tactical understanding. It supplements his other attributes, instead of compensating for a lack of them.
With Benjamin Pavard leaving Baden-Württemberg for Bayern München in the summer, and with Holger Badstuber being club's only recognised centre-back over the age of 24, Kabak has moved somewhere where youth can and will be given a chance.
Since joining Stuttgart midway through January, he has started in each of the club's four Bundesliga games so far, and despite some obvious teething problems, looks set to retain his place at the heart of their struggling defence.
Rabbi Matondo – Schalke 04
Over the past 18 months, Jadon Sancho has set an extraordinary example to his teenage peers: leave the Premier League, move to the Bundesliga and don't look back. Prominent prospects – namely Reece Oxford and Reiss Nelson – have since followed Sancho, in turn establishing a strong pipeline of ambitious talent which Bundesliga clubs are only too keen to exploit.
Last month – by swapping Manchester City for the bitter rivals of Borussia Dortmund, Schalke 04 – 18-year-old Rabbi Matondo almost followed the example set by his former academy team-mate to the final detail.
Like Sancho, Matondo is a player who predominantly operates in wide positions. Adept playing on either flank, the teenager possesses an attack first mindset, a dynamic dribbling style, an innate creativity when running with the ball, and rapid acceleration.
The Welshman dribbles in a way that excites viewers, provokes defenders and destroys defences. He can attack either side of defenders, taking the ball to the byline or carrying it inside onto is stronger right-foot. He can shift his small, slight frame from side-to-side with minimal effort, pressuring defenders onto the backfoot and forcing them to make rash decisions. He can slice open defensive structures by carrying the ball beyond a couple of players at a time. Take into account that Matondo often executes all of that whilst running at electrifying speeds, and you have a significant attacking threat.
That said, It would be erroneous to suggest that Matondo is primed to become an overnight sensation. His skillset is laced with exciting attributes, but it is also flawed. Tightening up his close control; refining his decision-making and tactical understanding; improving his off-ball movements; optimising his physique – they are all tasks that Matondo must tackle to become a more polished prospect, which will take time and care.
Many of the basic skills are there for Matondo to become a star. Now, Matondo relies upon Schalke's education and the Bundesliga's platform to take him to the next level.
Amadou Haidara – RB Leipzig
To put it simply: Amadou Haidara is one of the best young players you've never watched.
Over the past two seasons at FC Red Bull Salzburg, the 21-year-old has established himself as an extremely promising prospect, largely because of his well-rounded skillset and exceptional dynamism.
Haidara is an all-round midfielder who can do a lot of things to a high standard. He almost exclusively operated as the right-sided midfielder in a 4-3-1-2 formation at Salzburg, executing a role that was integral to the way in which Marco Rose's team attacked, defended and transitioned.
First and foremost, his technical qualities are very good. He can execute a wide range of passes, he can carry the ball like few midfielders can, his defensive technique is solid, and his trademark skimming long shot has developed into a potent weapon. Haidara often exhibits these attributes in sequences, whether it be to drive upfield and play a decisive pass, break up play and burst out from compact spaces, or to create shooting opportunities for himself or others.
Underpinning his high technical level is outstanding athletic mobility. He covers ground extremely easily and quickly – from side to side, or front to back – and its such athleticism, combined with a sound tactical understanding and good coaching, which enables him to be a very competent presser. He can shut down passing channels before they even open up; he can hassle opponents for the entire 90 minutes. This aspect of his skillset is perfectly suited to the high-paced Bundesliga.
Having made the step up from Salzburg to Leipzig this winter – following in the footsteps of Konrad Laimer, Dayot Upamecano and, most notably, Naby Keïta – a cruciate knee ligament injury means that Haidara must wait until the spring to commence his Bundesliga career. But his absence only adds to the intrigue and excitement.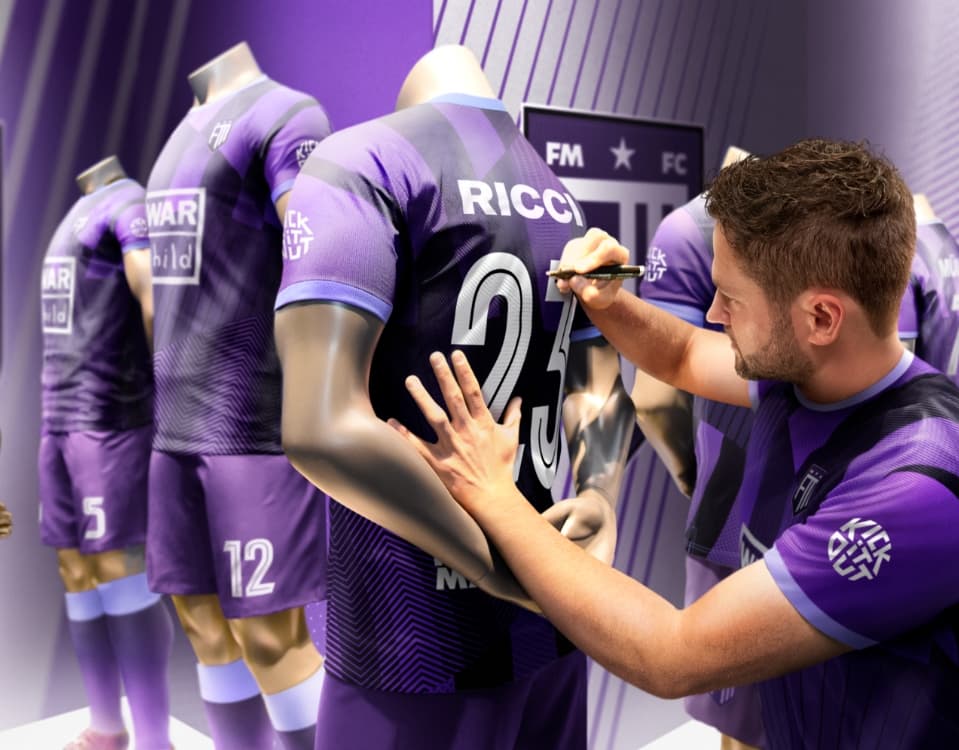 JOIN THE SQUAD
GET REWARDED
Sign up for FMFC to get exclusive feature drops and game updates, personalised content, plus member-only rewards and incentives.
Join the
squad