Football Manager 2024: Feature Rollout and New Partnerships
Thank you all for your feedback on the Development Update blog that we released in June. It was great seeing so many people talking about the future potential of the Football Manager series on our forums and social media.
When writing blogs like that one, it's always difficult to find the right balance between trying to be transparent and being careful not to talk about things too early. As a big fan of certain TV shows that are full of community 'theory forums', I've always enjoyed speculating with other people's work, but always find it a bit odd with our own work, despite the fact that players being excited to get their hands on more information is probably the most gratifying thing that can happen for our team! We hope we got the balance right and the feedback we received means further transparency with today's blog and more to come in the future.
We're really pleased to have released our Football Manager 2024 announce trailer, which outlines some of the themes that we'll be talking about a lot more in the coming weeks. If you haven't seen it, make sure to check it out below.
In this blog, I'll be talking about what happens next with the rollout of FM24's features as well as some new partnerships which will benefit both this year's release and future titles beyond.
FM24: Approaching our launch in a brand new way
As well as talking about the themes of our forthcoming feature announcements, we confirmed on September 12th that on Monday, 6th November, we will be releasing FM24 across all the platforms below:
FM24 (Steam/Epic/Microsoft Store/Xbox Game Pass for PC) – from 4pm GMT
Football Manager 2024 Console (Microsoft Store, PlayStation Store, Xbox Game Pass) – from 4pm GMT
Football Manager 2024 Touch (Nintendo eShop) – from 4pm GMT
Football Manager 2024 Mobile (iOS/Android via Netflix) – more on that later
In addition to the above, there will be further FM24 Touch platform information released in the next few weeks.
So, why are we launching on a Monday, rather than the more game industry standard of Tuesday or Friday?
Typically, the advertised release date for FM games has been a Tuesday and, in some years, we have released at midnight in the UK. Having done this a few times has led to people expecting it - and filling our social feeds with questions about when the game was going to be available - frustrating for you, and frustrating for us.
So, this year we're trying something different, and are being clear with both the date and time of release. As things stand, it's looking possible for all formats to come out at this time globally – if that changes, we'll let you know via our social channels.
As has been the case for a few years, we will be releasing an Early Access version of the PC/Mac game to those who pre-purchase from participating digital retailers. This period will start roughly two weeks before the final game is released. While we can announce FM24's release date, I can't confirm a date or time for the Early Access period in advance as we'll literally roll it out when we believe it to be ready. So, your patience will be required on that front please!
Between now and November 6th we've got a lot to talk about – and there are some things I get to share today (such as the time of release mentioned above!)
Save Game Compatibility: Continuing your journeys to glory
Back in June, I was delighted to let you all know that FM24 would include one of the most requested features over the last 20 years - the ability to transfer saved games from one edition of FM to the next.
Now, I can go into more detail as to how it will work and confirm the platforms that it will be possible on.
Anyone who is not ready to step away from their existing save in Football Manager 2023 (PC/Mac), Football Manager 2023 Console (Xbox/PS5) or Football Manager 2023 Touch (Nintendo Switch™), will be able to continue that career into FM24, FM24 Console or FM24 Touch and benefit from this year's new additions in the process. Unfortunately, this won't be possible for FM24 Mobile, although it's something our team are exploring for the future.
When you load FM24, FM24 Console or FM24 Touch for the first time, you'll see a panel directly above 'Start a New Game' that reads 'Load FM23 Saved Games'. This panel contains details about how transferring saves works and allows you to begin the process of bringing a game forward from FM23.
All of the relevant new features in FM24, FM24 Console or FM24 Touch will be present in any saves you bring over. In some cases that will result in certain items or tutorials triggering immediately after you convert your save, while you'll need to set some other things up from scratch.
The panel I mentioned won't appear again on subsequent launches but don't worry, you'll still be able to load FM23 games into FM24. To do this, go into the Load Game menu and follow the instructions explaining where you'll find old saves and how to bring them across.
Note that there are a couple of things not possible with transferred save games unfortunately. The first is FM24 achievements (trophies on PS5), which you'll need to start a new career to accomplish. You also won't be able to watch replays of matches played in FM23, as these aren't carried across when converting.
Looking beyond the addition of Save Game Compatibility, there will be a series of blogs, screenshots and videos to explain more about the features we've referenced in our announce trailer. There'll be different forms of announcements for different platforms, catering to both those who just want snippets of info through to those who want much more detail.
Then, during the early part of October, I'll be writing a few blogs for FMFC where I'll go into detail on a bunch more new features that weren't mentioned in the video - much like I used to on the FM podcast and on Twitter with feature roulette and five-a-day.
So, strap yourself in as there's going to be a lot of information coming your way - I really hope you like what you read, hear, and see.
Exciting new partnerships
Some of the new features that we will be talking about have only been made possible through collaboration with some excellent new partners. Today I get to introduce you to one of them and how we're going to be working together for FM24 and beyond - the first of which aligns us even closer to the professional game.
TransferRoom: Bringing transfers into the digital age
For the last 30 years our games have had a transfer option of "offering players to clubs", where a fictional fax is sent to all appropriate clubs in your game world encouraging them to bid (or not) accordingly.
Now, I can hear the cries of "What's a fax?" from a small proportion of you reading this. A fax is a way to send a document down a telephone line, with the document then printed via a fax machine at the other end. Up until very recently, faxes were how all transfer dealings were done and registered.
However, as faxes are no longer legally required by telephone companies and we've got a little thing called the internet now, the football industry has made it to the 21st century with transfers now being registered via online systems.
The data revolution that the internet has brought to football is something we've mimicked in Football Manager. It has also led to a number of other online services developing in the last decade.
TransferRoom, the brainchild of Founder and CEO Jonas Ankersen, is one of those services. TransferRoom is an online system where clubs can advertise players that are available to buy and indicate positions and roles that they are interested in purchasing. They also have "speed-dating" style events where clubs can meet each other and discuss potential targets and deals.
Or, in Jonas' words, TransferRoom are breaking down barriers in the transfer market, with a mission to empower football clubs, agents and players to be successful in their transfer business by giving them real-time market intelligence and direct access to a global network of decision-makers. The marketplace is thus adding transparency that had been clearly lacking.
TransferRoom has helped to enable more than 3,000 deals since its inception. One example is Sporting CP's recent signing of Viktor Gyökeres for €20m, which came after they declared interest in the player to Coventry City's decision-makers on the platform.
We are very proud to be the first games company that TransferRoom are working with, and we look forward to developing in-game features with them over a number of versions of FM. In FM24, TransferRoom's inclusion will be fairly small – you'll learn more about that in the Introducing Intermediaries and Offloading Players feature blog that is scheduled for release during the week commencing September 18th.
Netflix: Securing the future of Football Manager Mobile
Something that people will have noticed from our FM24 announcements is that FM24 Mobile will be released exclusively for Netflix members.
We know that some of you are disappointed with this news, whereas others who already have Netflix accounts will be saving money by getting the game included with their membership. Whichever side you're on, I wanted a chance to explain our reasoning.
Over the weekend, we had our 6,000,000th player play #FM23. An incredible achievement.
Thank you to all of you for your passion to play our games & to our awesome partners on the game release - plus all of the @sigames team who worked so hard to achieve this milestone x

— Miles Jacobson 💙 (@milesSI) August 29, 2023
While FM is being both bought and enjoyed by more people than ever before on the majority of other platforms (as you can see above) our Football Manager Mobile sales have been slowly declining over the last few years.
We had found ourselves at a point where we were not reaching our necessary targets, which leads to difficult decisions – something we are very used to in the business of making games.
So, as we have done historically with some of our other Football Manager titles, we left no stone unturned in looking for ways to secure Football Manager Mobile's future so that all of you could continue to play the game that you love.
One of those stones was talking to Netflix about their games service which is available now for all people accessing Netflix via compatible iOS and Android phones. Their excitement about both the service and Football Manager convinced us that this was the way forward for the game – not just to serve you, our existing audience, but also the potential to reach a much larger audience as we've been able to do with other subscription services.
We are incredibly excited to be working with Netflix – as we are with all of our partners. If you would have told me or the Collyer brothers all those years ago that our titles would be included in the services of some of the biggest companies in the world, we wouldn't have believed it. We are honoured that Netflix have chosen one of our games to be in their service and that we're going to be their first sports game and look forward to its release at 5pm GMT on November 6th.
For those of you who are disappointed, we ask you to try to appreciate the dilemma we faced and, maybe in time, you'll understand and even support the decision.
Our continued commitment to eco-friendly packaging
As a studio, we've had a long-held ambition to lower our CO2 emissions and we're very proud that Football Manager is the first game to have fully recycled and recyclable packaging. Indeed, our changes to date mean that the packaging for FM24 (PC/Mac) has 73% less of a CO2EQ use per pack than FM18.
But, in some territories, the demand is there for us to do boxed copies of FM24 Console, and we don't have the same possibilities packaging-wise for console games as we do with PC. Also, some retailers have asked us to do some pre-order incentives this year which you will hear about from them very soon.
So, to be able to do these boxed console copies and pre-order incentives, we've agreed that we will offset all of our packaging emissions. This is not just for the copies or the incentives but also for all of the remaining emissions for our PC packaging too.
That's it for this blog – if you've got this far, thank you for reading. I'm really looking forward to you finding out more about Football Manager 2024's upgrades, so be sure to tune into FM socials next week.
Thank you, as always, for all your support. It really means the world to us.
Cheers,
Miles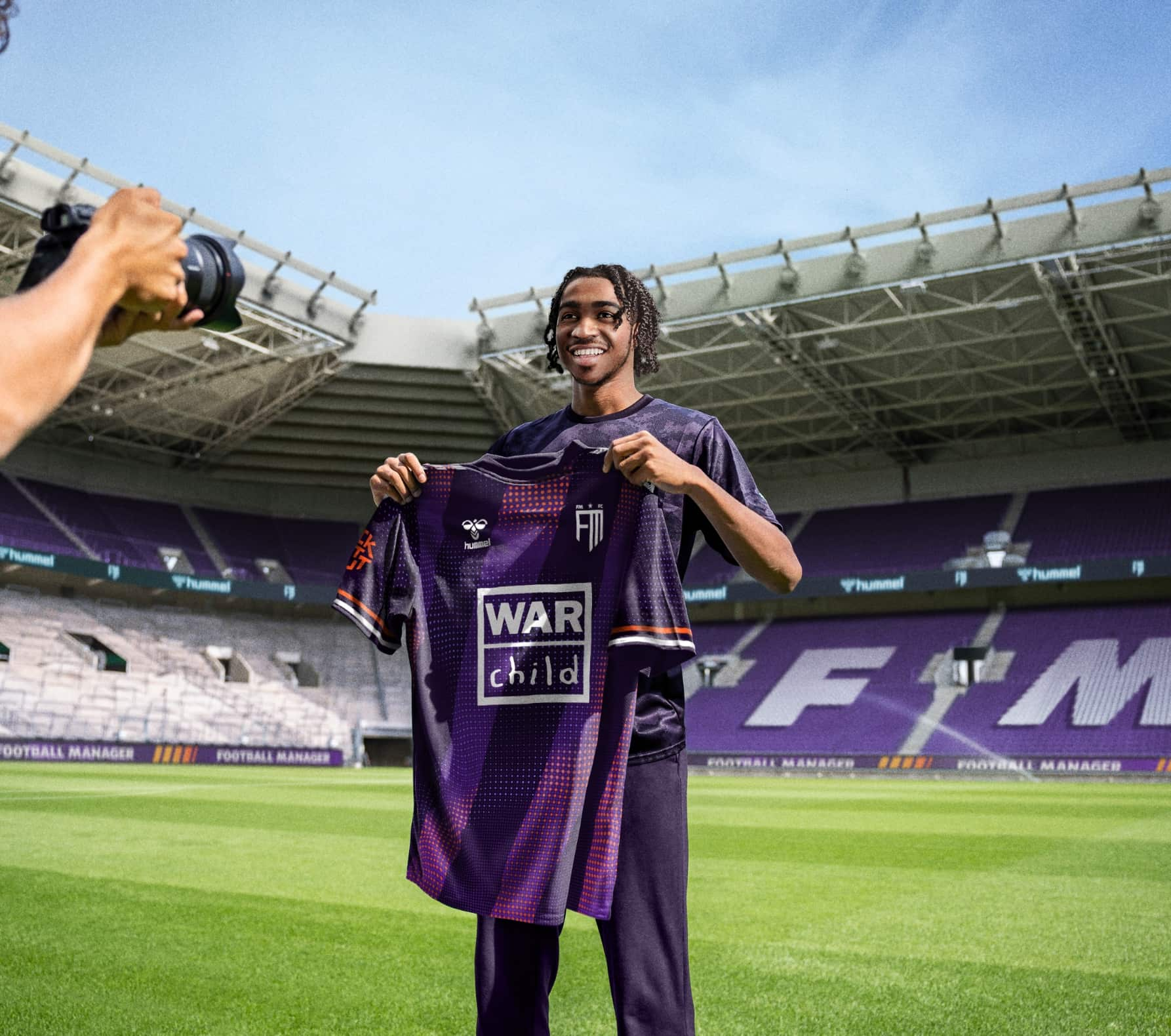 JOIN THE SQUAD
GET REWARDED
Sign up for FMFC to get exclusive feature drops and game updates, personalised content, plus member-only rewards and incentives.
Explore Our Features Roadmap