How we're introducing women's football into Football Manager
Whenever I mention women's football on social media, people inevitably respond by asking when we're going to release a women's football version of Football Manager. Up until now, I've always replied with vague answers such as "When we do it, we'll do it properly".
What I haven't said, because we tend to keep our plans under wraps, is that we've been working on women's football in the background for some time now. A few people inside football are aware of this, as we've been talking to them about it behind the scenes, but now I believe that the time is right to go public with our plans.
Before I get into the detail, though, I would like to make one thing incredibly clear… we have NO interest whatsoever in making a standalone women's football version of FM.
What we are doing is adding women's football to FM... one sport, one game. FM players will be able to move seamlessly from managing a men's team to a women's team and back again. Women's football will be a part of the living, breathing world that constitutes every one of your FM saves; that world will just be whole lot bigger and a little more varied.
We also know that adding women's football to Football Manager is going to cost millions and that the short-term return it delivers will be minimal. But that's not the point.
There's no hiding that there's currently a glass ceiling for women's football and we want to do what we can to help smash through it. We believe in equality for all and we want to be part of the solution. We want to be a part of the process that puts women's football on an equal footing with the men's game. We know that we're not alone in this – the historic TV deal that Sky and the BBC recently agreed with WSL in England is proof of that – but we intend to do everything we can to get women's football to where it deserves to be.
We know that our voice is very powerful and we want to use it for good.
Longer term, as the women's game grows in popularity, the financial rewards may come, but at the moment we're embarking on this journey because we know it's the right thing to do.
So let's dig a little into the details...
One request we've had over the years is to release a women's database that works with the existing FM. This simply wouldn't work, as there's a lot more to adding women's football to FM than simply replacing the male players with female players, but the question of women's data is an interesting one, so let's start there.
First of all, it's going to take some time to build a comprehensive global database of women's football. Our existing database has taken 28 years to build (so far) and there's a lot of info in there that we need to research when adding just one team, let alone multiple leagues.
To get our women's database right we will have to examine every single in-game attribute and define exactly how we judge the data; attributes such as pace, acceleration and agility will likely stay with the same range, but some attributes may need a different scale. These attributes also feed into our match engine of course, and work done in this area (for example, looking at height of players and how that may affect how they play – such as aiming shots higher if a goalkeeper is smaller) will be of benefit for the match engine overall.
And data, of course, is just one of many elements that are going to need careful consideration.
For example, we already have female character models in the game, but these currently only represent staff members – and our in-game staff models are relatively basic and require a limited number of animations. We have thousands of 'motion captured' animations for our male footballers and when you apply many of these animations onto female bodies… well… they kind of move like cowboys.
Women's body shapes are different to men's and so is their bone structure, so we have no choice but to go back to the beginning and recreate all of our existing motion captured animation data using female players. That's not just a case of going into a motion capture studio for a couple of days either – it takes months to clean up and perfect the data generated by each motion capture session and get it looking right in the match engine.
Our in-game female 3D models, historically, are also not as advanced as the male versions and women's football kits are also different (once again due to those different body shapes) so there's more work to be done there too. Our art and animation teams have been growing over the last couple of years with this extra work in mind.
It doesn't stop there either… the transfer system in women's football is also different to the men's, as are the financial and wage structures. We will also have to accommodate the unique rules of many of the women's leagues.
Then there are other questions that we have to ask ourselves, such as how detailed should we go initially? There is a lot of existing literature available about the impact of the menstrual cycle on training and injuries, but how do we incorporate this without it having a major effect on gameplay? And what about pregnancy? If we have pregnant players and staff in game, do we need different 3D models for the different stages?
And then there's the in-game text and translation to be considered. You can already play the game as a male or female manager, so most staff 'strings' (the term used for phrases in game that refer to a character, whether playable or otherwise) are already in place for both male and female characters. However, as all of the current in-game footballers are male, all of the strings relating to them are gender specific.
This leaves us with more than 100,000 strings to rewrite… and then translate into 19 languages (which works out to be approximately 3,000,000 words). This is a simpler task for some languages than it is for others; Danish, for example, has no adjectival agreement or other gender-specific grammar considerations, so we should in theory be able to batch translate 'he' to 'she' (for example) and then go through each string via the 'localisation QA' process to see what was missed. With many other languages (including French and German) that's simply not possible and each string will have to be retranslated from scratch.
That process is going to take up a lot of time, as well as generating the bulk of the cost.
As I mentioned at the beginning of this piece, we've been working on this project for quite some time already. I've had many, many conversations with people who work in all areas of women's football and have built up relationships with some amazing people in the sport who will be helping us realise this dream.
In terms of practical steps, we've already completed our first two motion capture sessions with the London-based twin professionals, Rosie and Mollie Kmita. Given the restrictions applied to motion capture during a pandemic it was essential that we were able to work with two people who shared a 'bubble' and Rosie and Mollie provided the perfect solution, as well as being fantastic footballers. This, of course, is just the start of the 'mocap' process and there will be plenty more sessions carried out over the coming months, including specific goalkeeper sessions.
One member of the SI team who is already deeply engrossed in this project is our newly-appointed head of research for women's football, Tina Keech. Tina, a qualified coach and former head of research and analysis at Smartodds, has already started the process of building our women's database.
Our design team is about to start work on taking the information we've gathered to date and turning that into specific tasks and a full design document. As with most of FM's features, that document will give us a multi-year roadmap for engineering tasks. Nothing in FM is ever finished – there is always more we can add – and the same will be the case with women's football. It won't be a case of just adding it, then forgetting about it, but it will continue to grow along with the rest of the world that we create for you to manage in.
Of course, many of the tasks mentioned so far can run simultaneously, which will shorten the timeline, but we are realistic that bringing women's football to FM is going to be a multi-year project. At this stage we don't know exactly how long the process will take so we can't say exactly which version of FM will see women's football make its debut, but rest assured that our plan is to make this happen as soon as we possibly can, whilst ensuring that you are still getting all the features you'd expect from new versions of FM by adding resources to the existing team.
I mentioned earlier in the blog that the cost of this project will be substantial. To help offset some of those costs we have already started conversations with some potential commercial partners who share our vision and who will be able to offer financial help in return for a wide integration of their brand into FM.
But we're also committed to being a commercial partner for women's football. We have ongoing partnerships with AFC Wimbledon Ladies & Girls and Watford Women as part of our deals with their men's teams. But that's not enough. So, today I'm also proud to announce that we've signed a commercial partnership agreement for the 2021/22 season with Leicester City Women, which will see FM branding feature on the dugout and interview boards for the club.
I'd like to finish by saying that I hope these blogs can become a semi-regular feature. We know that last year's piece which explained how COVID 19 was going to be handled in FM21 was very popular and many of you appreciated the transparency, so we'll look to 'pull back the curtain' a little more in the future.
Thanks for reading – I hope you all join in with us on what is going to be a fascinating journey.
Cheers,

Miles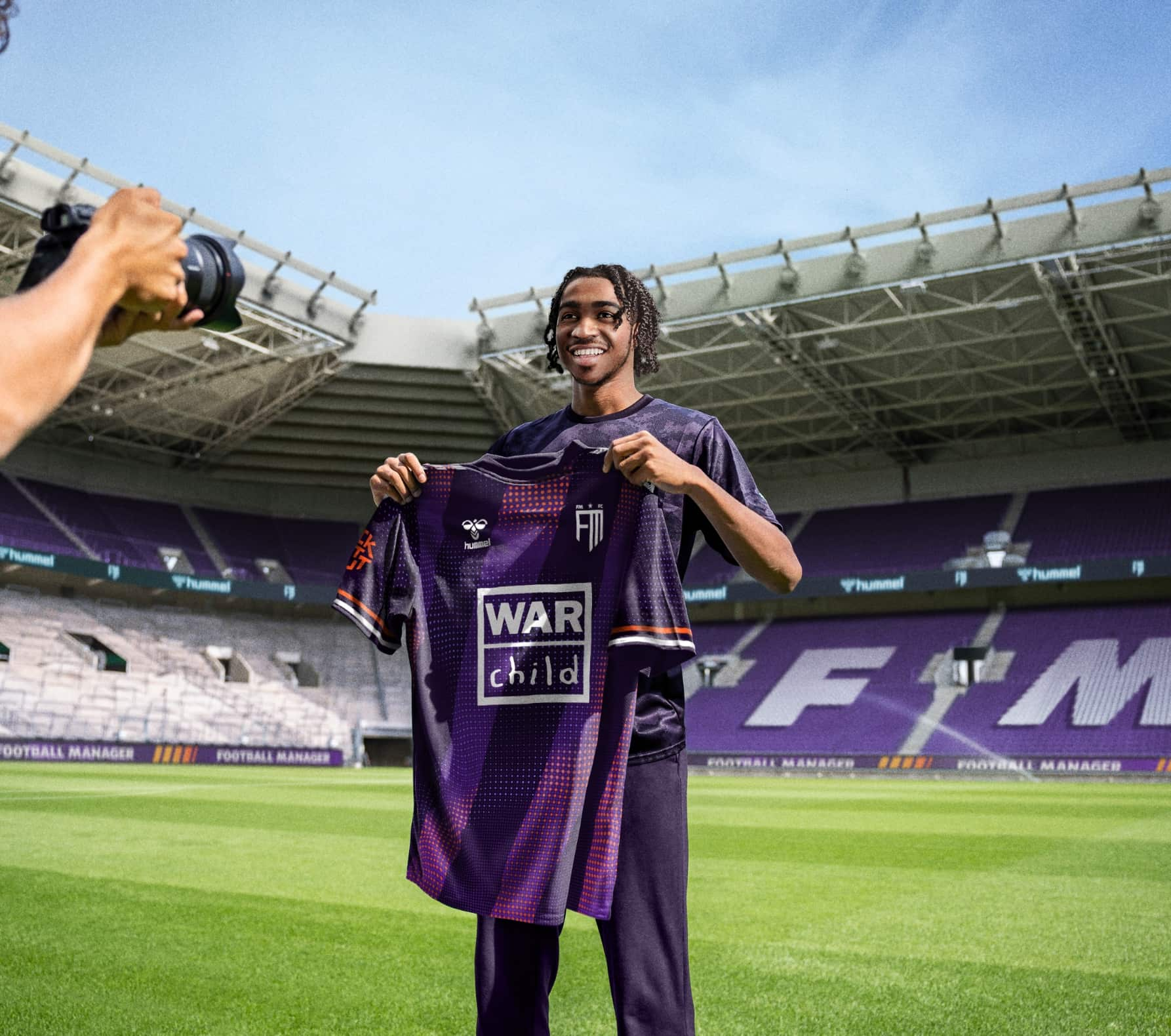 JOIN THE SQUAD
GET REWARDED
Sign up for FMFC to get exclusive feature drops and game updates, personalised content, plus member-only rewards and incentives.