Creating a youth pathway | Wednesday Wisdom
Tips
26.06.19
Read Time

: 3 Minutes
This week's Wednesday Wisdom focuses on developing young players and creating a pathway for your promising youngsters. This is one of the most exciting parts of Football Manager, as explained brilliantly by @InvWingBacks
There's always a lot of chatter in the Football Manager community about how to make the most of your club's youth system and develop players as best as you can. In this week's Wednesday Wisdom, I'll offer a few of my own thoughts on how to maximise the talent across your squads and create a pathway for your youngsters from youth intake right through to first-team.
Keep it simple, stupid
In previous iterations of FM, I've often found myself trawling through the depths of every continent, desperately searching for the next great wonderkid, absolutely fixated on being the one to uncover the next superstar.
This year, I have tried to take a more streamlined approach, being more selective about the youngsters I bring in and develop. I believe I've built a development pathway which maximises my young player's chances of breaking into the first team.
I want to focus on a possession-based 4-1-2-3, bringing through players who suit that system. After you've decided on your philosophy, it's time to assess the players already at the club. As a starting point, Watford's squad is absolutely huge, and nowhere near what I would aim for when creating a pathway:
While I've previously been guilty of hoarding players, having a first-team squad of 31 is only going to stifle the opportunities of youngsters coming through the ranks. I generally aim for a squad of 25: two per position, with an additional 'utility' player (usually an experienced player) in defence, midfield and attack, who is capable of covering more than one position in each of those areas.
In my youth squads, I aim for 16 players per squad, to ensure that my youngsters are given ample playing time at both Under 18 and Under 23 level, and also to make sure I can give each player enough attention in training to maximise their development. The 16 in each age group consists of one player per position, plus the five best of the remaining options, regardless of position. By arranging my squads this way I've always got an option if there are injury issues in the next age group, and I can take a bit of a 'next man up' approach.
Player Development
A lot of how you develop your players will depend on the philosophy and playing style that you've chosen to instill at your club. For me, playing a possession game I want players who are composed, can make good decisions and are comfortable on the ball. Let's take a look at how that translates into a player's individual training.
Training
Under 18s
I've picked out a young winger, Dominic Hutchinson, to use as an example here. Dominic is relatively physical, but lacks a lot mentally and physically, which is often typical of young footballers.
First stop, the Development tab. It's important to me that players train for the role they're going to play. In Dominic's case, as a right-sided midfielder he'll be playing as a Winger with an Attack duty, so that's how we set up his training.
You'll see from the image that the role training focuses quite a lot on the player's physical and technical development. At this stage, that's fine, but what I really need to focus on is building up his mental attributes in key areas. As I've already alluded to, I'm looking to develop players who are calm on the ball, can make good decisions and do it under pressure, making split-second decisions.
With my Under 18s, I'll keep away from putting massive emphasis on mental attributes, as they tend to develop naturally as a player ages. For now, I focus on the technical and physical aspects of a player's game and focus on getting them settled in the tactic (while playing regularly at Under 18 level).
Under 23s
Under 23 level is crunch time. Whether a player moves from Under 18 to Under 23 is very much a judgement call, based on what I need in the senior squad.
Which players have excelled for the Under 18s and are progressing well in terms of attributes? I usually look for a player to be a maximum of three attribute points below the league averages for the senior squad if I'm moving him into the Under 23s before he reaches 18. If a player reaches 18 and is not at that level, and therefore isn't going to get game-time with the Under 23 squad, but is a player who I feel has potential, I'll loan him out for a maximum of two seasons.
As it stands, goalkeeper Pontus Dahlberg is the brightest prospect in the Under 23 squad who is at the club and not out on loan, so we'll use him as our example for Under 23 training. Naturally, he'll train in the Goalkeeper role with a Defensive duty. Dahlberg's mental attributes are already pretty good for his age, and his role training covers all the important ones. Additional training focuses at Under 23 level are very much dependent on the player, and in Dahlberg's case, his passing is what lets him down the most, so I add that as his additional work.
The final step
The decision to promote a youngster to the senior side is a big one: there's a lot to consider when you take that final step – is he physically good enough? Do I have mentors in his position that can help him develop further? Is there a role for him, or am I promoting him for the sake of it?
At Watford, Portugese youngster Domingos Quina is the ideal example of a player who would pose exactly those problems. Technically gifted, only 18 and already valued at £10m. He's very clearly too good for the Under 23s, but there are still some reservations in my mind about starting him for the first team. This is where the three 'utility' positions I mentioned earlier come in handy. He might not be physically or mentally ready for regular first team football, but if he fills one of those three slots, he'll be able to train with the first team (individual training set up exactly as it would be at Under 23 level) as well as benefit from mentoring from the more senior players in the squad.
Overall, I've found my approach to be more successful than my previous plans of buying every wonderkid in sight and praying that my coaches can do something with them. Obviously, the success of this pathway depends on the coaches you have, the calibre of player coming through your youth system, and recruiting well for your youth teams where you need to.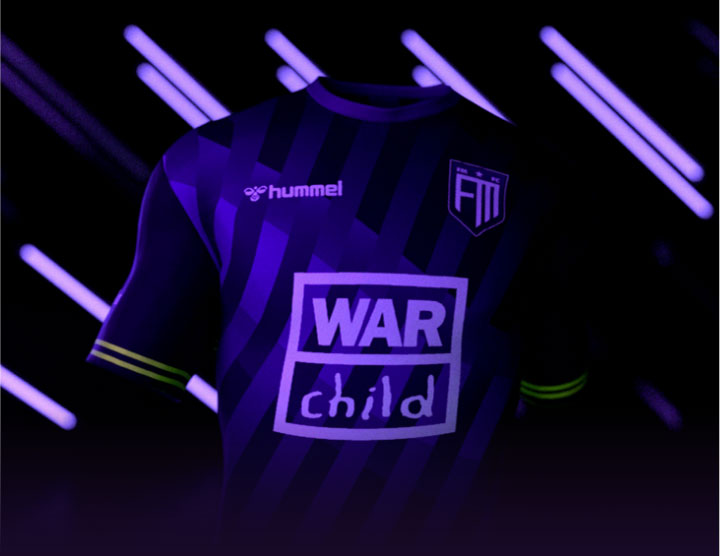 JOIN THE SQUAD
GET REWARDED
Signing for FMFC is your first chance to get feature drops and game info before anybody else, as well as content more relevant to your game preferences plus member-only rewards and incentives. 
Sign-up now for a chance to win an FMFC jersey every week until the end of the season.