How to Choose your first FM22 Save
Extra Time: Guides
16.11.21
It's that time of the year again. A new Football Manager launches and you can't wait to dive into it. There are so many possibilities, so many objectives to chase, so many paths to walk; but who do you play with? To try and help make that decision a bit easier for you, Rock's End FM has devised a Football Manager Save Generator. Let's take a closer look at how it works…
Tell your story
At the core, every FM save is about your story, about the decisions you make and the subsequent effect they have on the in-game world. Signing a top-drawer striker, creating an elite backroom team, making the tactical adjustment that saves your season; they're all part of that story.
As you probably know, every story has five core elements: what, who, where, why, and how. Considering the Why (because it's great fun) and the When (as soon as we get the game) are clear to us all, the FM Save Idea Generator works by allowing you to mix and change those remaining three elements until you get the perfect save for your latest story.
What
The what part is probably the easiest one. What are you going to do with the new game? It's the goal-setting, gold pot at the end of the rainbow-chasing part. Depending on other factors, the goal can go from achievable to mind-bendingly difficult. That's the fun, though, picking and choosing. If you get stuck, you can always change and adjust.
Continental Glory
Probably one of the most common end-goals for a save. Achieving continental glory is a universal hallmark of great sides. Stepping out from the confines of your domestic league and dominating those from further afield always offers a thrill; even if you pick one of the best sides around, you'll still need skill, concentration and a dash of blind luck to make it all the way. And even when you do manage it, the question lingers… could you do it all over again?
Obvious choices here would be FC Bayern München, Borussia Dortmund or one of the traditional powerhouses from England, Italy or Spain. You could add more depth to your assignment by choosing a side accustomed to top-level European football but not one of the favourites for success, like RB Leipzig, Bayer 04 Leverkusen, Ajax or one of the dominant forces in Portugal.
Zero to Hero
Another fan favourite, building a club from the ground up is a journey for the consistent and the dedicated. Reaching the top of the footballing pyramid is arduous work. Depending on where you do it, it could take you years or even a decade of seasons. You may have to turn professional and leave your old ground for new facilities. There will be pitfalls, there will be heartbreak, there will be temptations; but the rewards at the end of the journey are more than worth the wait. Among the favourites for this type of save are teams from the Vanarama National League North and South, but several of the lower divisions in Europe's bigger leagues are also available.
The Journeyman
One for those with an adventurous spirit. Who says there's nothing new to discover about football? Who says we've seen it all? The Journeyman is not about making a home for yourself, it's about packing your bags and finding a new one. Or several new ones.
It will be tricky. You'll have to adjust to new players, new league rules, and a new framework of possibilities. But don't get too comfortable, because your new challenge is just around the corner.
To do a Journeyman save properly, you ideally want to begin in a nation with a lower reputation and perhaps with only one division. This will allow you to achieve your goals in relatively short order before packing up and moving elsewhere. One other approach to consider here if you aren't sure of where you want to start is to simulate 6-9 months into your career and then apply for what's become available. The element of surprise is always good.
The Golden Generation
Sometimes the biggest prize isn't sitting in the trophy cabinet. For those who understand that football goes beyond getting your name inscribed in the winners' column, a game spent developing future superstars and youth prospects can be the right path to follow. Sure, we all want those gleaming trophies, but it all tastes better when you've grown the team that gets there from scratch. It will hurt to see some of them go along the way, but every year you get new recruits, and with them come boundless new possibilities.
One team worth consideration here are Dutch outfit Sparta Rotterdam. While one of the favourites for relegation from the Eredivisie, they have a strong crop of youth talents that you can build around for the future.
Who
Who you're playing as is probably the most important part of a save. It's the colours you'll embrace, the badge you'll stand for, the fans you'll represent. It will also dictate the resources at your disposal, your main rivals, and how you will be required to go about your business.
The Fallen Giant
One of the quintessential FM saves, the Fallen Giant takes a page from football's history books. Whether it's trying to recapture the magic of a golden era, reproducing an awe-inspiring style or bringing a long-forgotten name back to the forefront, it's always a challenge and great fun.
English football is full of sides who've been through tough times in recent years – Sunderland, Bolton Wanderers and Notts County are just a few examples. Turning your attention to Germany, 1. FC Kaiserslautern remain stuck in the 3.Liga, while the presence of Bundesliga stalwarts FC Schalke 04, Werder Bremen and Hamburger SV in the 2.Bundesliga make that division as compelling as it's ever been.
Relegation Threatened
Relegation is a tragedy for every football fan. It's not just losing ground to your rivals, but not knowing when (or if) you could get back to that level again. Budgets shrink, key players leave, and hope can dwindle…
But is there light at the end of the tunnel? Relegation-threatened clubs need a firm hand to steady the ship, and clever signings to boost their chances of survival. Are you the miracle worker capable of turning things round and opening the door to brighter times ahead?
Teams facing points deductions are always good places to start for saves like these, which makes Derby County one of the most appealing destinations for you to start your FM22 career in.
The Up and Comers
Some clubs just seem to simply have their act together; smart recruitment, fun tactics, youth development. Their fans can't get enough, neutrals love them and even their rivals have to begrudgingly admit they're fun to watch. Can you maintain that fan-friendly style and still deliver on all that promise at the business end of the season? You'll have to fight the big fish who inevitably come to take your best performers but challenge expectations long enough and you'll become part of the elite.
The Big Fish
Sometimes you can get a bit of slack for choosing football's biggest clubs. They have the money, the players, the facilities. Haters will claim it's 'too easy'.
What they don't realize is that everyone is cheering for you to fail. When you manage a big side, the pressure is on you. You've got the best players in the world at your disposal and everyone expects them to gel immediately. The threat of a sack looms large after every bad result, and the board want their big objects achieved yesterday. Are you ready for that challenge?
If this interests you, we can see why the French capital might appeal in FM22…
Where
It's great to know what kind of club you're going for, but where that club calls home can radically change the size and nature of the task at hand. Every different league and country adds different challenges to your save. What are the rules on foreign players? What kind of revenue can you get? What does the calendar look like? Football Manager 2022 offers a wide range of options, so be sure to choose your destination well.
Big European Leagues
It's the cream of the crop, the biggest stage. You'll get to manage the biggest clubs, fight for the juiciest prizes, and compete against the best teams in the world. If you're in it for the big name signings, the biggest stadiums and the cutting edge tactics, this is your spot.
Football Hotspots
Football is a universal game and in many countries it's the national sport. The biggest teams in these countries often boast enormous support but they don't have the resources to compete on the continent or hold on to their seemingly constant stream of young and exciting talents. Why not head to one of these places, taking on the role of the underdog? If you can close the distance to the best in the world, the adoration will be widespread.
Obvious locations that fulfil this requirement are the Netherlands, South Korea, Mexico and anywhere in South America. We all love wonderkids, don't we, and these places are hotbeds for them.
Exotic Destinations
If you're tired of competing with the same teams in the same competitions, why not change things up? Football Manager offers you the possibility of managing in five different continents and a total of 53 nations. Sometimes, you're going against one or two hugely popular (and incredibly dominant) teams that fight it out every year; you'll have to out-manoeuvre and outsmart them to beat them. In other places, it can be a close fight every year, with no clear-cut favourites.
Wherever you go, you're unlikely to know who many, if any, of your players are and how to get the best from then. You'll be putting your skills to the ultimate test, learning on the job about your biggest rivals and your league's star players.
Several of the Asian leagues included in FM22 may appeal here, as will leagues in Eastern Europe or perhaps even the Gibraltar National League, which is available to download and install from the Steam Workshop.
How
The how portion of a save is about the experience. All roads lead to Rome, but which are you going to take? A lot of it will depend on the resources at your disposal and the type of manager you are, but there's always choices to be made. These are a few of the rules or approaches you can take when approaching your next save.
The Numbers Game
One for the statisticians amongst you, playing the Numbers Game is about finding value where nobody else does. Take advantage of the data provided by your Recruitment Analysts, overview every possibility with the new Data Hub and predict who's gonna outperform expectations to get that extra edge. It's worth bearing in mind that you're going to get better analysis at bigger clubs, so if you want to jump straight into a data-driven approach, that's the way to go.
Youth Development
Regardless of whether you grow your own prospects or scout and find the best talent from across the globe, this is the kind of save that will get you staring at development charts and training routines for a long time, inching ever closer to your goals. Some clubs seem almost designed for this working method, whilst with others you'll have to cast away the temptation of capturing a former great to complete the puzzle. You're in this for the long haul.
The Tactician
If you have a knack for understanding how to use space, overload the opposition and expose their weak spots, you might be a Tactician yourself. Why not try a new tactical challenge? You'll have to build a great side, understand your player's strengths and figure out how to best use them. If there's a role you've never previously used, it might be the time to unleash your true potential and create a style that's the envy of your rivals.
Connecting the dots
Now we've covered the key elements of your next FM story, it's time to connect the dots and work out where your story begins.
Start by working out the what, the purpose of your save. Once you've settled on that, you can begin thinking about how that influences where you start and how your mastermind success at your club.
Remember, you can mix and change as much as you want to find something that inspires you to write your name in history in Football Manager 2022.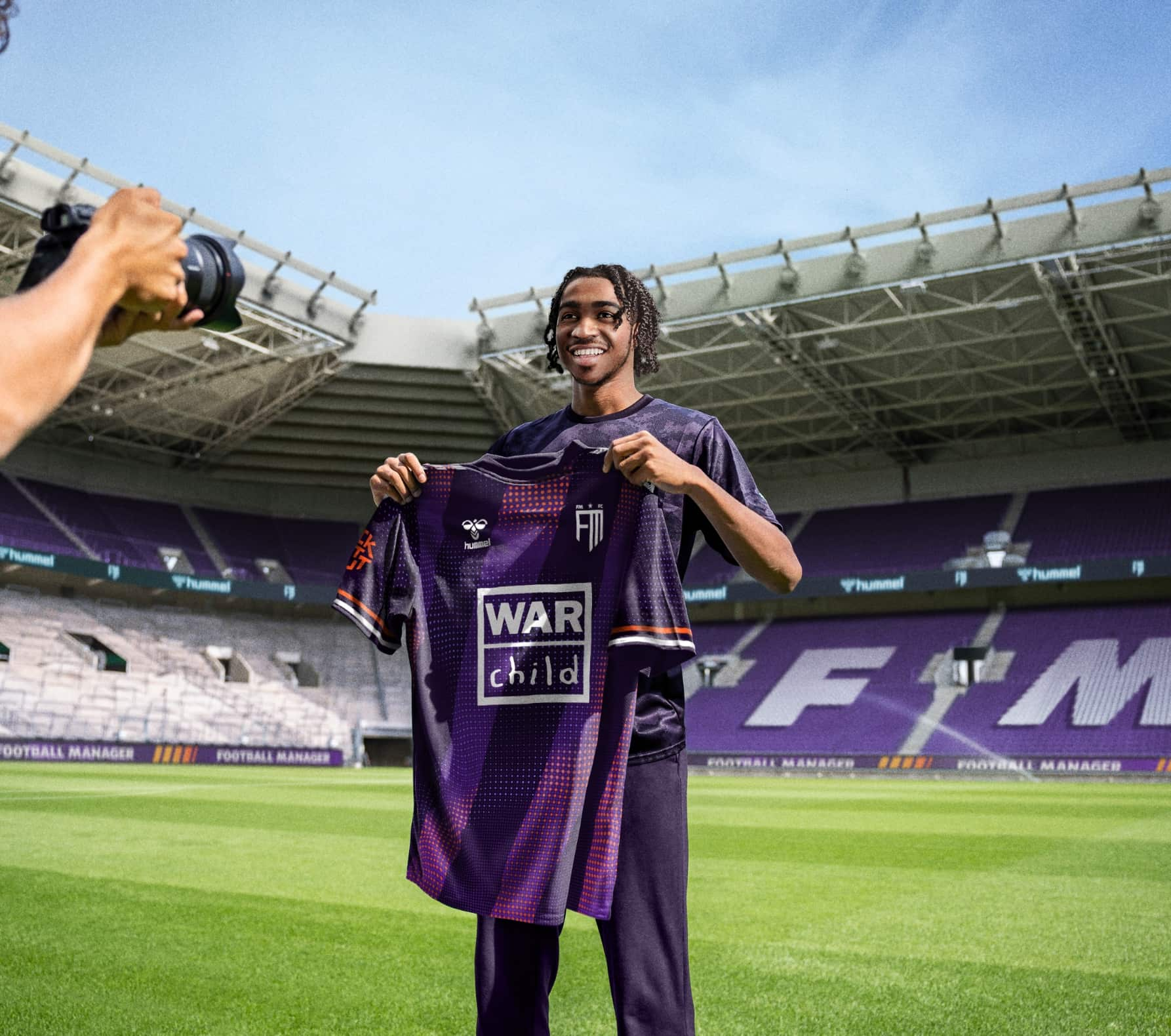 JOIN THE SQUAD
GET REWARDED
Sign up for FMFC to get exclusive feature drops and game updates, personalised content, plus member-only rewards and incentives.