Mastering the Press in FM23
Since the 1970s, pressing has become increasingly important in football. As more teams focus on regaining the ball quickly and efficiently, pressing with commitment and intelligence is key to success in the modern game.
Pressing is vital to most Football Manager 2023 tactics. Here, Rock's End FM provides a detailed guide to help you master the press.
What is Pressing and how does it work?
Pressing is when players close down the player in possession (directly or indirectly) in a bit to recover the ball via a turnover.
Pressing differs from counter-pressing (also known as gegenpressing) in that Pressing occurs in the defensive phase whereas counter-pressing is done in transition when your team have just lost the ball.
A press is best utilised when it's done collectively. To ensure that everyone does their part and you don't have individual players just chasing the ball aimlessly for 90 minutes, the press should be structured with pressing traps and triggers.
Pressing triggers are situations that prompt a team to initiate a press. Two common triggers are poor opposition touches and players receiving the ball with their backs to their intended direction of travel.
Pressing traps, conversely, are situations actively encouraged by your team in an effort to regain the ball. Two common traps are forcing players to receive the ball on the touchline, as this reduces their area to work in, and forcing defensive players onto their weaker foot, as this will affect their passing range, options, and accuracy.
Not every team will press in the same way but they're some general principles to bear in mind before we dive right into an example of implementing an effective press in FM23.
Mastering the Press in FM23
To look at how best to implement a high-pressing tactical approach in FM23, I took over as manager of Polish Ekstraklasa team Raków Częstochowa.
Players, Shape and Roles
As much as attitudes and approaches to pressing vary by the way you think about football, they're also dictated by your playing resources.
For an effective high press, you need players with strong (even if relatively) Aggression, Anticipation, Concentration, Decisions, Determination, Positioning, Teamwork, and Work Rate Attributes. In short, driven players who will be relentless and intelligent in pursuit of the ball. You also need them to be physically fit (Stamina and Natural Fitness) and capable of maintaining a high-intensity style throughout games.
As for shape, any formation that gives you an even distribution of players across the pitch will mean that at any time you have a player close to the ball carrier and able to press.
Raków have the right players to put together a solid pressing side and we're setting up in a 4-3-3 to cover the pitch.
Striker Sebastian Musiolik has the physical qualities required to press, work hard and support his teammates, making him an ideal Pressing Forward. As he's leading the line, he's on Attack duty.
Putting him on Attack creates space for our right-sided Inverted Winger on Support, Vladyslav Kocherhin. On the left, Patryk Kun will stretch the pitch as a Winger on Attack duty.
The midfield trio is composed of Ben Lederman (CM-A) and Gustav Berggren (BBM), with Giannis Papanikolaou (DM-S) sitting behind. Lederman will use the gaps in the defence created by Kun's runs and set up plays with his Passing and Vision. Berggren is a near perfect Box-to-Box Midfielder, able to influence the game in both directions. Keeping it all tidy, Papanikolaou is a sublime defender expected to provide cover in behind. Crucially, however, all three are committed, hard-working midfielders, who can share the pressing duties and support the front three.
In the back four, right-back Fran Tudor will provide width on the right flank as a Wing-Back on Attack as Kocherhin cuts inside. On the opposite flank, Adrian Gryszkiewicz will sit back as a Full-Back on Defend, providing cover for Lederman and Kun. The Central Defender pairing of Stratos Svarnas and Zoran Arsenić provide a solid defensive base that can push high without getting caught out.
Finally, goalkeeper Vladan Kovačević is used as a Sweeper-Keeper (Support). This is a vital function, as he's expected to clear up balls that go over our high defensive line.
Team Instructions
With formation, roles and team selection done, setting the Team Instructions will further define our high-pressing style. Keeping our mentality Balanced will allow us flexibility from the start and we can always change depending on game situations.
In possession, we'll set our attacking width to Fairly Narrow. This allows our team to pack the centre of the pitch and ensure that no single player has to cover big spaces on their own.
Looking at the In Transition Instructions, the big one is Counter-Pressing. Not every high-pressing side is an intense counter-pressing one; this is very much the case for the preset Gegenpress tactic, which instructs your players to aggressively close down the opposition after losing the ball. Whether you counter-press or not depends on how you consider your players will be creating the more dangerous opportunities; either by launching counter-attacks after creating havoc, or by setting yourself up to press after regaining your shape and then building up your attack. For now, I'll leave it unticked.
Finally, we come to the Out of Possession instructions, which is where we'll find most of our key decisions to make an effective press. First, we'll push our Line of Engagement to a High Press; this means our players will set their defensive positions higher than usual, looking to compress the space the opposition has to build up play. By the same logic, we'll push our Defensive Line to Higher.
In this section we'll also find the Prevent Short GK Distribution instruction. When enabled, this sends your forwards to mark out the options for the goalkeeper at goal kicks, making it more difficult for the opposition to build from the back. While this may sound ideal for a high-pressing setup, it's a balancing act. If you're confident in the aerial abilities of your defenders, it makes sense to force them into taking long goal kicks but that could backfire if they're more suited to playing long anyway. For our Raków tactic, I'm going to leave it unticked, as I'd rather have weaker opposing centre-backs receive the ball to their feet, and try to force a recovery via our dynamic front three.
Another key Team Instruction is the Trigger Press option. This will control how often your players will press when they spot one of the aforementioned pressing triggers. Increasing that bar increases the number of situations when they will close down an opponent. This option also controls how far and intensely a player will chase a given opponent. The opposite happens when you lower it, meaning your players will be more cautious about leaving their position to press their opponent. For this tactic, we'll go for More Often, as we want players to actively chase the opposition but retain some defensive shape.
There are two options for Tackling - we can either instruct our players to go in strong or stay on their feet and look for interceptions. For this tactic we're going to keep clear of both as neither suitably matches our objectives.
The option to control the behaviour of the Defensive Line is new for FM23 and offers greater flexibility in adjusting how your team controls space. For a high-pressing side, you want the defence to Step Up More, closing down any player that beats the initial press.
Finally, we have instructions for Pressing Traps and Cross Engagement. The latter is a measure of the quality of our full-backs and centre-backs. However, this is the only pressing trap we can set as a Team Instruction, and we have the option to funnel play Inside or Outside. This we're going to leave blank and adjust before every game. In general, you want the opposition to play where they have fewer options, so against a 4-4-2 we might want to funnel play inside, to take advantage of our numerical superiority in midfield, while against a 5-3-2 we may want to push play outside, to overwhelm opposing full-backs.
Preparation and Setting Traps
To maximise our players' understanding of the roles and instructions we're giving them, we can take a number of steps outside of our tactical instructions.
First, I head to the Individual Training screen in the Training module and instruct our players to train for the roles we have selected. Not only will this increase our players' familiarity with the Position/Role/Duty category but it'll also set them to work on the Attributes they'll rely on to succeed. While there, I reviewed the Coaches screen to make sure I had the strongest staff working on the Tactical Defending and Tactical Possession categories, as these focus on key attributes like Concentration, Positioning, Anticipation and Decisions.
If you want to take it one step further, you can also work on General Training schedules. Routines like Transition - Restrict and Transition - Press will have the Attacking Unit working on the Attributes necessary to become a more effective pressing group, while Defending from the Front and Defending Engaged work on your Tactical Familiarity in the Trigger Press and Marking categories.
Throwing in a few of the Extra Curricular routines, particularly Team Bonding, will greatly benefit your Team Cohesion, which favours your players' performance and positioning.
There is one more thing you can do to master the press and that's setting your traps. While we've set our tactics to press high and try to win the ball as close to the opposing goal as possible, we're still approaching each game the same way and the manner by which we look to regain possession will differ very little from matchday to matchday. Taking the extra step of analysing your opponent and tailoring traps to the specific characteristics of their players will take your pressing to a new level. This is done via the Opposition Instructions screen in the Tactics module.
Before each match, take a look at the analysis your staff provide about your next rivals. Figure out who their key players are, what their build-up play looks like and where any weak points exist. With that information, you'll be better able to force the opposition to play where they're least comfortable and improve your chances of regaining the ball.
To see this in action, let's take a look at our game against Radomiak on the 10th matchday of the season.
Before the game, our analysts have prepared an Opposition Report where we can see how they're likely to play in the upcoming fixture. Right away, I notice they put a heavy emphasis on crossing and with good reason - they are one of the league's best for wing play and score regularly via crosses and assists from the flanks.
As such, preparing and countering this will be key for us to get a favourable result - we can set up a trap to better do this. Against Radomiak, we'll ask our players to try and trap the opposition inside by adding the Stop Crosses instruction. With this, we'll work on denying their wingers and full-backs the ball and force them to build up centrally.
This works almost immediately. Our Trap Inside instruction is blocking their wide players from receiving the ball and forcing them to make short passing combinations in the centre, where they are less of a risk. There, our players are constantly hounding the opposition for misplaced passes or bad touches to force the error.
When the opposition can't find a receiver inside, they're forced to launch long passes, which we can intercept and launch a counter from. In this case, the rival left-back finds himself with no short passing options and has to settle for a long switch pass, which is promptly read by our Full-Back and intercepted aerially.
However, we can take it further. Come half-time, we have the opportunity to take a look at the match data. Looking at the opposition's Passing Combinations map shows their striker Rocha to be a regular target for the long balls from the Goalkeeper. Going to our Opposition Instructions, we have two options: we can either ask our players to Mark Tightly to force the goalkeeper to look for other options or look to press him directly when he receives the ball.
Since he's struggled to make an impact in the game, I'll allow him to receive the ball and then look to press him directly for instant gains. We have to be careful, however, as this will work throughout the game, not just when he's receiving a goal kick. Therefore, we'll stay vigilant for any adverse effects of the press, like our Central Defenders leaving gaps in behind when pursuing the striker.
We can also gain some insight from where the opposition is trying to play. Looking at their heat map, we can see that they're favouring the right-hand side. Their right flank is struggling though, so this is something we can punish in the second 45 minutes.
Going once again to Opposition Instructions, we can set a trap by tightly marking the passing options on the left, then setting a press for their right back and right midfielder as they dwell on the ball.
At full time we won 1-0 and as you can see from the screen below, we let them off a bit with some wayward finishing. Encouragingly, though, we kept our rivals to just nine crosses from open play, of which just two were completed. This was against a side only behind the league leaders in terms of Crosses Completed and Cross Completion Percentage.
Match Management
As we've mentioned before, the high press' physical demands means it will be very hard for your players to sustain it throughout the match. While you may be able to get it done early in the season, as time progresses, players accumulate fatigue, fixtures mount up and have to manage injuries, it will prove harder to sustain.
While you can handle the demands via the use of the Mentality during a match (lower mentalities will always sit deeper and press less aggressively), I think it's best to plan ahead and create a more controlling, secondary tactic that reduces the physical demand on your players.
For this, we're going to drop our Mentality down and switch any players on an Attack duty to Support or Defence. We're also going to look to lower the Tempo and increase Time Wasting to earn our guys a breather in between playing actions; Play for Set Pieces can also be a valuable addition. In Transition, you can ask your goalkeeper to Slow Pace Down; if you have Counter-Press active, now is the time to take it off. Finally, Out of Possession, I recommend using a Mid-Block and lowering the Defensive Line to its standard placing, while also lowering your Trigger Press to better sustain a shape. You don't have to go fully defensive; it's instead about lowering intensity to a degree where you aren't burning your players out.
When to use the control tactic is up to you. It can often be a valuable tool to wrap up the end of a half, particularly if you're getting the result you want. It can also be a good tool to keep the opposition at bay after you score. Depending on the game, you can also invert the tactics, switching to the high-intensity press when you need to pull a goal back.
With these tips you can take a look at how you want your team to work on their ball recovery and hopefully build a table-topping tactic driven by intelligent, situational pressing.
Happy managing,
Rock's End FM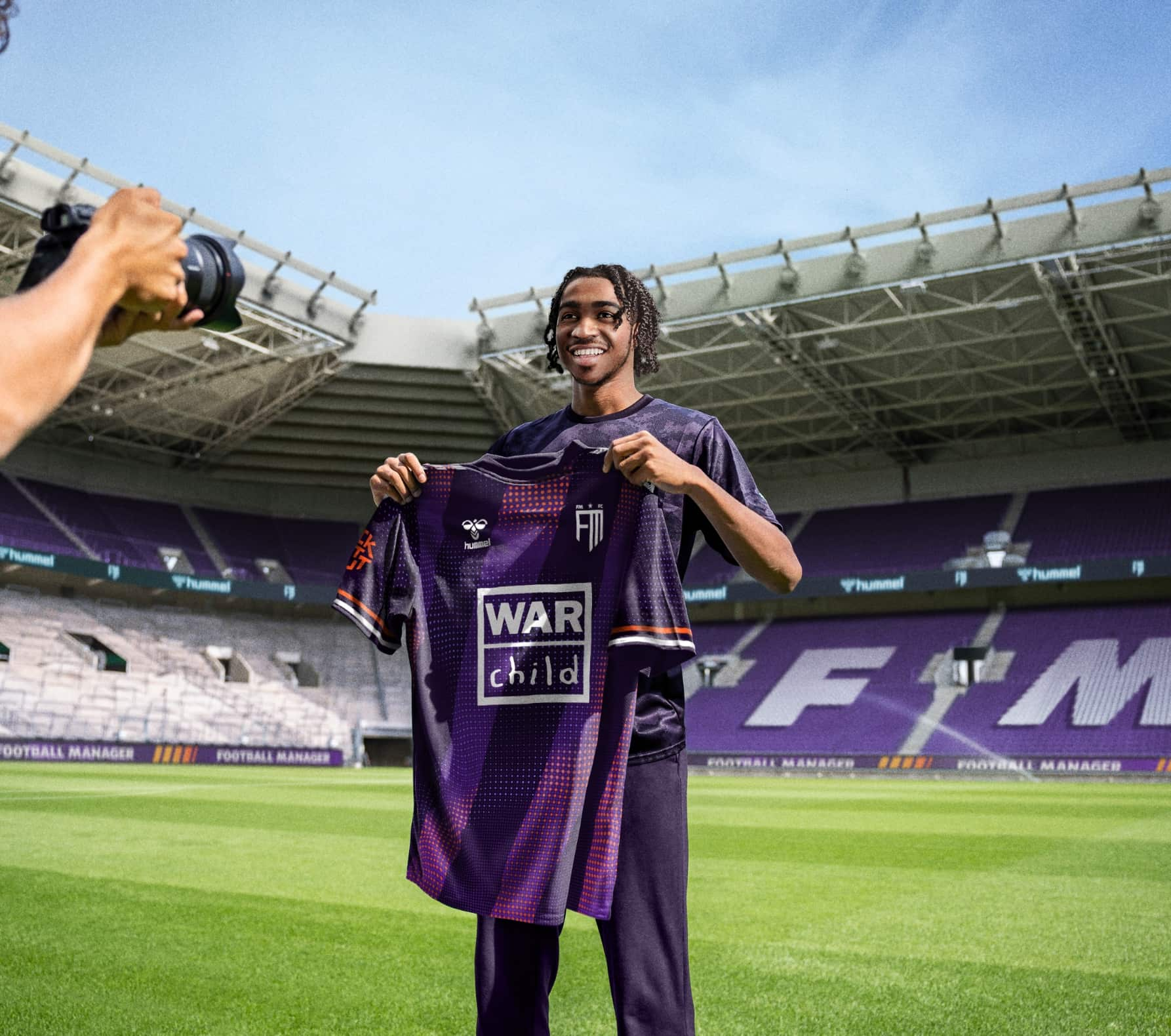 JOIN THE SQUAD
GET REWARDED
Sign up for FMFC to get exclusive feature drops and game updates, personalised content, plus member-only rewards and incentives.