Match AI and Animation
Whether we're enhancing our animations, tweaking formations and team shapes or updating our terminology, each update to our Football Manager match engine is carefully designed and scrutinised to ensure your management experience is as close as possible to real life.
For Football Manager 2023, one of the main focuses of our Match team was to overhaul the logic powering our AI managers, thereby making them more intelligent and savvy than ever before. The changes mean your opponents will adapt to the changing nature of a match with more intelligent tactical tweaks to keep you and your team on your toes.
There are also lots of changes to the artificial intelligence surrounding the decisions that players make based on their attributes, which are reviewed by our huge team of researchers around the world.
AI Manager improvements
Under the hood, we have developed a new model for our AI managers. This equips them with the knowledge required to evaluate each facet of a match and, therefore, create more nuanced tactical battles with their opponents.
This means AI managers will now be more open to chasing leads, and will react more realistically when they are playing against an in-form team. In a title challenge, a crucial cup clash or a relegation nail-biter, the AI managers will be more likely to react better to each shifting scenario.
Our improvements will also see changes in how the AI managers select their formations, along with the specific player roles they choose. Importantly, they are savvier in how they evaluate their team shape and balance.
These decisions to revamp our AI managers give us better ways to reflect the style of every individual manager based on their in-game attributes.
Player Decision enhancements
There have been a significant number of updates to our Player Decision and Match Engine AI – let's start with those changes at the back.
Goalkeepers now have the ability to make K-Block saves – when the 'keeper drops one knee to the ground to prevent a shot from going through their legs – and spread saves. Now, in one-on-one situations, the goalkeepers can use their frames more effectively.
Defensively, we have improved the ability to win tackles, read interceptions, apply back/side pressure on opponents and read aerial interceptions. Alongside the general team-shape tweaks, defensive shapes have improved as well – for example, wingbacks in a back five will look to press/engage more aggressively, while there also improvements to back-four shapes positionally, too.
Going forward, players in FM23 can have more realistic first touches in their attempts to get the ball perfectly under control – for example, the ball may bounce or bobble up in the air on a player's touch. First touches, in general, will carry on the momentum of the ball more from the pass - making the match itself look and feel more realistic.
It also adds different decisions that players will make based on these first touches, including more opportunities to control the ball In mid-air and bring It down better, or carry on with the ball, or even chest it straight Into a volley.
Elsewhere in the final third, there are improvements to finishing. Players are now more likely to shoot across goal, find corners, open up their bodies and take a composed touch before scoring. When they get into attacking positions, they are more likely to cut onto their stronger foot.
We have also made improvements to a few player roles and how they position on the pitch - for example, the Winger role is now better at consistently offering width in attack. In midfield, tweaks for advanced roles, namely Mezzala, Advanced Playmaker and Central Midfielders on Attack duty, will position them higher in the half-spaces during build-up play in certain formations, such as 4-3-3.
There are also changes to address the balance between Defensive and Attacking mentalities. For instance, players may be less consistent at tracking back defensively after they have exerted themselves in the attacking third, depending on their Attributes. This, combined with the defensive improvements, should lead to counter-attacking and defensive football being more viable than ever.
Animation engine improvements
Following the introduction of our new animation engine in FM22, we've taken the quality of our animation engine to new levels. Incorporating Inverse Kinematics (IK) into the engine and our playback systems has seen us improve the quality of our animations, how they are played and blended with one another, and has helped us further eradicate foot sliding and feet jittering. The move to IK has enabled us to improve how we store our animations, helping us to better compress animations and optimise the engine.
These improvements will be seen across the pitch with a myriad of animation changes, including the way goalkeepers spread, parry and dive, defensive tackles, midfield ball control, dribbling and finishing for attackers, and changes to how the nets animate when a goal is scored.
Enhancements to the animation blending system have also created a better connection between trips, pushes and pulls, leading to fewer situations where a penalty is given but the foul was visibly disconnected in the 3D representation of events.
Each and every pivotal movement is now powered by the new selection criteria technology, which takes in several parameters such as incoming and outgoing speeds, velocity and more.
Having spent time improving our own animation pipeline and optimising the animation system, we have been able to increase the speed of the animation engine and reduce our animation data by using only one-thirtieth of the disk space from before despite an increase in quality, all helping to reduce our download data footprint.
Language and Team Instructions changes
Every year, we review our instructions to ensure we are evolving with the modern game, which involves speaking to people in football and leaning on their expertise to guide our decisions. For FM23, the biggest change surrounds the Out of Possession instructions.
We have changed the Line of Engagement instruction to better reflect the way that coaches relay information to their players. Previously, the instruction had 'Higher, Much Higher' options, which in turn was impacted by your team's mentality and defensive line, making it tough to know exactly where you were telling your team to engage the opposition. Now, the instructions are more straightforward – Low Block, Mid Block and High Press. As a result, this gives you a greater understanding of your team's shape, while reflecting real-life tactical selections.
Elsewhere, we have revamped the Offside Trap option based on research of current systems and how much the offside rule has evolved. Instead, there will be two new instructions at your disposal, giving you the option to tell your defenders to Drop Off or Hold the Line. All defensive lines will drop off or step up at times, but this instruction will affect those close-call situations – do you want your team to aggressively hold their shape, or are you content for them to give up the space in front to defend the space in behind?
Defensive Width has been replaced, too, with four new Instructions, all of which will help you better set up your defensive shape in different zones of the pitch. Outside of your own defensive third, you now have instructions to tell your team to set up a pressing trap out wide or in central areas, affecting the way your team positions and presses when defending – this can be used as an attempt to funnel the opposition into the area of your choice. Previously, Defensive Width was based around stopping or inviting crosses, but now they are stripped back and presented as their own instructions; you can set your players to be narrow and defend the cross, or ask your full-backs to stop the cross at the source.
The new tactical instructions for FM23 will help empower our defensive managers. By paying attention to the defensive mentalities and instructions in the game, we will create a Match Engine that better reflects real-life football, and we cannot wait for you to take on more challenges in FM23.
Keep up to speed with all the latest FM23 news by following our Facebook, Twitter, Instagram and TikTok accounts, with more features to be revealed exclusively to FMFC members in the coming weeks - including details of changes to the data hub and match analytics, such as the introduction of xA (expected assists) to the series.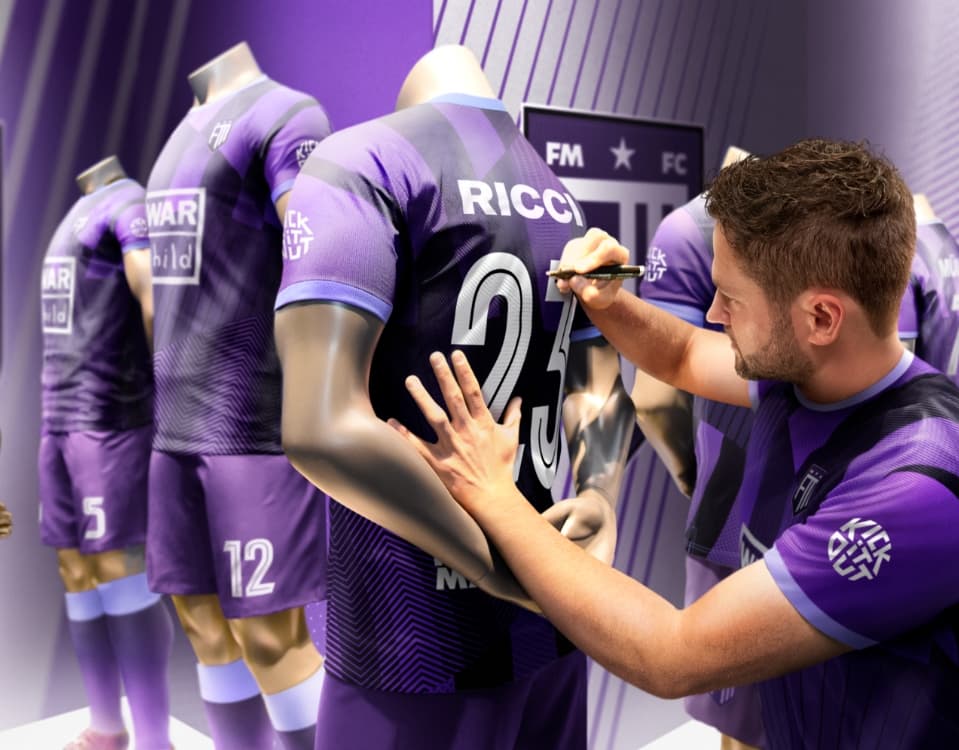 JOIN THE SQUAD
GET REWARDED
Sign up for FMFC to get exclusive feature drops and game updates, personalised content, plus member-only rewards and incentives.
Join the
squad