Gameplay Upgrades
Many of you will have seen the Football Manager 2023 Headline Features revealed recently across our website and on YouTube.
However, they only represent some of the additions and upgrades we've introduced for this year's edition. Here, we'll pull back the curtain on six other game areas that have received big improvements for FM23 (PC/Mac).
Data Hub
After first introducing the Data Hub in FM22, we've elevated it this year by adding a raft of new statistics and visuals to give you more information on the performances of your team and players, and where you stand in comparison to your rivals.
The standout new addition to the Data Hub is Expected Assists (xA). An increasingly popular statistic in real-life football analysis in recent years, xA measures the likelihood that a given pass will become a goal assist.
In FM23, you'll see xA incorporated in multiple ways. An open play xA stat will be visible on player profiles and will also be included in many of the scatter graphs and polygons already available in the Data Hub. You will also be able to request some xA-specific visuals, namely open play xA vs actual assists, open play xA vs non-penalty xG and open play xA v Pass Success percentage.
Beyond this, we've added a number of new statistics, including open play key passes and open play crosses, to ensure that the resources available to you in FM23 are as close to those available to real-life coaches and analysts around the words.
All stats now have per 90 minutes metrics, allowing you to make more functional comparisons between players and teams that have played a different number of games.
You're now able to see the number of pressure attempts, successful pressures and sprints a player has made, with the latter compared to distance covered to create a physical output visualisation. This visualisation will give you an indication of how hard your players are working and the intensity of that work.
In terms of player stats, we've also incorporated Progressive Passes, which are classed as completed passes that move the ball significantly closer to the opposition goal. There is an accompanying visual here too, which compares the number of progressive passes completed by a player to their pass success percentage. Through this, you'll have a clearer assessment of the passing style of players in your league.
Passing Dynamics graphs have been introduced, while the existing performance polygons now have better detail, giving you a breakdown of the pros and cons of the data showcased.
Team stats have had an uplift, with a new Pass Map Comparison among the new items available in the Data Hub.
Also new is Passes Per Defensive Action, or PPDA. By measuring the passes completed by your opponent per defensive action completed by your team (tackle attempts, fouls and interceptions, for example) outside of your opponent's first third, you can understand the intensity of your team's press.
Field Tilt, meanwhile, will give you an understanding of which team has dominated a game by comparing your final third passes completed to those final third passes completed by your opponent. Both this and PPDA can be added to your Match Stats view during a game itself.
Customising your view within the Data Hub is now easier. If you click on the new Edit button, you'll be able to access an 'All Visuals' dropdown which shows off the full list of available items, with labels to show whether they're Scatter Graphs or Polygons. You can tick or untick these visuals as you want.
We've made it easier too for you to get a more general overview of your side's key performance metrics, with an option introduced to set any visual as a preferred visual. To mark an item as preferred, you'll just need to open it up in the Data Hub and click the star button. Your analyst will then take this into account when putting together your monthly reports.
Match Analytics
As well as adding those new metrics and visualisations to the Data Hub, we've worked to ensure that the data that's shown to you in matches and in inbox items is more informative and actionable.
On Matchdays, you'll now see a couple of data visualisations incorporated into the Touchline Tablet display. One of these is the Match Momentum graph, which should offer a greater level of perspective for those managers watching fewer highlights. The other is Pass Maps for you and your opposition.
These will be sent to you during a game by your analysts, giving you data that will show you how your team is shaping up and how the match is unfolding.
To better showcase what made a match's best player so effective, you'll now receive bespoke Player of the Day news items featuring notable stats and visualisations highlighting their performance.
As you move through the season, you'll begin to receive new analytics reports ranking your player or club's performance in relation to your current competition. For example, a team item of this nature might show how well you are faring in terms of the key defensive metrics like tackles, blocks and interceptions. A player's item, meanwhile, would show where they sit relative to other individuals in the league for goals and assists and so on.
Additionally, inbox items have also been introduced to show off players and teams that are notably under or over-performing their xG, and provide clear statistical analysis of your recent form (good or bad).
Should you want to change the frequency with which you receive reports from your analysts, this has been made easier in FM23. Instead of having to change this through the responsibilities menu, you'll have a dropdown available to you in the news items containing the reports themselves.
Online Modes
FM22 saw the return of Versus mode to the PC/Mac edition of the game as an exclusive for FMFC members. This year, we've levelled up its functionality to make those battles for bragging rights more engaging.
Within the leaderboards sections of Football Manager, available through the FM dropdown in the top-right of your screen, there is a new dedicated Versus mode leaderboard. You're able to filter this by all-time performance and by your friends.
We've added functionality to auto-export your career mode teams at the end of every season, making it more seamless for you to step into Versus mode, load up your all-star squad and put your skills to the test. You never know, you might get the chance to take on a member of the Sports Interactive team.
Within Versus mode and Fantasy Draft, you're now able to set the number of substitutes you want to use in the game. Whether you want to roll with the traditional three or give yourself more flexibility with five, the choice is there. You'll also have customisation on what you want to do in extra time.
Over in Online Career mode, we've made it easier for you to join a friend's game when your fixture is complete; we know how important it is to get that first-hand scouting in before your next big meeting.
Manager Creation
FM23 offers more ways than ever to customise your managerial look in every career.
In terms of your manager's physical appearance, we've introduced six new male and six new female hairstyles.
New suits and coats have been added for male and female managers; should you choose the former, you'll have the option to go for a more stylish look by adding a scarf. Should you want to go for the more casual look sported by a number of the game's top bosses, you'll now also be able to wear a polo and jeans.
Rather excitingly, we've also added a range of manager accessories, including watches, earrings and scarves, for you to incorporate.
MLS
MLS is one of the world's most complex and interesting leagues. For FM23, we've made a host of tweaks to improve the experience of managing in North America and reflect real-life rule changes.
We've added in the new Under-22 initiative introduced by MLS in 2021. Designed to foster the growth of young players in the league and make it easier for clubs to sign them, the initiative allows you to sign three players under the age of 22 to lucrative contracts at a reduced salary cap charge.
The initiative is applicable to players on their first or second contracts, as well as international players coming into the league for the first time. Once a player finishes their contract and is renewed onto a regular MLS type contract, they'll have a normal roster spot and their salary cap hit will adjust accordingly.
A couple of changes have also been made in regard to the way Canadian players are classified for squad registration.
MLS clubs have eight international spots available by default, although the variance in rules around permanent residence in the USA and Canada means that the American clubs can typically accommodate more internationals through them acquiring residence sooner.
This essentially put the Canadian teams at somewhat of a competitive disadvantage. In order to compensate for that, MLS have given them three extra international slots moving forward. This has been reflected in FM23 – should you manage a Canadian club in MLS, you'll see that they have eight non-tenured international slots and an additional three 'tenured' spots for players who've been playing in the league for three years, giving a total of 11. These tenured spots are not tradeable but the non-tenured ones still are.
The second Canadian change is in relation to the way their youth players are classified. In previous editions, they were marked as internationals for US-based teams. Now, any Canadian youth player trained in the USA or Canada will be considered as domestic.
Lastly, we've upgraded the relevant inbox items for the December Waiver Draft to provide you with a clearer explanation of the Draft rules, the players involved and why they've been selected.
Pre-match briefings
Pre-match briefings have also had a shake-up to improve both the content featured during them but also how this information is displayed to you as manager.
The rise of the fly-on-the-wall documentary series profiling some of English football's biggest teams have had an input. From viewing those it became clear that players wouldn't necessarily speak up about an issue before a game, with a gauge on their body language, emotions and potential frustrations more likely to come from an Assistant Manager.
That's how the briefings now function in FM23, with your Assistant providing feedback. This information is now presented in a three-column grid, allowing you to see the player reactions more visibly. Should multiple players react in the same way, only the most influential player will be named but a tooltip will allow you to see all of those falling under that category.
We look forward to seeing you discover these additions and many more in the coming weeks as you get your hands on FM23 and kick-off your managerial journeys.
Read a blog from our Studio Director detailing multiple improvements and tweaks made to FM23 to improve your game experience - exclusive to FMFC members.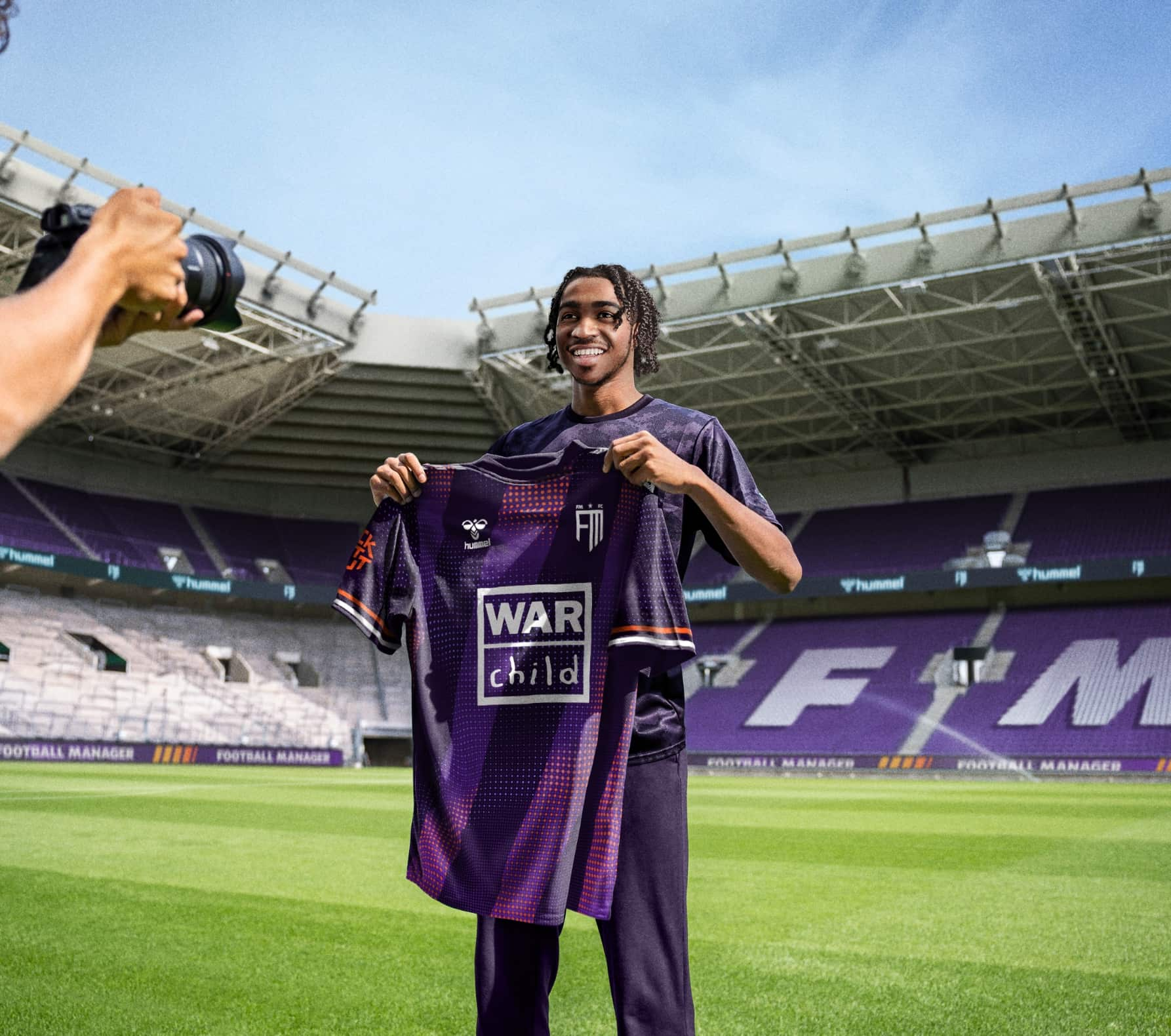 JOIN THE SQUAD
GET REWARDED
Sign up for FMFC to get exclusive feature drops and game updates, personalised content, plus member-only rewards and incentives.