Gameplay Upgrades
21.10.21
Read Time

: 14 minutes
Overview
Manager Creation
We know that your manager's appearance is a vital part of every Football Manager career. It's a visual representation of how you see yourself, or how you'd see yourself looking if you were in the hotseat for real. Alternatively, it's an opportunity for you to impersonate someone else entirely. Whatever look you choose, getting it just right is all part of the unparalleled immersion offered by FM.
For Football Manager 2022, the manager creation module has been redesigned, with new functionality giving you more tools to get your manager looking exactly the way you want them to.
More ways to customise your look
Once you've entered your manager's key details, one of the first things you'll notice is our further refined manager character models. Brand-new head meshes mean you'll get five different facial shapes to work with as you bring your virtual self to life. Using the 'Edit Face' button, you can further fine-tune your look to get your manager looking the way you want them to.
If creating a male manager, the overhauled 'Head' section of the creator contains six tabs: Hair Style, Facial Shape, Facial Hair, Eyebrows, Eye Colour and Glasses. Of those, Facial Hair and Eyebrows are exciting new additions for FM22.
There are five different Eyebrow settings available, ranging from the minimal to thick and bushy. Likewise, you have several Facial Hair options at your disposal. You can opt for a moustache, a hipster beard, or a dashing combination of the two. You can, of course, keep them clean-shaven if that floats your boat.
For those of you wanting a closer look at things, there's a wider range of Glasses than ever before. Like a good optician, we're here to help you settle on a style that suits your managerial needs perfectly.
We know how important getting your hair right can be and to reflect that, we've increased the range of available hair styles. Perhaps the most exciting addition to the manager creator is an RGB colour picker, providing you with literally hundreds of options to tinker with before finding your perfect fit. For those of you who are rocking a headband, you can now change the colour of that for the first time. Want to stick to a traditional tone or go for something out there that ensures you standout on the digital touchline? The choice is yours, gaffer.
When perfecting your manager's Body settings, you'll notice two significant changes for FM22. The first is that setting your manager's skin tone is now done via a slider, providing greater representation and a better way for you to set their ethnicity.
Likewise, your manager's weight is also now determined in the same way, instead of the numerical dropdown still in place for adjusting height. With a responsive model on the right-hand side of the screen, you can better visualise what your manager looks like.
Get the perfect touchline outfit
After settling on your manager's physical appearance, it's time to decide on your attire.
Unlike in the past, when you worked with a dropdown of the different outfits available, we've revamped this section of the manager creator so you can now see the 10 possible alternatives before choosing one. Like with the hair styles, the RGB colour picker at your disposal means you can craft a look that just encapsulates you and what you'd want your manager to look like.
For those managers who'd rather fly under the radar, you'll have a friend in the randomise button. Clicking that button metaphorically throws all the pieces that make up your manager's look up in the air and sees how they land, providing you with a new profile that's perhaps a little haphazard but certainly very different. Pink shirts, orange ties and green shoes? We're completely onboard with it.
Your Manager, Your Way
Our redesigned manager creator means that in FM22 you've got all the tools you need to craft your virtual self. Once you're happy with your initial creation, it's time to hit the space bar and begin your latest managerial journey.
If you change your mind about what you want to wear or you've got a new hair style you want to replicate, don't worry. We've increased the visibility of the edit function in-game, meaning it's easier for you to change your style wherever and whenever you want.
---
Fantasy Draft
The Fantasy Draft game mode was first introduced in Football Manager 2016, bringing a new way to play the game for the first time by drafting a dream squad and challenging your mates. Every year since then, we've added to it, improving the mode step-by-step.
In FM22, we're introducing a raft of new features to the Fantasy Draft game mode including some frequently requested features from the community. We worked closely with some of the leading Football Manager content creators to ensure the features they wanted to see added were integrated into this year's game, which we hope will make the experience of watching their online content even more enjoyable.
Let's dive in and take a look at the changes.
New Ways to Setup your Drafts
Upon creating your draft, you will now notice without first glance a few changes in the different options available during the draft setup. The idea behind this was to give more freedom to the users to do what they wanted, the way they wanted it.
The first change we'll pick out is the addition of a new format option: 'Group Stage & Knockout'. As its name suggests, you will be able to create two, four or eight groups of four teams each, that will play out as a single round robin where each team plays the three other teams in the group once. At the end of this group stage, the two top teams from each group will then qualify in a classic knockout cup format. This game mode will allow you to spice things up a little bit between you and your friends.
Speaking of spicing things up, the budget options in FM22's Fantasy Draft have been revamped. The slider will now allow you much more freedom, going to much lower values than previously existed but also higher, while we've added more budget options in the middle range too. And, of course, you will now see the ability to tick the option to have no budget limit whatsoever if you want to draft with no restrictions at all.
Lastly on the main draft setup screen, you will find a new button in the Advanced Settings panel, allowing you to choose if you want VAR to be active in your Fantasy Draft, as well as selecting the number of yellow cards a player will need to receive before they get a suspension for their next game.
Player Selection Restrictions
A popular feature request from our community has been to allow more customisation of the rules around drafting players. Many of you will have taken part in drafts where you agree on specific rules to pick your players – such as only drafting players under the age of 23 or players from certain nations. Now, in FM22, these rules can be incorporated into the draft as the host is able to customise the draft pool to include such restrictions.
This new menu will allow you to create restrictions for the entire draft using filters like Nationality, Value, Best Foot, League, Height, Position and of course, Age. You can also combine these to create a bespoke draft criteria to suit you. There's also an And/Or option that you can use to add more options to the draft pool. The game will tell you in real time how many players will be available in the draft pool depending on your setup.
There's a second option to customise your draft pool too as you can tie these restrictions to specific draft rounds. You're able to set these to every five draft rounds, allowing you to create unique draft scenarios. Let's say you still want to have a draft consisting of only English and French players. You might want to allow English players to be picked for the first five or ten draft rounds for example, and then allow French players to only be selected in the remaining rounds. Now you're able to create the draft of your dreams.
Lastly, when you're looking to join a draft, you will be able to see the restrictions in place in the lobby list, so you'll know what you'll be getting into.
Improvements to the Draft Process
The creation options aren't the only improvements made to the game mode. For starters, in the lobby before the draft itself starts, the host will now be able to select the draft order themselves or leave it to the game to randomly decide.
During the draft itself, various changes have been made to make the experience smoother for everyone involved. Two of the most notable are that it's now possible for the host to pause the entire draft should it be needed for any reason while we've also added in the ability to filter out any player that you can't afford anymore with your remaining budget, letting you scroll through only your available targets.
One of the biggest mid-draft elements we've made changes to is the Auto Pick function. We've significantly improved the logic behind Auto Pick so that it takes into account more information and makes more intelligent selections than ever before. You will be able to influence the Auto Pick function by selecting beforehand which position you want the game to select for you and, if possible, the Auto Pick will prioritise the players you have available in your shortlist that fit the bill. We've made the Auto Pick selection more immersive with a short animation to show you the card of the player picked for you. This improved logic will also improve the AI's behaviour when making their picks as they'll draft better quality squads and look to utilise their whole budget.
The Best Fantasy Draft to Date
The changes we've made to Fantasy Draft in FM22 make the increasingly popular game mode a more customisable and more enjoyable experience. With new ways to prove your managerial mettle against your mates and a refined draft structure, Fantasy Draft is the best it's ever been in FM22.
---
Transfers and Scouting
Scouting and signing players is one of the most enjoyable parts of Football Manager. From discovering a young prospect that has the potential to transform your team's fortunes to finally getting that deal for a global superstar agreed, there are few feelings quite like mastering the transfer market.
In FM22, we're introducing a raft of improvements to the transfer and scouting systems that create a more realistic market to operate in. We've already shown you what you can expect to experience on Deadline Day as you're pressing to get those last-minute deals over the line. However, if you're the type of manager who likes to get their business done earlier in the window then we've plenty to get your teeth into.
FM22's transfer market is more true-to-life than ever before, there are more ways to ensure you're getting the deal you want, and we've refined the information presented on scout reports to make it easier to home in on the players who can help take you to the top.
Let's dive in and look at these features in more detail…
Transfer Values
We've been creating football management simulations for more than 25 years and throughout that time we've used a single, arbitrary figure to illustrate a player's transfer value within the game. However, in recent years, we found that player values were becoming increasingly difficult to balance against the inflated transfer fees in the modern market. During transfer negotiations in previous FMs this would often lead to clubs asking for a huge fee compared to a player's perceived value.
In FM22, you'll find that player values have been revamped and are now illustrated by a transfer value range that more realistically reflects the actual worth of the player. That range will also narrow as you gain knowledge on the player – whether through scouting or reaching out to the player's agent via the 'Ask agent about availability' option. Agents might also have more insight into what fee the selling club will consider acceptable, giving you the chance to get a fee agreed early and gain an advantage on your rivals.
Of course, selling clubs will take these values into account when negotiating a deal for a player and are far less likely to demand a hugely inflated fee for a player. With young players in particular, clubs are more flexible in negotiations with players who have yet to make a senior appearance as until they make it into the first-team there's a lot of uncertainty as to whether the player will live up to their potential.
Player values can fluctuate throughout transfer windows too. For instance, as you approach the end of the window, you might find that clubs are more desperate to offload and those players who are being offered out will drop in value. Another example is that high earning players who aren't getting much playing time will also drop in value.
And if you do end up losing out on a player to a seemingly lower transfer fee or contract offer from another club, you'll now get more detail in the accompanying news item on why the player chose that club.
Agents
Agents took on a bigger role in FM21, with the 'Ask agent about availability' feature allowing you to get a better idea before entering negotiations of what the club and player would demand. In FM22, we've expanded on the role of agents, giving you greater levels of interaction with them.
We've revamped the 'Ask agent about availability' feature which now takes place as a remote chat. This is not only more realistic, replicating the one-to-one interactions that managers have with agents in the real world, but allows you to gain more insight into a player's demands and level of interest in joining your club. You also have the ability to try and convince an agent to try and change their client's mind if they're not interested in joining your club.
Once you've talked through expected wage demands and promises with the player's agent you'll then have to inform the agent whether you plan on making an offer. If you tell the agent that you are going to make an offer for their client, then they'll expect you to put a bid in for the player and will be upset with you if you don't do so. If you decide to make the offer soon after your conversation with the agent, then you'll improve your relationship with them and potentially be able to negotiate better deals with them as a result. However, if you don't follow up with an offer, your relationship with the agent will be negatively affected which could make it more difficult to negotiate with them in the future.
Agents will also be far more active during transfer windows, offering you players on their books more often than in previous years. Some agents will offer players that they feel will actually benefit your squad whereas others will look to try and offer players that aren't of sufficient quality in the hope they can get them a deal – and a healthy fee for themselves, of course.
Agents will take a more hands-on role with players at your club as well. For instance, when a player tells you that they want a move to a bigger club, you can now tell them that it's up to their agent to go out and source a move for them. If their client wants to explore their options as they approach the end of their contact, their agents will speak to clubs to try and secure a deal but if you want to keep the player, you can try and ask them to stop their agent from doing so.
Enhanced Scout Report
Scout report cards in FM22 have been refined and pack more information than before into a single report. One of the most immediately noticeable changes across the whole scouting module is that we've changed the scouts recommendation so that it's no longer a score out of 100 but is now a grade. These work in the same manner as the grades you'll get from the board in your confidence report card every month and are a more realistic assessment of how well a signing might perform in your team.
We've also combined Scout and Analyst Reports into a single report. Now when you request a report on a potential target, you'll automatically send both your scouts and your analysts to work to profile the player, without having to request a separate Analyst Report. The list of pros and cons on the report card will also include information from your analysts, such as how a player's asking price compares to the market value.
More Control
There are now new ways for you to take more control of the transfer negotiation process in FM22. Firstly, if you assign a staff member to handle contract negotiations, they'll now come to you and tell you if they feel that a player is demanding too much money. You'll then have the option to take charge of the negotiations yourself to try and get the deal that works best for you.
Similarly, if your board reject the sale of a player because the transfer offer isn't good enough, you will now be able to enter into re-negotiations with the buying club to find an offer that will appease the board.
When a club meets a player's minimum fee release clause but you don't want to lose them just yet, you can now add in a 'Loan Back' clause into the transfer offer to see if the buying club are willing to loan the player back to you for a period before they leave permanently.
The Transfer Market
FM22 features a number of tweaks to AI behaviour and overall logic in the transfer market that makes it a more true-to-life experience than ever before.
One of the most prevalent examples concerns the use of instalments in transfers. In real life, instalments are used much more often than they were a few years ago and allow clubs to ensure they're within FFP rules when making a high value signing. In FM22, you'll see that instalments are used much more often in deals involving a large transfer fee, limiting the buying teams' initial outlay. However, selling teams will now want more money when receiving transfer fees in instalments to make up for the fact that they won't receive the whole fee upfront.
There's now more build-up to Transfer Deadline Day in the days and weeks leading up to it too, as Deadline Day has become a larger part of the game in FM22. You'll see more news items in the two weeks leading up to Deadline Day that point out what might happen on the day itself and there are more rumours throughout the window of deals that could go down to the wire and be finalised on Deadline Day.
MLS and A-League
Finally, for those of you managing in MLS or the A-League, we've introduced a raft of updates to better represent the way that transfer business is conducted in those leagues.
We've redesigned the Waiver List screen for MLS so that it's easier to see which players are available on waivers and made it clearer on Scout Reports as to whether a player is draftable, along with a recommendation on whether you should sign them or not. We've also improved trade and transfer logic for MLS to ensure the AI are making more realistic moves to bolster their rosters and improved the decision-making for AI clubs when deciding which players should be awarded Designated Players.
In the A-League, we've enabled full-time contracted players to earn more than the minimum Designated Player salary without having to be named as a Designated Player, in the same way that many clubs look to retain their players in real-life.
Outro
FM22 revolutionises large elements of the transfer and scouting systems to create a more varied and realistic transfer market that gives you new ways to take control of your team's activity in the transfer window. However, you'll be faced with agents with more influence than ever before and a more volatile market – it's over to you to get the best deals for your club.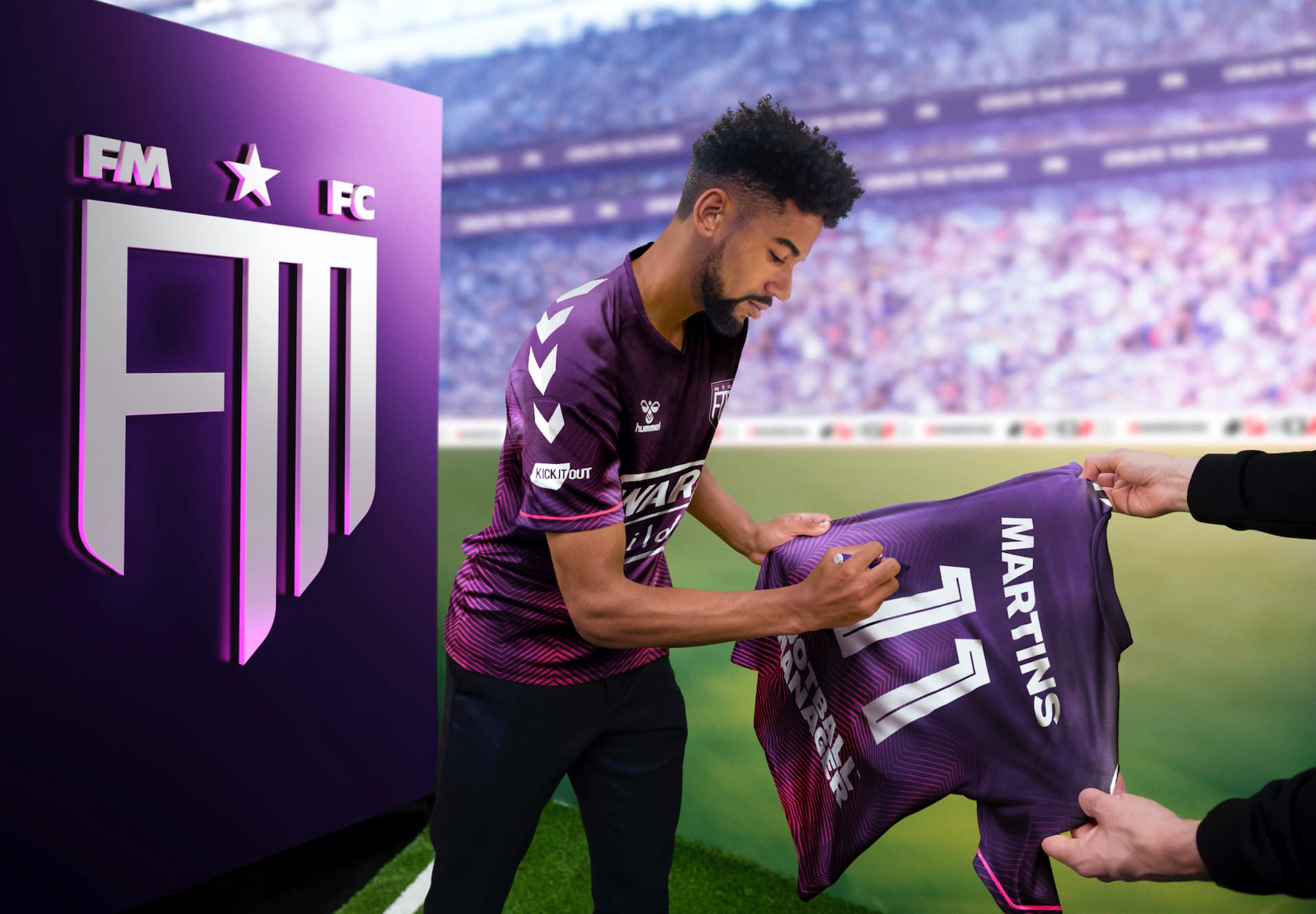 JOIN THE SQUAD
GET REWARDED
Sign up for FMFC to get feature drops and game info before anybody else, content more relevant to your game preferences plus member-only rewards and incentives.