Recreating Brighton & Hove Albion's tactical style in FM23
Tactics: Formations
07.03.23
Since his appointment as Brighton & Hove Albion manager in September 2022, Roberto De Zerbi has received plaudits for his entertaining and effective style of play.
Making the most of a lot of the good work done by his predecessor, the Italian has crafted a bespoke tactical approach that is paying off for his side in league and cup.
Having studied a lot of the Seagulls' recent games, Dan Gear has put together this explainer to show how you get your sides playing just like them in Football Manager 2023.
What are Brighton's Principles?
Favouring a 4-2-3-1, Brighton like to retain possession in their own half, making a lot of short passes to move the opposition around the pitch and bait their press.
In a typical 4-2-3-1, one of the two central midfielders tends to drop deep when in possession to offer another passing option. To complement this, the full-backs then push higher up the pitch to offer width and the wide forwards tuck in, essentially creating a 2-1-4-3 when in possession.
Brighton's approach is very different though.
Under De Zerbi, their full-backs tend to stay wide but closer to the defence in midfield. This essentially gives them a 2-4-4 in possession, with the wide attacking players pushing up alongside the striker and attacking midfielder behind the opposition's defence.
From here, the team invites on the press and plays through it by passing the ball vertically to one of the two players in the centre of midfield.
Brighton's two central midfielders usually sit quite close together so that they can rotate passes between each other or back to the defenders to keep the ball moving at all times. In this sense their style is a quite patient one, focused on moving the ball around until there's a suitable opportunity to pass vertically to bring the four attack-minded players into play and create 4v3 situations against the opposition defence.
When in the opposition half, Brighton's shape is almost a 2-2-6. The widest players in the system are encouraged to cut in with the ball rather than crossing, getting it into the area with a series of passes and player movements around the edge of the box.
Now how does this tactic look in Football Manager 2023?
FM23's match engine sees a real change to the way double pivots work, so using a 4-2-3-1 with two Defensive Midfielders made the most sense for this tactical recreation.
Deploying both central midfield players as Defensive Midfielders will give them a deeper starting position when the ball is in our half. This means that they're closer to the defence, making it easier to recycle possession across the back line with short, simple passes.
The protection offered by one of them being on Defend duty means that the Full-Backs on both sides have the licence to push forward and create a four across the middle of the pitch while in possession, opening up more passing options and keep our shape wide.
The three in the attacking midfield strata are all on Attack duty because when Brighton move the ball into the opposition's half, they up the speed of their passes and play to create more openings. Although the wide player roles were self-explanatory, I had a bit of choice when it came to selecting how exactly the striker would play. In my view, the Complete Forward is the most similar role to the one De Zerbi's front man is expected to play in real life.
In terms of In Possession Team Instructions, Brighton play short passes out of the back and when attacking they run at the defence with the ball, aiming to work the ball into the box rather than hammering crosses in. During transition, they play out from the back with a slow tempo, passing the ball between the Central Defenders and Full Backs. When the opposition have the ball, Brighton like to drop into a Mid Block and press the opposition once they enter their half.
Player Instructions
Goalkeeper - Sweeper Keeper (Support)
The Sweeper Keeper will look to initiate counter-attacks. By putting him on Support, he will stray just outside the box offering himself as a passing option. Adding the Pass it Shorter player instruction means we're asking him to look for the short pass to help with the build up play from the back.
Right Back - Full Back (Support)
The Full-Back on a support duty will support the attacking play and offer the width Brighton play with. To further reflect his real-life contributions, I've asked him to Take Fewer Risks, Cross Less Often and Shoot Less Often as I want him to be a 'pass first' player.
Right Centre Back - Central Defender (Cover)
From experience, the Ball Playing Defender is a more direct role, so for the right-sided centre-back I have gone with the Central Defender on Cover and asked him not to dribble, pass it short and take no risks with passes. By telling him to close down less he shouldn't break away from the defensive line and find himself out of position. With the Cover duty he will both drop a little bit deeper to sweep up opposition attacks and also offer another passing option.
Left Centre Back - Central Defender (Defend)
Similarly to Dunk on the right, Colwill is instructed to Take Fewer Risks and keep his passes short. By encouraging him to close down less and thereby hold his position, he's more likely to always be in a good position to help the defence rotate possession.
Left Back - Full Back (Attack)
With the Left-Back, they are instructed to Take Fewer Risks and Shoot Less Often. This will mean that they are primarily a passing option in the wide channels but the Attack duty means that they'll be further forward than their teammate on the opposite flank.
Right Defensive Midfielder (Support)
On Support, the Defensive Midfielder will step into the midfield and support attacks. Although he's got the game to play long, probing passes into space, we're encouraging Mac Allister to Take Fewer Risks because we want to retain possession where possible to stretch the opposition.
Left Defensive Midfielder (Defend)
The other Defensive Midfielder has a more defensive brief, focusing more on holding onto the ball when needed and recycling possession from deeper areas.
Right Attacking Midfielder - Winger (Attack)
Although I noted above that Brighton's wide players tend to cut in, Solly March is included here as a traditional Winger. This will allow him to stretch the play for us but as he possesses the Cuts Inside from Right Wing trait, he'll still be drifting in with the ball as he does in real life. In terms of additional items, I'm happy for him to Roam from his Position, giving us more passing angles when in possession, but we've got him Taking Fewer Risks when he gets the ball to feet.
Centre Attacking Midfielder - Attacking Midfielder (Attack)
The Attacking Midfielder on Attack duty is the team's primary creator. They'll use lots of quick passes and one-twos with the other three attackers to keep the ball moving and create chances.
Left Attacking Midfielder - Inverted Winger (Attack)
An Inverted Winger on Attack will run directly at the defence, passing the ball and moving into space. We don't want him crossing or taking low percentage shots, but we're happy for him to roam and find pockets of space on the left-hand side of the pitch and in between their full back and centre back. Kaoru Mitoma, with his strong Dribbling Attribute, is perfect in this spot.
Striker - Complete Forward (Support)
The Complete forward is an all-rounder – a strong, powerful and technical goalscorer. On support duty, they will drop into the space made by the other three attacking players, creating chances or getting on the end of them. The hardcoded instructions to move into channels and dribble more mean that they'll stretch the opposition defence by going wider, thereby opening up central spaces for the onrushing Attacking Midfielder.
Team and player performance
Having played through the first 19 games of the season, this tactic has delivered 11 wins from 19 games for Brighton. We've got two more wins than the Seagulls have managed in real life but have also suffered two more losses, sitting eighth in the table with 33 points.
We've scored fewer goals than Brighton have in real life but as per the xG table, we've underscored the chances we've created by five goals.
Ultimately, the main priority for this tactical piece was to recreate the style of play that has seen Brighton thrive in recent months and that shows in the in-game data.
We've got a pass completion ratio of just over 90%, which is on par with the division's best teams. Our passes attempted per game, meanwhile, is 743, more than anyone else in the league and 167 above the league average.
One of the best indications of this tactic performing as it should is in the Passing-Defenders graph. This shows that all of our regular defenders are in the top quadrant for passes attempted and passes completed; a reflection of us rotating possessions around the defence as we sought opportunities to make vertical passes.
The Passes Attempted visualisation further illustrates this point. This shows that the majority of our passes are occurring in the defensive and midfield thirds of the pitch, again reflective of our patient build-up approach.
Consultation of the Passing Dynamics graph is also instructive. This compares the number of passes completed by teams across the season with the number of passes completed against them in games. We're in the "Fewer Passes Completed Against/Lots of Passes Completed" quadrant, showing that our approach of stopping the opposition with a Mid Block trigger and then retaining possession is clearly working for us.
Conclusion
After 19 games, the tactical recreation of Brighton's current style is being replicated well. In this example, we are lacking an elite goal scorer but should you take over Brighton for a save at least you know what area to improve.
I've had a lot of fun working on this tactic and seeing how it plays out in the Match Engine. Not all tactics work with all teams, so you may not be able to replicate this exactly in your current career, but I encourage you to give it a try and see how you get on.
Happy managing,
Dan Gear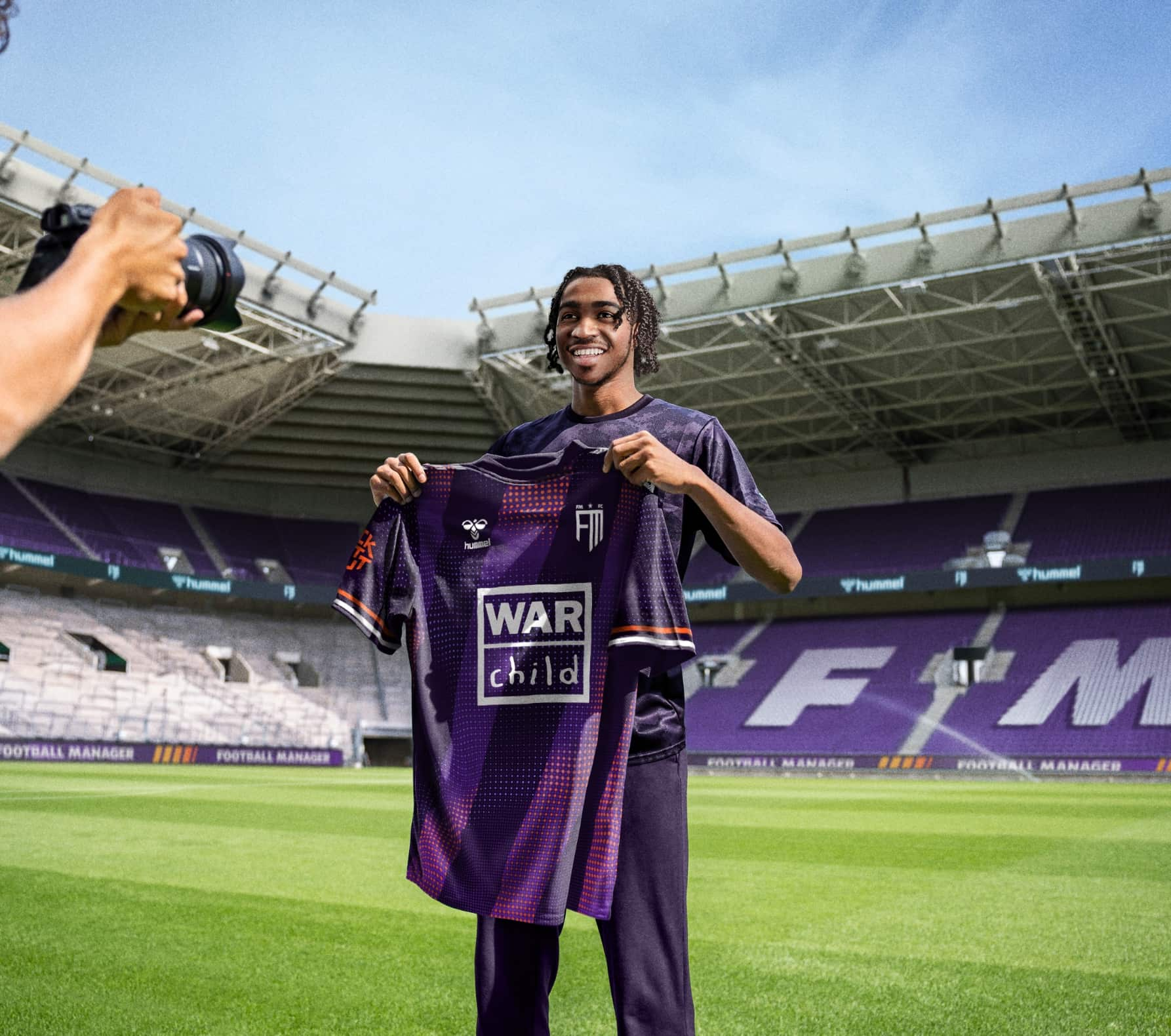 JOIN THE SQUAD
GET REWARDED
Sign up for FMFC to get exclusive feature drops and game updates, personalised content, plus member-only rewards and incentives.