Retraining players for success in FM21
You've seen it in real life - clubs losing a series of key players through injury or transfer deals and then struggling as they lack suitable backup in those areas. You'll also have seen it in Football Manager, where you reach a pivotal point in a campaign only to suffer the ignominy of a mid-season injury crisis which can completely derail a good run of form or, worse still, your entire season. You feel these issues particularly when the transfer window is closed and/or you can't afford to bring in like-for-like replacements.
That ends here. MaddFM talks about the value of retraining players in new positions in FM21, explaining how it can assist your recruitment strategy and your overall player development in a longer-term save. Looking at different options and approaches will mean you're maximising the impact each of your players can make. It'll also ensure you've got sufficient Squad Depth, from first-choice starters to youngsters in your academy capable of providing cover.
Recruitment Strategy
First of all, we need to bust two myths around player development and recruitment.
Myth #1 - a player must be 'Natural' or 'Accomplished' in order to play a certain position or role on the pitch.
Myth #2 - when using the Player Search, the best way to find a suitable candidate is to filter for the exact position which you are trying to fill/cover.
Ask yourself – when recruiting for a specific position, what's the first thing you do? Most of us start by going to the Player Search and filtering for that position. Sports Interactive have made it easier than ever to do this via the Quick Search function as well as the position map within Advanced Filtering.
Most of us will search for a Defender when you want a Defender. That's the logical thing to do. However, by applying these filters you are inadvertently limiting your candidate pool. Indeed, you may miss out on a perfectly suitable and affordable option that has the potential to perform equally well, if not better, in that position given the right training and support.
Let me show you an example. Imagine we're looking for a quality Central Defender with Bundesliga experience. When looking for a Centre-Back I always favour players with decent Attribute scores for Pace, Bravery, Positioning, Heading, Marking and Tackling. These form the base of our search along with looking for a player currently based in Germany.
If we use the position filter provided and fill in our requirements on the Quick Search panel, we find a decent selection of 20 Central Defenders who could fit the bill and whom you would argue we should start scouting right away.
Filtering by Attribute
Most of us tend to delve straight in and search by position but what if I told you there was a much better way of finding the right player? If we remove the position filter, we open up some doors. Where before we had 20 'Natural' Centre-Backs showing up in our search, by eliminating the position filter the results produce an additional eight candidates, five of whom are in the Top 20 results by value. While these additional players are not central defenders at the moment, they have the requisite skills to become an elite Centre-Back for us with the right retraining.
Let's take a closer look at Lucas Tousart as an example. At 23, he is experienced enough to slot in at Centre-Back immediately if absolutely needed, but is also young enough to be retrained fully in that position. He's 6"1 with great Physical (15 Balance, 18 Stamina, 15 Strength) and Mental (16 Anticipation, 17 Bravery, 16 Positioning, 17 Work Rate) Attributes and you could make the case that he lacks the standout Technicals (just 12 for Passing and 11 for Technique) to make him an elite midfielder and thus converting him into an accomplished Centre-Back would be a logical strategy to maximise his defensive strengths.
Retraining
All of this sounds good in theory, but let's try putting this into practice, shall we? I'm currently managing in France and in the year 2025 I was seeking a Centre-Back who was French, had the same key Attributes I look for in a defender who was both affordable and interested in joining. When reviewing the pool of defenders that came up in my search results I struggled to identify a player within budget that was better than what we had already. However, when I expanded the search to focus on Attributes only, I discovered a Newgen by the name of Serge Giraud who had the perfect profile for a Centre-Back apart from one obvious problem - he wasn't one. Yet.
I signed him in January 2026 and immediately set to work on retraining him as a Central Defender. When it comes to retraining new positions, there are a number of actions you can take when it comes to their individual training and development to optimise and accelerate the process.
1. Additional Focus
In addition to focusing on the new position/role, the 'additional focus' dropdown is a key component in quickly targeting a skill that will help as the player evolves into a new position. In this case, we focus on turning Giraud into a Ball Playing Defender based on his strong Technical skills (Passing, First Touch, Technique etc) while setting the additional focus to Aerial in order to improve his Heading so that it complements his good Jumping Reach. With high Stamina and Natural Fitness he can surely handle the Double Intensity level I've assigned him.
2. Player Traits
Another surefire way to accelerate a player's transition to a new position is via their Player Traits. These are often an overlooked area when it comes to player training and development. The dropdown to 'Discuss new trait' can be found on the Player Development screen and offers a host of choices in terms of Movement, Passing, Technical, Defensive and Finishing training/traits.
3. Mentoring
This is particularly relevant for young players but is applicable to those of all ages. Mentoring is always useful to influence a player's development, and when training a new position it can do no harm to partner the new player up with a couple of your existing players operating in the same role. In this case, we partnered 20-year-old Giraud with two of our more experienced defenders in the hope that this will directly impact his transition in a positive manner.
4. Gametime
Needless to say, practice makes perfect. You can do all the training in the world but it is also essential to give the player time to practice and gain experience in their new role in real match settings. Depending on their level, this can be in friendlies or cup games to start off, with a longer-term view towards giving them minutes in league games against increasingly better opposition. Getting this experience under their belt should help speed up their progress and enhance the quality of their training and training performances. We all like to feel our hard work is rewarded, so why wouldn't your beloved Newgens?
With Adaptability no longer a visible attribute in Football Manager, we are increasingly reliant on the player's Personality and Mental Attributes to get a feel for how the player will develop when adapting to new things e.g. settling into a new team, playing in a new country, learning a new language and, of course, training for a new position. As you can see above, Determination is an important factor, as are things like Work Rate and Concentration. It is more difficult to influence Player Personality directly but all of the above actions will greatly increase and accelerate your chances of success in training a player in a new position or role.
Progress
It takes approximately six to nine months to retrain a player in a brand new position in which they had no position/role familiarity previously, and about 12 months overall before they can be said to have acquired a 'Natural' familiarity in the role. If we look at Giraud's progression after working through the above steps (player Attribute changes can be viewed by going into the player's profile, viewing Development, then Progress and flicking the view to Attributes), we can see a gradual ascent from zero to hero as he learned and developed as a Centre-Back.
Early Doors
As with anything (particularly in FM), the sooner you begin, the sooner you will start to yield results. That is incredibly true for position training in-game. While we discussed amending and expanding your recruitment strategy to allow for strategically recruiting players in order to retrain them in a new position, it's important to realise and recognise when it might be useful to do the same for your own internal players - particularly your Youth Candidates. When taking over a new club, it can be highly beneficial to check for opportunities to retrain players in new positions either as cover or with a view towards moulding them for first-team football. Additionally, your annual Youth Intake also provides an excellent opportunity to review and assess if a player can be retrained right from the get-go. Everyone knows we learn things far more quickly and easily as youngsters - why should Football Manager be any different? An excellent feature in-game is that the Assistant Manager often recommends if a youth prospect can or should be retrained - pay attention, you may be thankful a few years down the line when you have particularly versatile players coming through that can be first-choice or squad/backup players as needed.
None of this is rocket science. We are simply looking for players with the key Attributes needed to play a particular position even if they have no existing familiarity or ability to play that role initially. While researching this concept in the Bundesliga there were several similar examples of players with the attributes and potential to be completely retrained into new positions - the likes of Angelino and Raphaël Guerreiro have the right blend of attributes to be retrained from Wing-Backs to Advanced Playmakers if we look at how strong their Passing, Vision, Decisions and Technical ability are, while wide players such as Jadon Sancho, Dani Olmo and Julian Brandt could easily be retrained as Strikers if you look at their Finishing, Composure and Off the Ball scores. One thing is certain - football is not black and white when it comes to player positions, neither is Football Manager.
"Those who can, do. Those who can't, teach".
You're the Manager; make it happen.
MaddFM.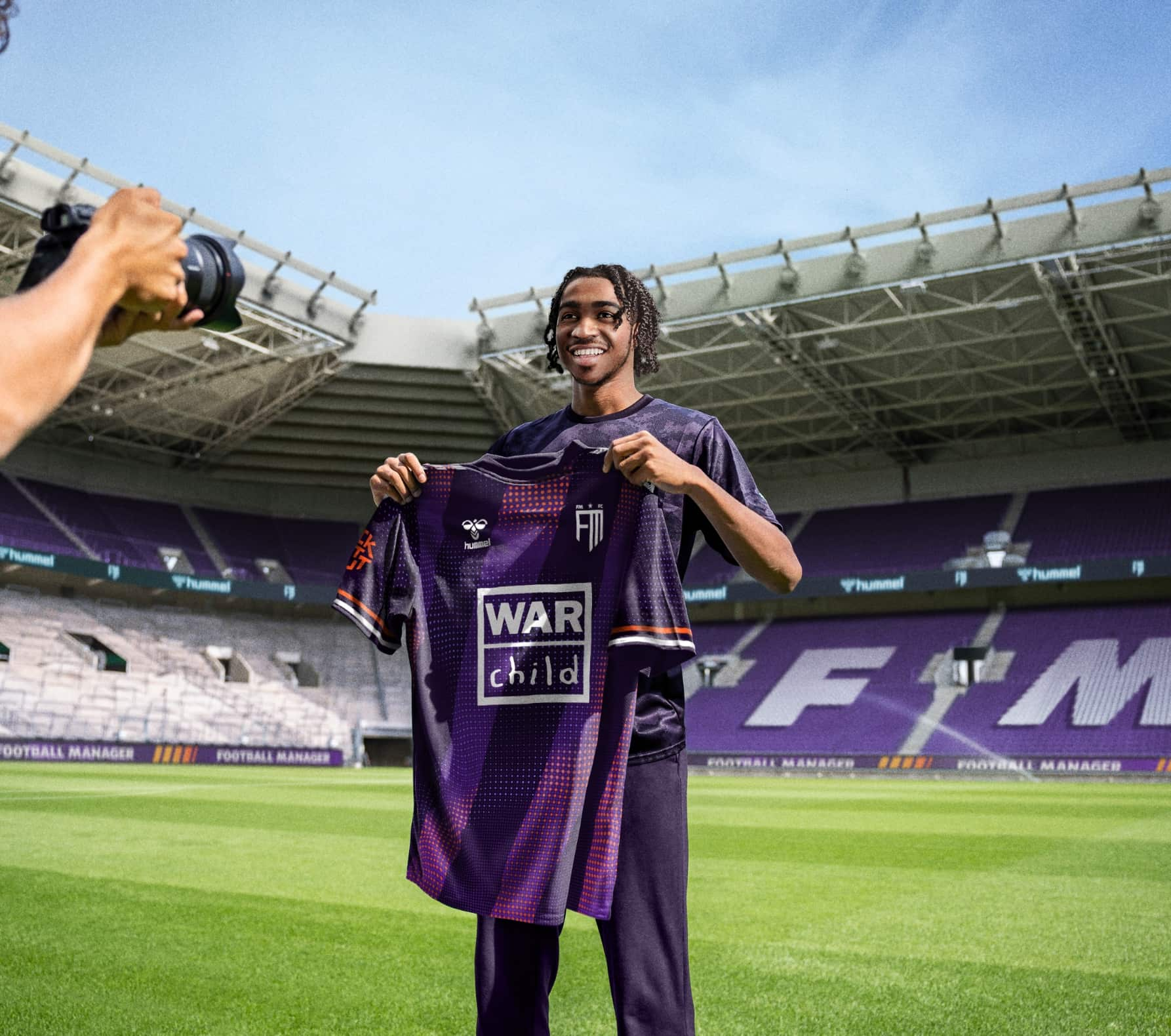 JOIN THE SQUAD
GET REWARDED
Sign up for FMFC to get exclusive feature drops and game updates, personalised content, plus member-only rewards and incentives.
Explore Our Features Roadmap