Six things you must do to prepare for a Cup Final
Extra Time: Guides
13.05.20
That special buzz in the air. The big pre-match build-up. There's nothing quite like a Football Manager cup final.
Whether you're a seasoned pro with a trophy cabinet bursting at the seams or a managerial novice, cup final days always feel exceptional. It's difficult to treat a cup final as 'just another game' and we don't think you should. Treat it for what it is… a day to remember. Here are the six things you need to do to get fixed up and looking sharp for your cup final.

1. Get Suited Up
Suits and cup finals go hand-in-hand. Forget the weird looks you get from your family/partner/pets, stick the suit on and put some respect on the tournament's name. A pre-match blast of the national anthem is an optional extra.
Suit wise, the preparation starts the night before when you've got to get it out and ironed for the big occasion. Use a bit of ironing water if you're feeling fancy; something floral to cover the inevitable mid-match sweats. To really add a big match flavour to your ensemble, pop a flower in your buttonhole or stick a pocket square in. Probably best to avoid an all-white number though.
2. Hold a Team Meeting
To hold a team meeting or not to hold a team meeting, that is the question. Your assistant will inevitably slide into your inbox asking you to set one up with the squad to… *checks notes*… 'boost morale'. Many of us can attest to saying the wrong thing during a team meeting and watching in despair as that dreaded red box pops up, littered with players having a pop at you.
The thing is, team meetings can be a real momentum shifter. They're perfect if you're an underdog or you're squaring up against a fierce rival. It's your chance to hammer home the importance of the match and inspire your players. Use it.
3. Plan for Penalties
No-one wants penalties. They're nerve-wracking, brutal and you've got even less control over proceedings than you do during the match. You've still got to plan for them though. Start by making sure that your team are working on penalties in training in the week leading up to the final. You can find these under the set-piece sessions and it's best to get them scheduled in for late in the week when all your standard match prep is done.
Keep penalties in mind during the game too. If the final looks like it's heading to extra-time then you need to be clever with your substitutions. Don't be the one who doesn't realise they've subbed off a decent penalty taker until it's too late. Know your squad's penalty ratings and plan accordingly.
4. Get the Right Setup
We're not talking tactics, we're talking about your home dugout. To get the best out of your players, you've got to manage from a place where you feel comfortable. Whether that's in your home office, in bed or the comfort of your favourite armchair. You might be tempted to take things outdoors with a trip into the back garden for the big occasion. Don't. You might feel like you're getting a taste of what it'd be like to stand on the touchline, but you also risk ruining the suit. That's what's important here, keeping that baby safe and clean for the all the cup finals still to come.
5. Make Sure your Star Players are Rested
If you've got the chance to rest your star players in the game before your cup final without it affecting your season, then you definitely should do it. With cup finals taking place at the business end of the season, your star players are usually a little jaded at the very least. Giving them a rest before the big day means they're more likely to come out firing in the final. If they've been having a good season, it's unlikely that one game out of the starting line-up is going to knock them off their stride either.
6. Don't Overthink It
It's very easy to try and change things up when you're faced with a big, one-off game like a cup final. It's also very rarely the right time to do that. Introducing a new system or any substantial tweaks to your current tactics risks unsettling the squad and causing problems on the pitch. During the match, you may want to change things up slightly based on how the match is playing out but give the lads the chance to earn their stripes. Your tactical setup has brought you this far, trust in it. Just don't blame us if it all goes wrong…
Those tips will hopefully see you celebrating wildly in your suit having brought home the glory. If you've got a cup final coming up or just have an important game that's deserving of bringing out your finest attire for then get involved in #FMCupFinalDay on social media. Send your pictures and videos to our social channels using #FMCupFinalDay and we'll share and give prizes to the best ones. Get involved!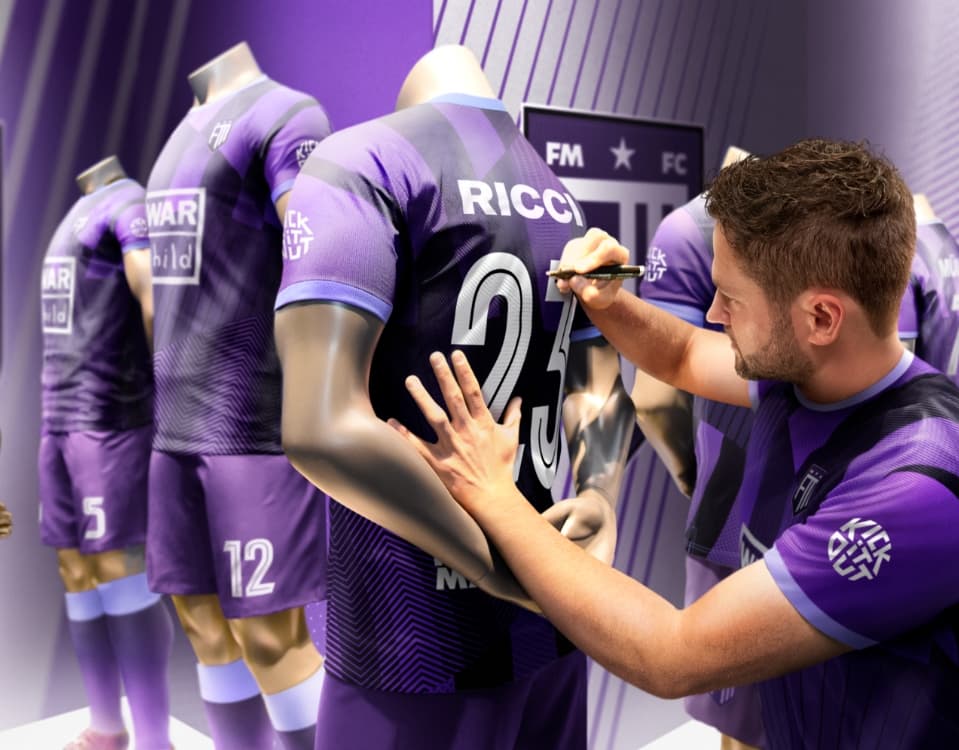 JOIN THE SQUAD
GET REWARDED
Sign up for FMFC to get exclusive feature drops and game updates, personalised content, plus member-only rewards and incentives.
Join the
squad