Three strategies to maximise limited resources
Extra Time: Guides
17.02.22
Every manager wants to have the best players at their disposal. However, it's not always possible. Whether you're taking charge of your local lower league side or managing in an exotic location where you are unable to draw in the world's top talents, you'll have to make the best of the players in your squad and the signings you can make. That's not always an easy task; players in lower reputation leagues haven't always got the most complete skillsets and require careful managing to succeed. Rock's End FM outlines some simple strategies to maximise the ability of more limited players.
Strategy #1 - Astute tactics
Sitting in front of the tactics blackboard is a bit like being in front of a brand-new 1,000-piece jigsaw puzzle - you know they all go together but working out how is a little more challenging. In FM terms this puzzle is harder to solve in the lower leagues, as players are generally less versatile and not as well-rounded across the three Attribute areas (Mental, Physical, Technical) as their counterparts further up the pyramid. That's why getting your tactics right can prove crucial in getting the most from your players. There are two factors you'll need to consider: their individual Role and where they sit in the overall tactic.
Choosing the right Player Role is vital at every level, but even more so here – you have to make sure you're playing to the strengths of your players and given them the jobs and duties that they're capable of doing. On the Player Profile screen, take a look at which are the key and recommended attributes for each role and see what matches with your player's high points. Be particularly mindful of requirements at the mental side of the game; roles with more Player Instructions are complex and will ask more of your players. Ask them to do too much and that's when you run into difficulties.
However, meticulous planning in this area is all for nothing if the rest of your game plan isn't tailored to the resources you've got at your disposal. An important part of making the most of each player is to make sure they fit in your tactic. This is best demonstrated with an example.
Paul Blackett is a striker from Gateshead in the Vanarama National League North. In FM22, he's got fantastic Pace and an eye for a goal but his link-up play could do with some improvement and he might well struggle against some of the league's more physical, experienced centre-backs. So, how can we get him leading the line most effectively?
The Advanced Forward is one of my favourite roles in FM22, as it looks to make use of the speed, power and technique common to many top modern strikers. However, it also requires a very good positional game because the player needs to make the right runs on and off the ball and see the right passes. If we try to use Blackett as an AF, we would be setting him up for a hard time.
Let's take a look instead at the Poacher. It's a less demanding role but, crucially, not less effective. By definition, the Poacher tends to sit high up the pitch, always on the shoulders of rival defenders, looking to make a run in behind for a clear chance. This suits Blackett, who has 14 Acceleration and 13 Off the Ball a lot more. However, it won't work as well if we don't surround him with the right players and instruct our team to play into Blackett's skills – he needs regular service. Playing a playmaker somewhere in the midfield will ensure Blackett gets those long passes to run onto. In the same way, using the Team Instruction to Pass Into Space will encourage our team to find runners, just like we're asking our Poacher to do. Another option would be asking our team to Hit Early Crosses, which Blackett can then chase after behind the defensive line. It's about putting your players in a position to succeed.
Strategy #2 – Choosing your moments
There is a long-running joke that many Football Manager players will discard any footballer once they hit the age of 30. Signing and developing young stars is one of the game's most rewarding facets, so this is no surprise, but for managers outside the top leagues extensive Wonderkid recruitment isn't always an option. It's also worth remembering that older players can often provide unbelievable worth to a team, particularly when it comes to leadership and the mental side of the game.
Still, father time remains undefeated and with limited facilities and often much less time to train, the decline can be even steeper for ageing players in the lower reaches of the game. It becomes key for their manager then to handle their time on the pitch in order to maximise returns. Let's take a look at another example.
David Noble is a central midfielder for St. Albans City in the Vanarama National League South. As well as this, he's also part of the club's staff. A strong passer with a good First Touch, his quality on the ball is undeniable. However, at 39 and with his Physical Attributes on the decline, his ability to influence and control games is slightly diminished. Despite that, he's still head and shoulders above many of his rivals when it comes to technique and the mental side of the game. How can a skilful manager make the most of his remaining time as an active player?
For starters, making good use of Strategy #1 outlined above is key. Playing these players in a role that maximises their time on the ball and limits their workload will extend their playing time throughout the season. By using Personalised Player Instructions, you can have them play a role that's unique to them, whenever they step on the pitch. Much in the same way, using a tactic that allows for the players they need to have around will help their performance.
However, unlike most players in your squad, that often won't be enough. These are players you can't play over the entirety of matches, and that will become more apparent as the season progresses. That's when you can make the most of it by using them more intelligently and there are two ways to do that.
You can have them to start out matches, looking to make a difference early on. Playing on a higher mentality can give you an early edge over your rivals, and with a creative player like Noble, it will also mean players around will be looking to make runs and attack the space more often. A higher mentality may also tire the player more quickly though, so making sure they have the Natural Fitness and Stamina to cope with this is key.
The other way to do it is by bringing them on as a sub late in the game. Particularly in tough matches or difficult cup ties, an advantage can be gained by keeping the result tight and then unleashing your key player with fresh legs when the time is right. In the case of Noble, we could bring him on around the 60-minute mark and let him control the tempo of the game. With the opposition tiring, he'll have more space and time on the ball. He could also prove a big difference maker with set plays as he's quality with a dead ball.
Strategy #3 - Conversion
Last but not least is player conversion. In the lower reaches of the footballing pyramid, we often get players that have more defined capabilities - a more limited skill set generally means less variety in terms of what any player is good at. By and large defenders are good at defending, midfielders are either good at passing or recovering the ball, and strikers are good at scoring.
However, from time to time we find a player that is a bit of an all-rounder. Maybe it's because they have skills in areas that their position doesn't generally require or because they've dropped off a bit physically so are now more comfortable deeper than they would have been before.
This gives you a dilemma, particularly if the player is so good you can't really leave them out, but you can't figure out how to get the best from them. For me, the best option is often to convert them into a new role where they can be really effectively. Here's one final example.
Byron Webster is a centre-back for Bromley in the Vanarama National League. He's one of the side's best defenders but his Physical attributes are declining and there are other options in the squad. You could use him as a 'closing time' defender, either bringing him on to freshen up the backline or moving to a back three and using him to reinforce your numbers in behind.
However, I think the best strategy could be to convert him to a Defensive Midfielder. The reasoning behind this is two-fold. For starters, despite Webster declining physically, his greatest Attributes are Mental, which won't begin to drop at least for another couple of years. With the assurance of a very competent pair of central defenders behind him, we can use him as a lock-down defensive midfielder whose reading of the game allows him to break up plays and create chances without being the last line of defence.
Secondly, in a squad where there are few options in the DM position, he'd add another option and allow us to play formations we currently don't have the right players to play. That way, we improve our squad by simple converting a player.
One thing to stay on top of when doing a conversion is to check how quickly they're learning their trade. It can often be the case that players with lower versatility will struggle to master a new position, so be sure to check how progress is coming along. Your staff will let you know if they think a player will make no further progress in training, and playing time in the new spot will often be necessary for footballers to get a grip on it. You also need to keep in mind that when learning a new position, players can also have their knowledge of other spots weakened.
Closing comments
One of the wonderful things about Football Manager is that every challenge brings its own difficulties and tribulations. Competing against the best in the world is difficult, but so is trying to make the best of your resources when managing down the leagues. If, like me, you enjoy the challenge of staying away from the bright lights, hopefully, these few tips will help you get great mileage out of the players at your disposal.
Happy managing,
Rock's End FM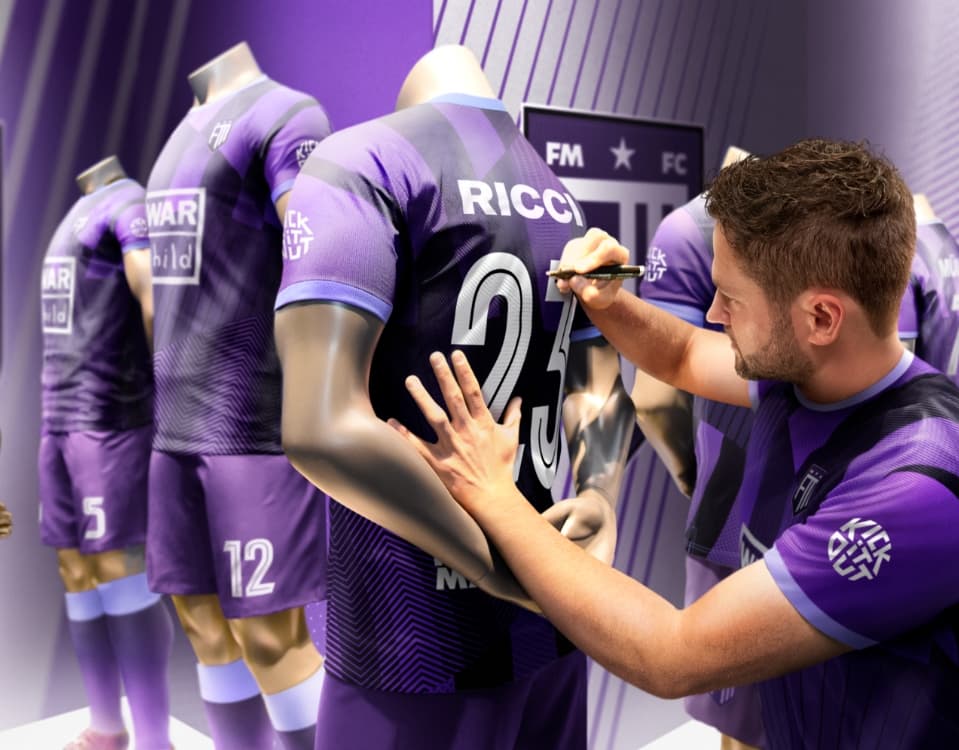 JOIN THE SQUAD
GET REWARDED
Sign up for FMFC to get exclusive feature drops and game updates, personalised content, plus member-only rewards and incentives.
Join the
squad