Understanding and Utilising Attacking Movement | Wednesday Wisdom
Tactics: Attacking
08.07.20
Why does football continually surprise us, when it's essentially a game of 11 vs 11 on similar sized pitches played over 90 minutes each week? The answer is often related to how players and teams use 'space' differently; either in an attacking sense (creating it) or a defensive one (suppressing it). It's why particular types of football are identified over time as 'cultural styles' or 'identities'.
It's why I've come to The Byline to talk about space in an attacking sense. Firstly, looking at why it's important and then explaining how you can create and utilise space to your advantage. You'll learn more about your team in FM20 if you watch how your players move without the ball, as opposed to with it.
Words, advice and incredible insight from @FM_Grasshopper.
Why is space important?
It's simple. Giving an attacker space, and therefore time, greatly increases your chances of scoring. But it's not as simple as one striker being quicker or better than a defender, it takes systems, plans, tactics. It's why matching two 4-4-2s against one another will never be a simple game of one player vs another player. For instance, a striker may drop 'into the hole' between an opponent's defence and midfield which, in turn, creates dilemmas for the opposition. Conversely, the plan could be to stretch a defence with marauding Wing-Backs, while the wide midfielders tuck in. All these movements build to the eventual aim of creating a goalscoring opportunity. The more of these a team creates, and the variety in which they are created, boosts their chances of victory. This is why space is important.
How to create space in FM20
For this piece, I am focusing solely on systems with one central striker. It's important to remember that 'attacking movement' doesn't end with your attackers, but in order to be concise, I want to focus solely on the most advanced players. I also deliberately want to use three examples of systems with a solitary central striker to emphasise the creation and manipulation of space.
Scenario 1: FC Bayern München
Advanced Playmaker (Support) – False Nine (Support) - Raumdeuter (Attack)
From an offensive point of view, the first club I've decided to play with is probably the most complete in FM20. With the players at Bayern's disposal, you can deploy pretty much any combination of attacking roles and duties. There's one role that I couldn't overlook using though, seeing as this piece is all about creating and manipulating offensive space: the Raumdeuter.
Thomas Müller's role is unique in world football - so much so that he's even got his own role in FM20. As a Raumdeuter, Müller can largely be described as a wide Poacher. He'll be out of the game for long periods but come alive when he finds space. For him to be efficient with goals and assists, we need players around him that create space for him to run into. I used Robert Lewandowski a False Nine who will be dropping into midfield (and hopefully taking a defender or two with him). On the left, I have an Advanced Playmaker - this role attracts the ball, and the attention of the opposition, and will also help supply our Raumdeuter with through balls. There is a domino effect on the left, with a Complete Wingback advancing into the space vacated by the Advanced Playmaker cutting inside.
In the game against FC Schalke 04, the type of movement we are getting from the front three in a 4-1-4-1 DM Wide is clear. The Advanced Playmaker is on the ball, cutting inside with license to spread the play wide into space. The False Nine has dropped back and taken an opposition Centre-Back with him, and the result is a fair acreage of space for our Raumdeuter and Central Midfielder to run into. I have shown this in green below:


Philippe Coutinho has played in Müller, who has driven into the penalty area and has space to find Lewandowski (who's made up a lot of ground) to put us ahead.
Scenario 2: VfL Wolfsburg
Target Man (Support) - x2 Shadow Strikers (Attack)
France's recent dominance shows that a central striker should not always be judged solely on their goal return, but also their ability to bring others into the game. So, in this example, I have chosen to use the physical presence of a Target Man (in this case the 197cm tall Wout Weghorst) to provide ammunition and space to two Shadow Strikers (Admir Mehmedi & Josip Brekalo). It's a faux-strikerless setup, with the supportive Target Man dropping back as an attacking midfielder simply laying it off to the two more aggressive runners from deep.
In a similar vein to how the Advanced Playmaker in scenario one attracts the ball, the Target Man's teammates will look to use him as an out ball when they have possession. This suits a team more inclined to play direct and on the counter. You can see that Weghorst is a dream Target Man, with exceptional Jumping Reach, Strength and the mental attributes to make him a fearless workhorse.
Shadow Strikers are all about driving into the channels. This is the key part of the role, and although placed centrally, they will look to run into space either side of the Target Man. They need to be athletic with strong Physical attributes, but they also benefit from strong Anticipation and Off The Ball scores.


Above, my striker has dropped deep and has taken two Hertha Berlin BSC players with him. This created two pockets of space for our Shadow Strikers to break into. A simple one-two back to my Segundo Volante means he can now find the Shadow Striker, who takes a couple of touches before launching a precise shot into the far corner. Golazo.
The Target Man's game is all about simplicity - once the ball is at his feet he will be conservative and often play the simple ball. It's the complete opposite of the supportive False Nine in scenario one, who will look to turn on the ball, take more risks and dribble more. These two extremes show the different kinds of solitary strikers you can work with.
Scenario 3: RB Leipzig
Inverted Winger (Support) – Advanced Forward (Attack) - Winger (Attack)
My third example highlights that a solitary striker can be used with an Attacking mentality, providing the right support is in place. For this, I've gone for the pace and movement of an Advanced Forward. He will look to move into space, lead attacks and run at the defence with the ball. Not only does the Advanced Forward run into space, he also creates it behind him by trying to break beyond the last man, thereby pushing the opposition defensive line back. Therefore, it's essential to think about how you would attack this vacant space.
To support him from out wide, I've gone for Emil Forsberg as an Inverted Winger on Support duty. He will be the key creator, cutting inside and looking to play through balls or pass to the other flank. This other side boasts a Winger on Attack duty, who will stretch the opposition by staying wider and driving into the penalty area. This triumvirate form an explosive frontline, so I've set Leipzig up to be a fast, counter-attacking team with a flat 4-3-3. Our lines of engagement are lower, encouraging the opposition to push up and inadvertently generate space for Werner to run into.


Of the three approaches considered here, this is the one I enjoyed watching most. You can have a certain confidence that over the course of 90 minutes, the Advanced Forward will get a golden opportunity or three, as highlighted in my RB Leipzig Bundesliga debut, where he scored a hat-trick against Union Berlin. His second was particularly eye-catching…
The Team Instructions facilitate a quick and direct approach; the team are to Pass Into Space, pass Slightly More Direct and play on a Higher Tempo. The ball from our centre-back releases the striker, who takes two touches before coolly finishing. I've also highlighted the space behind the Advanced Forward, there's so much of it created for either my wide or central players to move into.
Even our Goalkeeper gets involved. He is instructed to Distribute Over The Opposition Defence when in possession, which often leads to an RB Leipzig chance. All it takes is a mistimed jump from the opposition or a fortunate knock-on and we're away:


This approach isn't about working the space with patient play, but rather compressing the pitch with a lower block before stretching the field to create space with quick transitions. For this reason, you shouldn't expect much possession; especially against elite opposition such as FC Bayern München, who we beat 2-1 with 33% possession.
Conclusion
One of the beauties of FM is that there are so many variations and ways to create space. This post only touches the surface, but I will leave you with a few tips before you delve tactically into the inner workings of your own side:
1. Read role descriptions and check player traits. Above all else, these dictate the movements and common behaviours in player roles. These are the things I consult first when tactic building.
2. Watch more than Key Highlights. When evaluating your attack and looking at how you're working the space, I'd use Comprehensive. Sometimes you need to see the bad movements and decisions that wouldn't necessarily be shown as Key Highlights.
3. Consider your Match View. This sounds like a trivial tip, but different angles will shed light on different things. I like to judge my attacking movement with the Data Analyst and Sideline views. Don't be afraid to rewind a decade and watch things in 2D Classic. You will see a holistic view of how all eleven players behave together.
4. Use the Analysis tab if you need further insights into your attack's behaviour. So much match data is documented here, and you can get a good indication as to what is, and isn't, working. For instance, where are your players touching the ball? Where are the key passes/headers coming from? Are your players too close or too far apart?
Good luck,
FM Grasshopper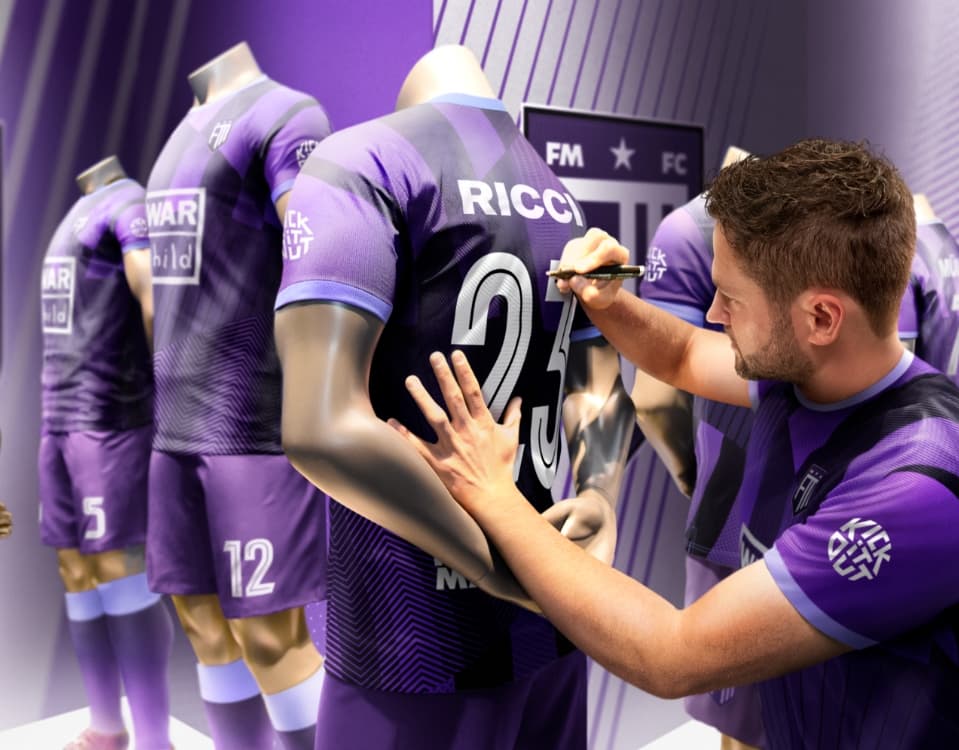 JOIN THE SQUAD
GET REWARDED
Sign up for FMFC to get exclusive feature drops and game updates, personalised content, plus member-only rewards and incentives.
Join the
squad