An FM22 development update
At about this time last year, when I sat down to write a blog about how Sports Interactive and Football Manager were affected by the Covid pandemic, I thought that was going to be a 'one-off'. But here we are, one year later and Covid is still dominating the global conversation. Thanks to the wonders of science we do have vaccines, which are saving lives and making it easier for people to fight the virus, but there are still far too many cases around the world and it most certainly hasn't gone away.
To reuse a line I've used a lot over the last 18 months… making games is hard, but making games during a pandemic is harder. This is why so many games that we are all waiting to play are still delayed as people try to adjust to working separately from their colleagues, while simultaneously dealing with the multiple productivity issues (both positive and negative) that have arisen from the new way of working and people's individual circumstances.
While we had hoped that the majority of our team would be back in the studio for much of this year's game cycle, the reality is that their health and safety has been our priority. While some UK businesses are mandating a return to their offices, we have not enforced this as we believe it to be the wrong thing to do. We have also continued hiring, to the point where the SI team now numbers more than 230, and we have a nice, new and much larger office. However, for health and safety reasons, we currently only have capacity in the studio for 22 people per day, with priority going to those who struggle to work from home.
Even if we get to a stage in the UK where life returns to 'normal', things are not going to be the same as they were before the pandemic. We're used to having people working offsite as a studio, typically having 10% of our full-time team working from outside of London (and some from outside the UK entirely), but our team surveys tell us that only a small minority plan on being in the office five days a week once we do decide to reopen. The majority plan to be in two or three days a week, but even with our increased size, a higher percentage will be working from home for the majority of their time – and our flexibility with this (we have always had flexible working in the studio) has led to us being able to add some fantastic members to the team from many countries and regions.
Looking back, getting FM21 out of the door was painful for many of us at SI. We were so determined to release within a couple of weeks of our originally planned date that we ended up putting too much pressure on ourselves and some of the team ended up feeling the strain. That was confounded by some format decisions which had to be made late in the day. And despite our best efforts with bringing in extra resource, it still wasn't enough in some key areas.
So that has led to a lot of changes to how we make games at the studio to ensure that those problems don't arise again, whether we're back in the office or not. Those changes mean that we will release FM22 slightly earlier than FM21 (which was quite late in November), but still a couple of weeks later than my ideal end of October release date (which, to be frank, is only ideal because at some point I want to be able to celebrate my birthday in early November rather than it being a time when I'm getting stressed about work).
During the latter stages of FM20 and for the whole of FM21 we worked with a separate design department, rather than our previous model where each engineer and artist working on a feature would be responsible for its design. While this was a step forward, the production processes that I put in place around it weren't working well, and just caused more stress for those of us that were involved. So we looked into ways where we could improve, and ended up making major changes to how we make games.
For the last 20 years or so we used a version of the 'waterfall' production practise, where different team members had lots of tasks to work on at the start of the project (or, in some years, the list was only finalised halfway through the cycle). With FM22, we've switched to large chunks of the project being worked on in an 'agile' format.
This new process means we now make use of what are known as 'feature pods'. Feature pods involve grouping the engineers and artists that will be working on a specific feature with someone from the design team and an 'owner' (normally from the production team) who acts as the organiser. This team's work is then split into weekly 'sprints' which are continuously reviewed.
For this to work, the designs have to be more fully formed than they have been in previous cycles. With the team working on so many features each year, we have had to increase the size of our design department; for FM21 there was one person with 'designer' in their job title while there are now three (with two more due to join in the coming weeks and further interviews in progress).
This new process is working much better than previously, despite the fact that the pandemic is still raging, and big props to the production and design teams for putting the new processes in place, and for the dev team to their openness to trying something new. It's been great to see us hitting our milestones earlier… and with better quality. There are some smaller, individual features that live outside of the feature pod process too, as we continue to aim to deliver as many new features, improve existing features and introduce 'quality of life' improvements with each iteration of the game.
We have, as all companies have, been hit directly by Covid, with some team members and their families catching Covid and some even losing friends and family to the virus. We've all also suffered from the mental strains that a global pandemic brings. That has all had to be taken into account in the schedule too. It's been a huge effort by the whole team to be in a position to deliver a game at all in these circumstances – let alone a second full release of multiple titles, on multiple platforms.
I'm proud to work with such an incredible team who are so determined to provide an escape from the real world to so many of you. I thank each and every member of the team for their work. And hope you do too.
Outside of FM and SI, Covid also continues to cause issues in the world of football. The virus is still hitting players around the world, making them unavailable to play (some for long periods) and isolation is still a factor in some territories. Crowds are back in most leagues, which is great to see, but we're still far from capacity – either because of regulations or, in some cases, because fans don't feel ready to go back to being part of a crowd.
As we've seen in the current transfer window, finances of the majority of clubs have been decimated by the circumstances, which has led to some deals which simply wouldn't have happened under normal circumstances. I'm very happy with the way we predicted much of this with FM21 and the changes we made to ensure that the transfer system in game was more flexible according to the amount of money available in the real world, but some of it even caught us by surprise.
As a result, we've made more changes to the transfer system in FM22 to try and make that area as accurate as possible. Many more clubs than normal will start the game with much smaller budgets available or still being in the position of having to try to sell players (as they still find themselves in real life). Others will be struggling to reduce their squad sizes and wage bills.
But one thing that won't change – our games MUST be an escape from the real world. So, once again, we will NOT have Covid in the game. Players will not miss matches because of Covid, players will not need to isolate when returning from holiday and, no, we will not have health officials coming onto the pitch to call off friendlies because some players haven't followed the local isolation rules.
Crowds will fill stadiums to pre-pandemic levels and club finances will, over time, return to normal – and handshakes are still there too, as you voted for last year.
We will also continue to serve free adverts for selected mental health charities around the world (well over 100m of these were served in FM21) so that people who need help can get it from one button click.
So the pandemic may not be going away any time soon. But in FM22, it's as over as it can be. Just don't expect big transfer budgets year one, as we're aiming to have the financial start point in game as close as we can to real life…
Cheers,
Miles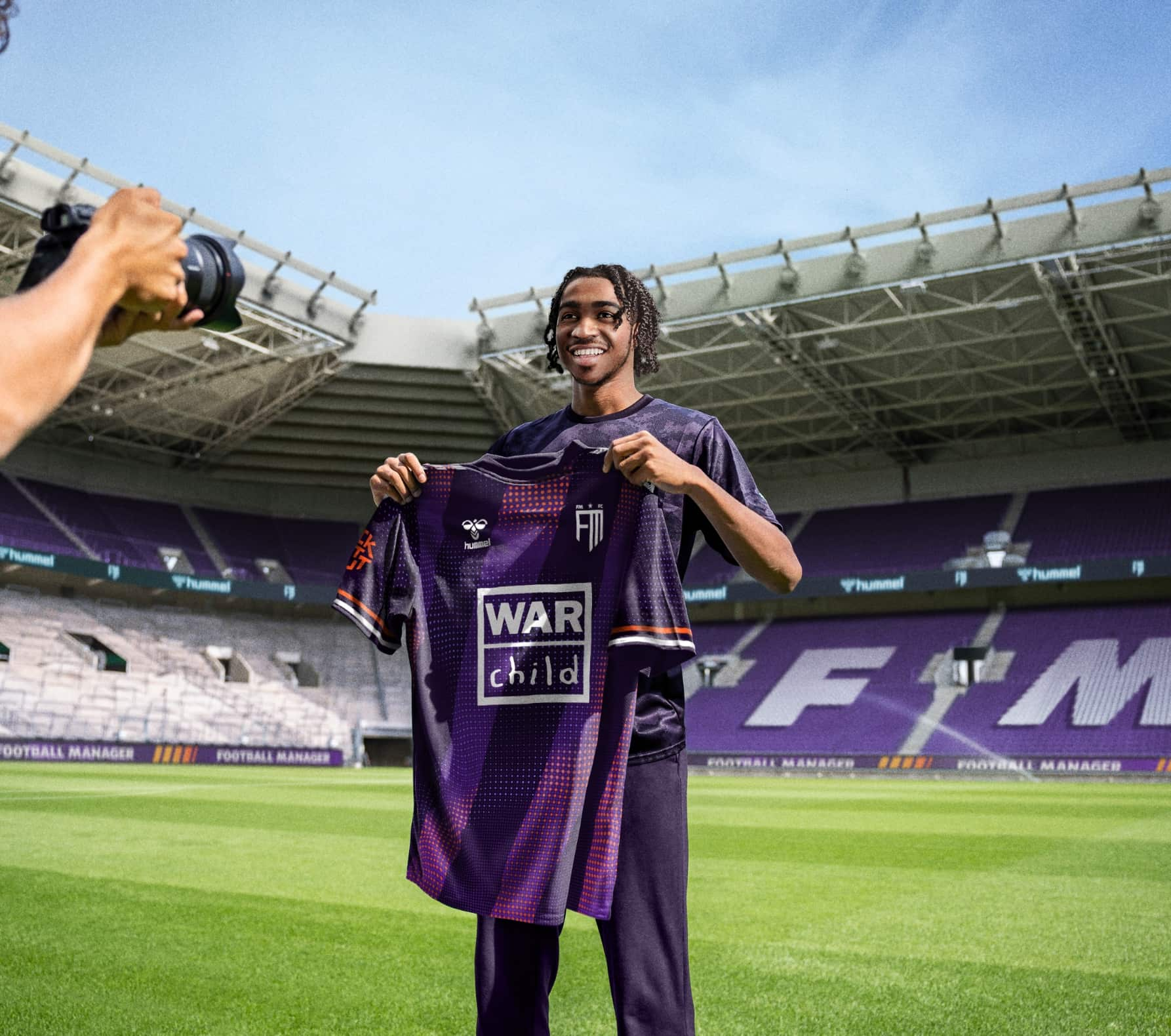 JOIN THE SQUAD
GET REWARDED
Sign up for FMFC to get exclusive feature drops and game updates, personalised content, plus member-only rewards and incentives.
Explore Our Features Roadmap