Doctor Benjy | Why I Love FM
Interviews
26.07.19
Read Time : 3 Minutes
We sat down with FM creator Doctor Benjy to find out why the streamer and YouTuber loves the game and which of his saves he holds closest to his heart. If you aren't familar with Ben's work, where have you been? You can check out his channel here.
What do you look for when selecting a team?
Being a creator, the most important thing for me is always the story. I want to have the ability to tell the best, most interesting, engaging story possible and the most fun way to do that is to pick a team that people can connect to quickly. Traditionally I enjoy taking a team lower down the divisions and taking them to new found glory. There's something so special about taking a team with little to no history and pitting them against the elite teams from around the world after you've spent 10/15 years building them up.
What's the first thing you do when you start a save?
Squad depth is so important. I really like to know what I'm working with early on, I tend to handle staff and tactics after that. It's always great seeing you've got this amazing target man and absolutely no wingers to support a system that would fit him perfectly. So, then my summer mission is to go out and find those players that unlock my new talisman. It's also a really nice way to usher in the youth, the amount of time and money you can save by knowing just how versatile and deep your squad is I find incredibly useful long term.
How do you approach transfers?
I've coined a phrase in my streams which is 'value in the market', very rarely will I go out and spend millions and millions on a player. I always check out the free transfers, then the loans and transfer listed players before we explore the more expensive options, my favourite thing to do is pick up an outcast and sell him in three years for 50/60 million. That said, if I have my heart set on a player and I've had him well scouted for ages, he's mine.
Unless he's called Yuri Voropaev #TheOneThatGotAway #ParmaDrama
What do you look for in players?
I think my approach for this has changed over the years, previously I would absolutely focus on star ratings and judge a player on what my staff suggested, but in recent times I look for those five or six attributes that fit the role that I've got in my team. You've got to be a really special player to make me change a system once I've got it locked in so identifying those key attributes is important to me.
Favourite type of player?
I'm a sucker for a lone striker. Some of my favourite players throughout my series have been 30 goal-a-season men who either adore me or are constantly battling for a 'big move' so I've certainly got a soft spot for those guys. That said, they're nothing without an aggressive defensive midfielder who mops up everyone else's mistakes, so a shout out to those guys.
Best save?
I had a Youtube series with Salford City on FM16, they appear to have become more controversial in recent years because of their continued success! After 18 seasons we finally won the big one against Real Madrid, it was 200 episodes so if you're reading this feel free to delve into that, you'll be there for a while and I have just spoilt the ending, but it's quite the adventure!
Best signing?
Janusz Pisarczuk, who later went on to be nicknamed 'Pixie'. I was at Swindon and this newgen/regen (whatever you go with), came onto my radar, I was scanning through the u19 international squads and this lad from Poland stuck out. I bought him for 2.1 million from Zagleble Lubin, and after a good couple of seasons as a young player suddenly he turned into a monster. He scored, 50, 51, 48 and in my final season got 62 goals in all competitions. He was pretty good and fired us to win seven competitions in one year. Fair enough, he was a bit better than 'pretty good'.
Most disappointing player?
This could be the longest list in history and out of respect for the numerous players who have let me down, I refuse to pick on anyone.
Apart from Nikoaly Kovalev, he's the correct answer to this question. He had three 20/20 attributes when I signed him as my new creative midfield weapon. He cost me £29 million and I put Salford into all sorts of debt to get him, he was my first 'big signing' of the series, I thought he'd be unreal, he wasn't he let me down year or year.
Until the final year when he became really good but for the four that went before that, rubbish.
Best player you've managed?
I'm returning to Salford again, but it's tough, I recently did a series over Christmas where I went through my top 25 players throughout my saves on YouTube, and this man topped the list.
Welsh newgen, Jeff Thomas. He was a wing wizard, assisted a goal in almost every game he played throughout us moving from the National League to the Championship and just when it looked like his time at Salford was up, and with his attributes looking like a League One player, he grabbed double-figure assists in a top-flight season after some injuries hit our team hard, he stepped up after a few years out of the 11. He had more than 10 years with me and was an absolute legend of the save.
Best Newgen?
Apart from Jeff, you mean? When you've had three or four 100+ episodes series you tend to have quite a long list of newgens that you fall in love with, but only once have I had a lad come through the academy and fire me to greatness while becoming a superstar at the same time. He's a young Albanian lad called Dorian Hysa. I was managing SPAL a few years ago and he joined in the first year as part of my youth intake and years later went on to lift the European Cup despite all the big dogs in Europe wanting him every single window. He was European golden boy and quickly became Albanian captain, SPAL captain and a fan favourite amongst the viewers.
Why do you love FM?
As a 10-year-old boy I picked up my first version of the game, when the commentary bar at the bottom flashed after I scored a goal, I was hooked. I still get so much joy out of that one animation in the game, it's what we all enjoy the most right?
In more recent years I've managed to make playing the game my job. I get to tell stories to a loyal viewership who stick with me from amazing Football Manager inspired moments to being there for me when I have things going on in my personal life too. It's incredible. Football Manager is our beloved common interest, it's a world that's brought us together, so to me it's become so much more than a game, it's a huge part of my life, and from having met with fellow creators at different events to being invited to Sports Interactive for different projects, it's been an absolute delight. A dream that 10-year-old me would never have believed was possible.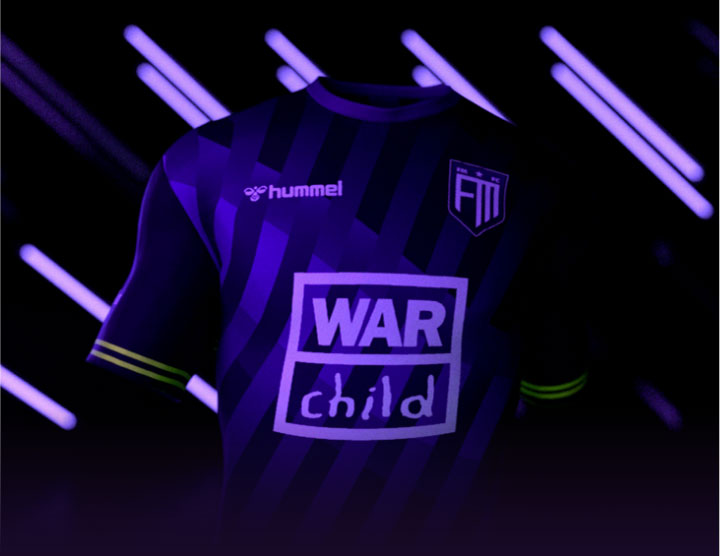 JOIN THE SQUAD
GET REWARDED
Signing for FMFC is your first chance to get feature drops and game info before anybody else, as well as content more relevant to your game preferences plus member-only rewards and incentives. 
Sign-up now for a chance to win an FMFC jersey every week until the end of the season.