Christian Kabasele | Why I Love FM
Extra Time: Interviews
04.06.21
Watford's Christian Kabasele is perhaps the greatest example of a professional player who loves FM as much as the sport it simulates.
We've been speaking to the ball playing centre-half for a good few years now, interacting on Twitter, interviewing him in person, we even invited him to our development studio to see how the game is made…
Football Manager ? @ChrisKabasele27

The defender gives an insight into his career and FM achievements while visiting our office for an interview with @WatfordFC

Full video: https://t.co/A4ZkKkjSbx pic.twitter.com/muiT621r1K

— Football Manager (@FootballManager) January 17, 2020
And now, finally, we got to speak to him once more to hear about his FM experience to date.
When did you first start playing FM and why?
The first time that I played was on FM10, before that I was always watching my brother play. It made me think that one day when I'll be able to use the computer, I will play this game too. So now, it's been more than 10 years of love between me and the game.
What do you look for when selecting a team?
I always start with the team that I currently play for in real life, so there's been many Watford saves recently. I like to build something with the teams I manage, try to win something after two or three years and then think about looking for a bigger project after that.
What's the first thing you do when you start a save?
First, I analyse the squad to see if all of the positions have cover. After that I scout myself (of course) as well as my friends to see if they are good enough to play in my team. Then, I send all of my scouts out, all over the world, to find the next best thing…
What's your favourite type of player to manage?
For me, the most important position is the striker, because I've been managing some teams where we play good football but didn't have the striker to score us 15/20 goals a season – so we struggled. I need someone whose finishing is very high!
Greatest managerial achievement (so far)?
In one single season I won a European title, the Super Cup and then finished in the top four with Watford. Gino (Watford owner, Gino Pozzo) was happy, but I still didn't get the stadium named after me…
Best ever FM save?
In that same save, I brought Watford to the European top table, then left and won the league with Arsenal and topped it off by dominating the continent with Barcelona. There, I won every competition I was involved in… not bad?
Until I win everything so just need couple of years ( yes I'm that good ??‍♂️) https://t.co/kVPnE7yAO0

— Christian Kabasele (@chriskabasele27) February 12, 2020
Most recent save?
I haven't played as much this year because I tend to play when we're away in the hotel with the team. Unfortunately, this season I was injured for a long period of the year. But I've found time to play with Watford (again) taking them back to the top flight and qualifying for Europe.
Best player you've managed?
At Barcelona, it can only be one man. Leo Messi was scoring three a game, for a joke. Probably the best player. Ever.
Most exciting young player you've managed?
In my last save I bought Sebastian Esposito from Inter, 18 years old. He finished top scorer with 30 goals with Watford - now I'm looking forward to see how much I can sell him for…
What's it like to see yourself in the game?
Obviously, I'm less strict with myself than other players, I can accept bad behaviour or performance easier… When I don't manage myself I always check to see where I am, if I'm in the national team, just to have an idea of what the future could one day look like.
When new signings arrive at the club, or you come up against new opponents, do you sometimes remember them from FM?
I have a great answer for this, I remember that in one of my Watford saves I bought striker Filip Stuparevic, and the next transfer window Watford bought him for real, I was like a precursor!
When you hang up your boots, what does the future hold?
Well, first I will call you guys to see if you're still keen to employ me…
Can you wait few years more i have a career to finish ? After that im all yours ?

— Christian Kabasele (@chriskabasele27) April 26, 2018
At the moment I'm doing my coaching badges, but I don't really know what I'm going to go into at the end!
With the help of @FootballManager ? https://t.co/RiNuVv8w3E

— Christian Kabasele (@chriskabasele27) May 12, 2021
Why do you love FM?
The game brings you to the side of football that you don't normally get access to. I love the game because it's so realistic, as soon as you start to play you feel that adrenaline, even if it is 'just a game'.
And the good thing is that you can play everywhere! Sometimes I say I play one last game before I sleep, but then you realise that the next game is important… so you keep playing. At the end you find yourself sleeping at 2am, instead of midnight.
When the beta version of your favourite game is finally available ??‍♂? @FootballManager @milesSI #FM19 #nolifeanymore pic.twitter.com/n7rrHwz0Iz

— Christian Kabasele (@chriskabasele27) October 5, 2018
Related Content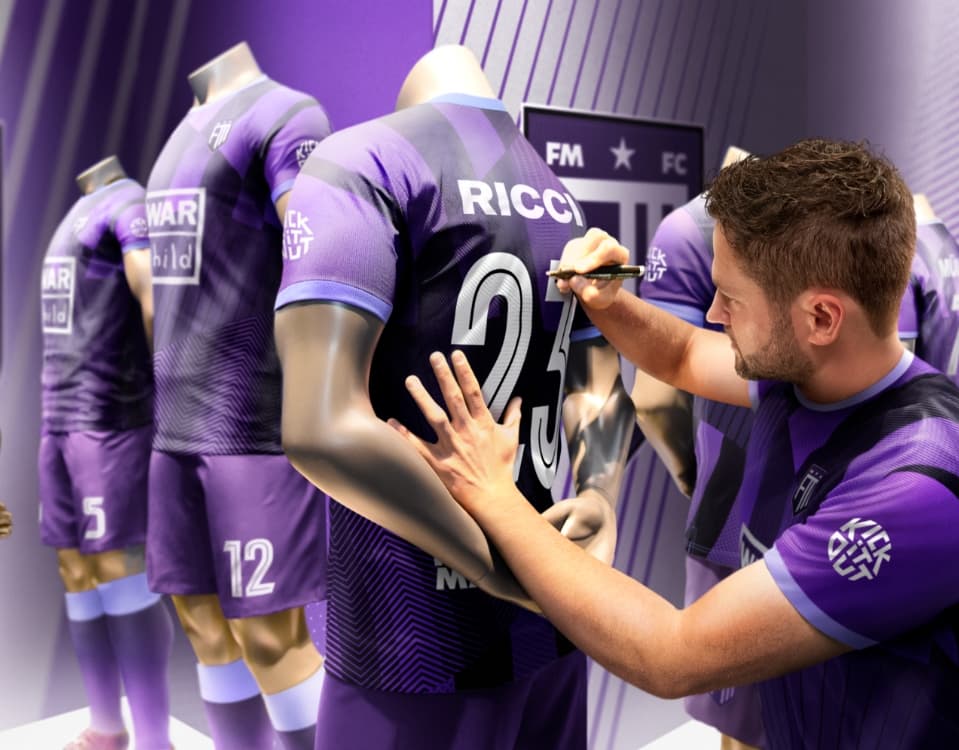 JOIN THE SQUAD
GET REWARDED
Sign up for FMFC to get exclusive feature drops and game updates, personalised content, plus member-only rewards and incentives.
Join the
squad