Diogo Jota | Why I Love FM
Extra Time: Interviews
18.10.19
We've sat down with famous players of Football Manager to discuss the highlights from their own action-packed saves. From dramatic cup wins to favourite wonderkids these pieces will offer an exclusive peek behind the curtain of the very best management journeys.
Here, we caught up with Portuguese international and FM veteran, Diogo Jota.
What do you look for when selecting a team?
I always try to find some proper reason to start one FM save and normally it is my boyhood club (Gondomar) but I also like the lower leagues.
Of course, I've played as Paços de Ferrreira because it's my home club, a club that means a lot to me. It's fair to say that because I've played since Football Manager 2008 I've had the time to get many different jobs.
What's the first thing you do when you start a save?
Normally the first thing is to analyse the squad because sometimes there are players that are very good that I'm not familiar with. Also, in the first season sometimes we must adapt the tactic to the players that are already in the club.
How do you approach transfers?
Actually, one of my qualities is to always to have a good financial control, being careful not to spend too much. This is very important, in my opinion, so there is no need to splash at all... it's all got to be under control.
What do you look for in players?
I always waste some time trying to find players when I am managing in the lower leagues. Scout recommendations are essential to that, but also so are the individual attributes. I've got a lot of natural knowledge as a player so that helps too, of course. And it goes without saying that I always look to sign myself when I can.
Favourite type of player?
My favourite system is 4-2-3-1, and for that system to work, I believe that I need a few key players. The system needs a good winger with speed and good crossing and a good striker to finish the action of course. But the one that I really appreciate is the Number 10. I like him to have some good stats in terms of passing, free-kicks and creation of opportunities.
Greatest managerial achievement?
I always set one big goal to my save and the most recent one was with Gondomar in the Portuguese third division. I said to myself that I will not stop playing until I we become the best side in Europe… that happened in 2031. Meanwhile I had great success throughout, I built a new stadium and dominated domestically, too.
Best save?
The most memorable one is, of course, with Gondomar.
My first title came in 2023/24 when we won the Portuguese cup and in 2024/25 a European title too. Our first Portuguese league title was in 2025/26 and in that year. The biggest achievement was when we were crowned the Kings of Europe in 2030/31.
In total, I won five Portuguese Super Cups, three Portuguese Leagues, three Portuguese Cups, four European titles and one Club World Cup. I became the manager of France along the way too, winning one World Cup and one Confederations Cup.
The save went through 13 and half years until January of 2032 when I won the Club World Cup.
Best signing?
In January 2031 I was able to sign myself for Gondomar, just in time for the most important campaign of the entire save. I scored the decisive penalty in the shoot-out to be crowned champions of Europe in May. What a moment!
Most disappointing signing?
I remember a striker called Duk that had just had a fantastic campaign in the league below us. I spent many resources to sign him for Gondomar, taking a step up into the first division and it was just a disaster, just one goal scored in 20 games.
Why do you love FM?
I am a very determined person, so when I set an objective I won't rest until I reach it.
I think the way it develops each year is impressive, if you want to be a manager in the future, like me, it is a really good game to play because of the variety of things from scouting to training and set pieces. Also, because we as a team do a lot of travelling it is a good way to spend the time on the bus or on the train or on a plane, so I just love to play Football Manager.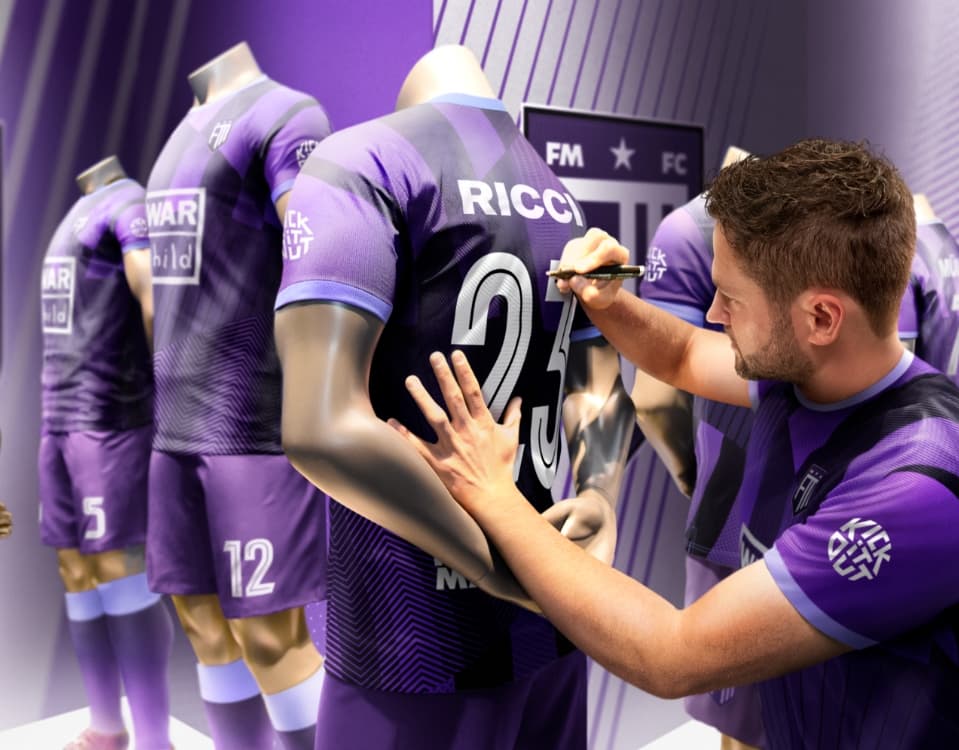 JOIN THE SQUAD
GET REWARDED
Sign up for FMFC to get exclusive feature drops and game updates, personalised content, plus member-only rewards and incentives.
Join the
squad