Iain Macintosh | Why I Love FM
Extra Time: Interviews
29.11.20
It's fair to say that podcaster and lifelong Football Manager fan Iain Macintosh has a mixed record of success on the game. Silverware was easier to come by in the early days of FM, when having one fitness session on the training schedule each month was considered the pinnacle of sports science.
In recent years, while the game has grown more realistic and intricate, Iain's tactical blueprints have been chewed up and spit out by the match engine year after year regardless of how much tinkering, tweaking and loving care had gone into crafting them.
This year, Iain promises it will be different. That's mostly because he's hosting a brand new podcast – The Football Manager Show by The Athletic – where he'll actually get to hear wisdom, advice and tips on how to master some of the core aspects of FM, directly from the people who make the game which will hopefully help Iain (and more importantly you, the listeners) get more out of FM21.
We sat down with Iain to discuss his love of the game and what it is that makes him come back year after year.
What do you look for when selecting a team?
I'm an empire builder. I need to have a tangible sense of growth and progression, so I'll never start with an European giant or anything like that. I prefer medium-sized clubs that have fallen on hard times. I want to have a short-term effect in shoring up a wobbly defence, a medium-term effect in signing better players and a long-term effect in creating an assembly line of young talent that will secure the success of the club for decades. Unfortunately, I'm also easily flattered and will invariably leave after four strong seasons if one of the big boys hits the skids and whispers me sweet nothings. I hate myself for this, but I keep doing it and never seem to learn.

What's the first thing you do when you start a save?
I make a pot of tea and I get out an A4 notepad and pencil. Then I take off the filters so that my senior, U23 and U18 squads are all visible. I list them by wage, go to the lowest paid youth player and conduct a full assessment. I make brief notes on their in-game file, set some training instructions and add their name to one of two pencilled teams on my notepad: current first XI and future first XI. Then I move up the order, ending with the highest paid player in the squad.
If I find a superior player for a position I've already filled, I update the notepad accordingly. By the time I finish, I'll know the depth of my squad and the potential of my youngsters, ensuring that I won't blindly spend money in positions for which I already have cover.
At some point in this process, it's traditional for me to wonder why I never take this care and attention with any other aspect of my life, but I usually shake off that nagging anxiety when I find a 17-year-old left back who could be a world-beater if he just worked on his stamina…
How do you approach transfers?
At a stable club, I work on the basic principle that any transfer made without at least three months of research is a failure of policy. I always have two shortlists, one for current players and one for future players. I like to have at least three options for every position with my scouts beavering away to get 100% information.
In more volatile times, when I'm struggling against the drop or trying to turn a club around, I make a point of checking the transfer list every week and I always allow agents to contact me about their players. The introduction of squad restrictions means that there are usually bargains to be found at the richer clubs.
What is the one piece of advice you'd give to someone playing FM for the first time?
Take your time. It's not a race. You don't have to finish a season in a night, or even a week. You don't even have to play a single match in a session. You can just load it up and have a little tinker. Remember that the AI is smart. It will watch and learn and adapt. You can do the same. If you just keep throwing the same 11 out in the same shape, week in, week out, you'll get turned over. Check out your opponents. Do they keep a 5'6 full-back on the near post at corners? Go and bully him. Is their striker quick, but not very brave? Tell one of your midfielders to spend the afternoon kicking him up in the air. You don't need to know how the game is coded to be able to beat it, you just need to know about football. It's a tough game, but take some time, use your brain and you can beat it. Oh, and never play when you wobble in from the pub. That never goes well.
How closely does FM resemble the real world of football?
I think the greatest success of FM is that it replicates real football's futile search for alchemy. Football discourse is dominated by fashionable ideas. In the 90s, it was nutrition. In the 00s it was shrewd tactics, for the last ten years it's been analytics, and these are all good things in their own right. But none of them work on their own, not in real life and not in this game.
It's the combination of all the above and so many other factors; that's what wins football matches. It's the cocktail of visible and invisible components all fusing together. You can have a team of competent journeymen, a smart plan, a structure for success, some clever, impetuous touchline flourishes and, of course, a bit of luck and you can win anything. There is no guaranteed path of success in real life and, if there is one in FM, I certainly haven't found it yet.
What do you look for in players?
Determination, Teamwork and Work Rate are vital if you're managing outside of the elite. You can't have players losing faith when they go a goal down, you need people to follow instructions and you have to know that they are putting everything into their careers. Obviously, none of this matters if they're not very good at football, but you have to hope that three months of scouting will guard against that.
Favourite type of player?
I usually play with some sort of defensive midfielder and I like them to be tall and/or quick enough to deal with passes that might otherwise put us under pressure, as well as being clever enough to get the ball and give it to someone better. This sort of player is often over the age of 27 and loaded with high Determination and Leadership scores, so they can be a multiplier in lots of ways.
Best save?
I still think that my favourite ever FM save was with Norwich City on FM07. I started unemployed and took the helm at Christmas when they were in the relegation zone, escaped the drop and rebuilt the team, earning promotion to the top flight. Three years later, having reinvested all the TV money into the squad, I was pushing for a European spot and the first of my newgens was breaking into the first XI. Then one of the North London teams offered me a job and, like a bloody idiot, I took it. It wasn't nearly as much fun.
Best newgen?
Brian Whitehead, a majestic young centre-back. He was 6'2, had 18 Heading and 20 Bravery. He was classy, composed, hard as nails and born and bred in Yorkshire. I had him tutored by Pontus Jansson and he was in the first team by the age of 19. I would have followed that boy to the gates of Hell.
Why do you love FM?
Fundamentally, it's not a game. It's a self-contained universe. It doesn't need you. You have to prove your worthiness otherwise it will sack you and play on without you. Who else does that?
It's a sentient spreadsheet with a heart of ice, but if you work hard enough it will let you in and it will love you right up until the moment when you take it for granted, at which point it will trip you up and push your face into the dirt.
But when you hit that groove, there's nothing like it. When your team finally respond to your instructions and the wins start piling up and you find yourself confident enough to drop a few carefully cultivated newgens into the starting line-up, you feel invincible. You want to stand on the roof in the middle of a thunderstorm and scream, "Do you worst, do your worst for I shall forever defy you!"
The Football Manager Show by The Athletic is out now wherever you normally listen to your podcasts and a new episode will be available each week.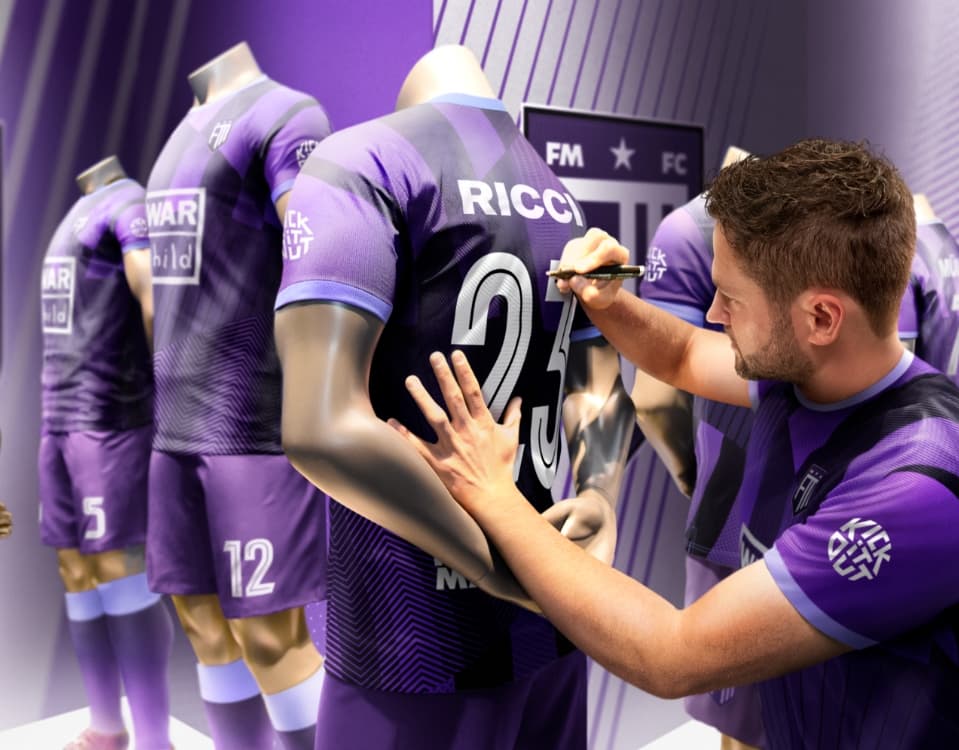 JOIN THE SQUAD
GET REWARDED
Sign up for FMFC to get exclusive feature drops and game updates, personalised content, plus member-only rewards and incentives.
Join the
squad