Midseason Tactical Adjustments: Tinkering
We've all faced that moment in a Football Manager career when it seems that everything is against you. If you've tried all you can think of and there still seems to be no light at the end of the tunnel, you might need to make some tactical adjustments. It's never too late to salvage the remainder of your season and Rock's End FM explores some of the tools at your disposal.
Tinkering vs Overhauling
You can take one of two approaches to tactical adjustments during a season – either small tweaks to tighten up issues or big, wholesale changes to affect a reset of sorts for your team. For clarity's sake, I've decided to call it tinkering if you're doing small adjustments and overhauling if you're making sweeping changes. In this first piece, we're going to look into tinkering, the art of making small changes to yield big results.
Tinkering
We've all been guilty of doing some tinkering along the way. It's not ideal, and we know things are generally best left to their own devices, but sometimes you can't stop that urge to go into the Tactics menu and turn off some Instructions or change a player's Role or Duty. However, there are times when it is important and necessary to start tinkering.
A good indication that you could do with making some small adjustments are matches where you're performing reasonably well but inexplicably lose or draw. If it's a one-off, it could just be some bad luck. If it's happening regularly, there's likely something a lot bigger at play and you're losing points that could cost you at the end of the season.
When you're thinking about tinkering, watching matches on Extended or Comprehensive Highlights can give you a broader picture. Likewise, don't underestimate the insights the Data Hub can provide as well. It could be that your shape is getting found out or that one of your players can't perform the requirements of the role you've asked them to fulfil. This can be especially true if you've been recently promoted or are facing tougher opposition on a continental level than you regularly face domestically.
For tinkering, I'd steer clear of any big changes in shape as well as changes to Tempo, Passing and Pressing, as these will all severely affect you Tactical Familiarity. However, small changes to your team's formation (say, from a 4-4-1-1 to a 4-2-3-1) and the enabling or disabling of other Instructions can push your side in the right direction.
Whatever the steps you take to fix the problem, tinkering is generally safe to do at any point of the season as it's unlikely to result in a big Familiarity decrease and can often be worked around with the correct training sessions.
Midseason Tinkering in action: Managing Peterborough United
Peterborough United are a club currently playing in the Sky Bet Championship, the second tier of English football. When I took them over, I noticed that despite being a recently promoted side, the board was looking for the team to play possession-based, attacking football. So, I went for it. This is how we were set up tactically, using a customised version of the Control Possession preset.
Despite having some suspicions about our depth, our season started fantastically. We picked up eight wins from our first 14 matches and were challenging for a Play-Off spot. We've been fun to watch and scored goals galore – we're fourth-best for goals scored in the whole division.
However, we're not without issues. We've been particularly vulnerable on the counter, with our defenders at times unable to cope with the high line we're using. Whilst this is only to be expected and isn't a major worry, it is something to tackle.
Other, more worrying issues present themselves in our build-up play. We're notoriously press-sensitive, with major problems bringing the ball out from the back, and we've conceded more than once to a bad pass or a pressed defender giving up the ball in our own defensive third.
Last but not least, our narrow defending has led to an abundance of crosses faced. This has been compounded by another one of our issues, terrible heading. As the above graphic from the Data Hub shows, our aerial defending is terrible. Combined with how often teams find an open winger or full-back to put the ball into the box (due to our Force Opposition Outside instruction), that explains why we've been conceding so regularly in that manner.
Fixing the issues
With that in mind, what changes can we map out to help our team on the pitch? While tinkering can done on the fly (and often will be), I'll take advantage of the fact we're entering the November international break to try and fix those problems without our players having to learn on the go. We're coming off a three-match losing streak, so the time is as good as any.
This is what we'll be going for:
The first change, moving to a standard Defensive Width, is a fairly small one. It should also us to mark opposition wing players more closely and thereby reduce the number of dangerous crosses we face.
The second change is a bit more significant, as we'll be moving from a 4-2-3-1 to a 4-3-3 DM Wide. To make this work, we'll be using our new defensive midfielder as a Half-Back. In this role they will need to satisfy two main responsibilities. First, they will aid the build-up phase by providing another passing option, and either dragging a defender down to create space behind the opposing press or remaining unmarked and helping us to outnumber the opposition when progressing the ball. Secondly, they will be one of the first ports of call when we're looking to stop opposition counters. They'll be able to close down strikers and intercept passes ahead of the defence while the centre-backs drop into position.
As you can see, there's barely a loss in Tactical Familiarity, meaning we won't feel the hit as badly as if we made deeper changes.
Closing Comments
With just these quick changes the team was able to regain form, winning that month's three remaining fixtures and looking more like the side that started the season on a roll. Sometimes, however, a quick tinker of the tactics is not enough, and we need to sit and rethink our whole approach. Sometimes you need to overhaul your tactics, and that's what we'll cover next time.
Until then, happy managing.
Rock's End FM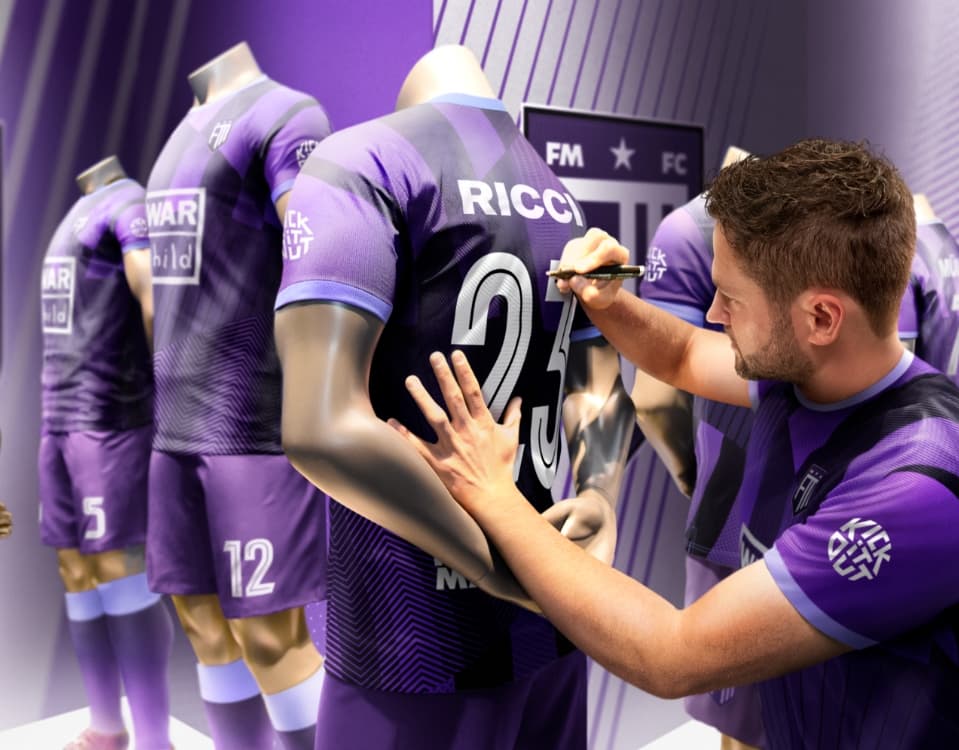 JOIN THE SQUAD
GET REWARDED
Sign up for FMFC to get exclusive feature drops and game updates, personalised content, plus member-only rewards and incentives.
Join the
squad