Sam Tighe | Why I Love FM
Extra Time: Interviews
13.04.20
We had the pleasure to e-interview Bleacher Report Football's Sam Tighe - Journalist, Podcast Host and Football Manager enthusiast.
It's fair to say that Sam knows a thing or two about football and we'd like to take credit for some of that knowledge since he's spent many hours researching through FM player profiles...
Sam's answers to this edition of Why I Love FM are up there with the most detailed, passionate and entertaining, enjoy.
Sam, how did you get into Football Manager?
A friend introduced me to FM in 2008, and it was FM08 that represented my first venture into the series. A late start compared to many, I know; I get plenty of furrowed brows in response to that revelation when talking to 'real' veterans. Within two weeks I was completely and utterly hooked, having enjoyed successful careers with AC Milan and West Ham. I then introduced the game to two more friends who still play it incessantly to this day.
What do you look for when selecting a team?
I mix it up, and over the course of almost every iteration of FM, I manage teams at different levels, take on different challenges and enjoy different experiences.
However, there is one rule that I have developed over time: I never take over a side who have European football in the first season (I was finding my feet with Milan in 08). I feel like I need to earn that now, and I can't just take over a side with everything set up to win. I need something to build; I want to feel like I have taken a team to where they are—not had the foundations laid for me.
What's the first thing you do when you start a save?
I feel like I differ from a lot of the FM players I know, as I am much more willing to see out staff contracts (coaches, scouts etc.) than my friends are. I'm much more interested in getting ahead on the pitch, and if that means saving all of that compensation money to pay an agent that £200,000 more, so be it.
I'll assess the squad, draw out a depth chart on paper (literally) and from there I can tell what formation my boys can play. I'll then fill in the gaps in the market and sell the excess—and in FM20, fire the Technical Director and Loan Manager (nice additions to make the game more true-to-life, but I'll be taking care of their duties, thank you very much).
What's your set-up when playing FM?
It's never fixed. It can be my desk, my kitchen while cooking, in bed, on the commute, on a long journey, anywhere. It's on the laptop, so it's always just a couple of clicks away, and it can be played while completing other tasks. I have at times played two different games at the same time (FM and another), progressing on FM during natural breaks in the other.
How do you approach transfers?
I really hate parting with big sums. Remember when Arsene Wenger used to get accused of spending Arsenal's money as if it was his own? Yeah, that's me… and it's not even real cash.
I'll work hard to find good deals, trend heavily toward young players with good sell-on potential, and I'm not afraid of loans to plug gaps. In fact, I'm more than happy to fill a fourth CB slot with a loanee.
The only scenarios I can feel comfortable spending big in is if I'm using the proceeds from a massive sale, or if I get to the stage where I am loaded (£200m or more in the bank) and it won't even touch the sides.
What do you look for in players?
Search bar - 'Salzburg' - start bidding.
(Kidding...kind of)
Send the scouts around the world and see what comes back, sure, but they're not all to be trusted. FM has a helpful way of letting you know which attributes work best for each role, so you can start to get to know who can do what, and who is probably very good.
Or if you have any doubts, check the 'Wnt' icon and see if PSG are interested. If they are, odds are he's a fine player.
Favourite type of player?
I don't care what anyone says, there is nothing more satisfying in FM than securing an elite left-back. They are like gold dust, anyone half-decent is mega expensive, so if you bag one early or scoop a good deal, you're well entitled to a night on the town.
What's your go-to tactic?
Formation-wise I'm pretty flexible, and over the years different shapes have suited different iterations of FM. I've had success with many shapes, be it three or four at the back, diamond or wingers. I once won the European cup with a 4-3-3 that featured three strikers and no wingers at all.
Tactics-wise, I favoured possession for a long time. Up until FM19, I wouldn't be happy unless my side had 60% possession minimum. But in FM19 and 20, Gegenpress-ing has proved extremely effective and I struggle to get away from that now. I'm in the midst of a 'Real San Sebastián' save right now and Vertical Tiki-Taka is working a treat.
Greatest managerial achievement?
If you've played as incessantly as I have, you've had some successes. For context, I've clocked more than 1,000 hours playing time on four different FMs since 08 (thanks Steam for tracking it…). I've won plenty of leagues and European cups with plenty of clubs but narrowing it all down, I've got three big ones:
I won it all with Basingstoke on FM09. We began in the Conference South and rose to the pinnacle. That was the year that if you loaded up players from the island of Reunion, they'd all join you, and they were unreal, so mixing those with loanees produced a winning formula early on. Then it was all regens [newgens Sam… newgens] it took me about 10 seasons, and we moved so fast, every time we finished a new stadium it would already be too small. I never got a stadium named after me there. The Basingstoke Stadium (25,000 capacity) celebrated that European win. I felt a bit annoyed about that.
Years later (FM17) I completed the Pentagon Challenge: Win each of the five continental Champions League in the same save, starting unemployed with no reputation whatsoever.
I went China -> South Africa -> Mexico -> Brazil -> France. It was gruelling and by the end I kind of hated it, but was chronicling it on Twitter so felt compelled to finish it.
The European cup win with OGC Nice was a big relief, and one hell of a final. I took some time off after that, but if I ever change jobs, that's going on the C.V.
I also won the Spanish title in back-to-back years with Athletic Club Bilbao, which is obviously very difficult given the hard-coded Basque-only policy. This was during Marcelo Bielsa's time there, so the players were at their maximal levels in-game, and you were able to lure Cesar Azpilicueta in.
Best player you've managed?
David Silva back in his Valencia days (FM09ish?) was something else. Ever Banega around the same time was a monster, too. Erling Haaland in FM20 pushes it close though; I can't remember another player who guaranteed you a 7.8 average rating and 40 goals a season like he does (outside of Messi).
What has FM taught you?
Anger management for a start. How to take a breath and reassess! That said, registering 18 shots on target to the opponent's 1 and losing 1-0 does not get any easier. And the first thing you should do when your team scores a goal: look at the linesman.
It's taught and reminded me of rules and regulations for leagues, which has been incredibly useful. Be it simple stuff like homegrown rules, or complex stuff like that long, intimidating scrawl of text you get when you start with an MLS side, you'll always pick up something useful that seems quite fundamental, but you didn't know it.
It also represents the most incredible, publicly available, customisable database of footballers available, anywhere. I'll draw my own conclusions on players based on film, but if I need a shortlist of, say, 10 prospective left-wingers to check, you can bet I'll be loading FM and adjusting those search mechanisms to narrow my pool.
Finally, it's taught me self-restraint. I am now largely able to close to the game when I absolutely need to (some exceptions occur) in a way I simply was not able to beforehand. When I was at college (2008) I fired up a Wigan Athletic save the night before my psychology A-level exam and accidentally-on-purpose did an all-nighter with the Latics, having signed Brazilian playmaker Alex to run the show as an Enganche. At a certain point, I looked out of the window and the sun had risen and I realised I'd need to drive to college shortly. Somehow, I got a C.
Why do you love FM?
Myriad reasons. It's great to travel with, it's great to sit at home with, it's great to sort of idly play as you do something else. I now view it as an absolute necessity in order to be aware of the thousands of players that play the game, too.
The team I support IRL hasn't been particularly successful over the last 12 years and has gone through periods in which it has been terribly run. That makes me varying degrees of frustrated and/or miserable in real life, and FM gives me the chance to 'fix' that.
Recently, I've been playing concurrent saves with two friends, Alex and Cam. We all take charge of the same team and play privately, then deliver updates at key junctures: end of transfer windows, mid-season points, end of season. We're competing.
We've just finished our third season with 'San Sebastián' after they both bailed on a Cagliari save because things got a little bit challenging. FM has often been a solo game for me, but now it's developed into a group activity that challenges and inspires. There'll always be a reason to load it up.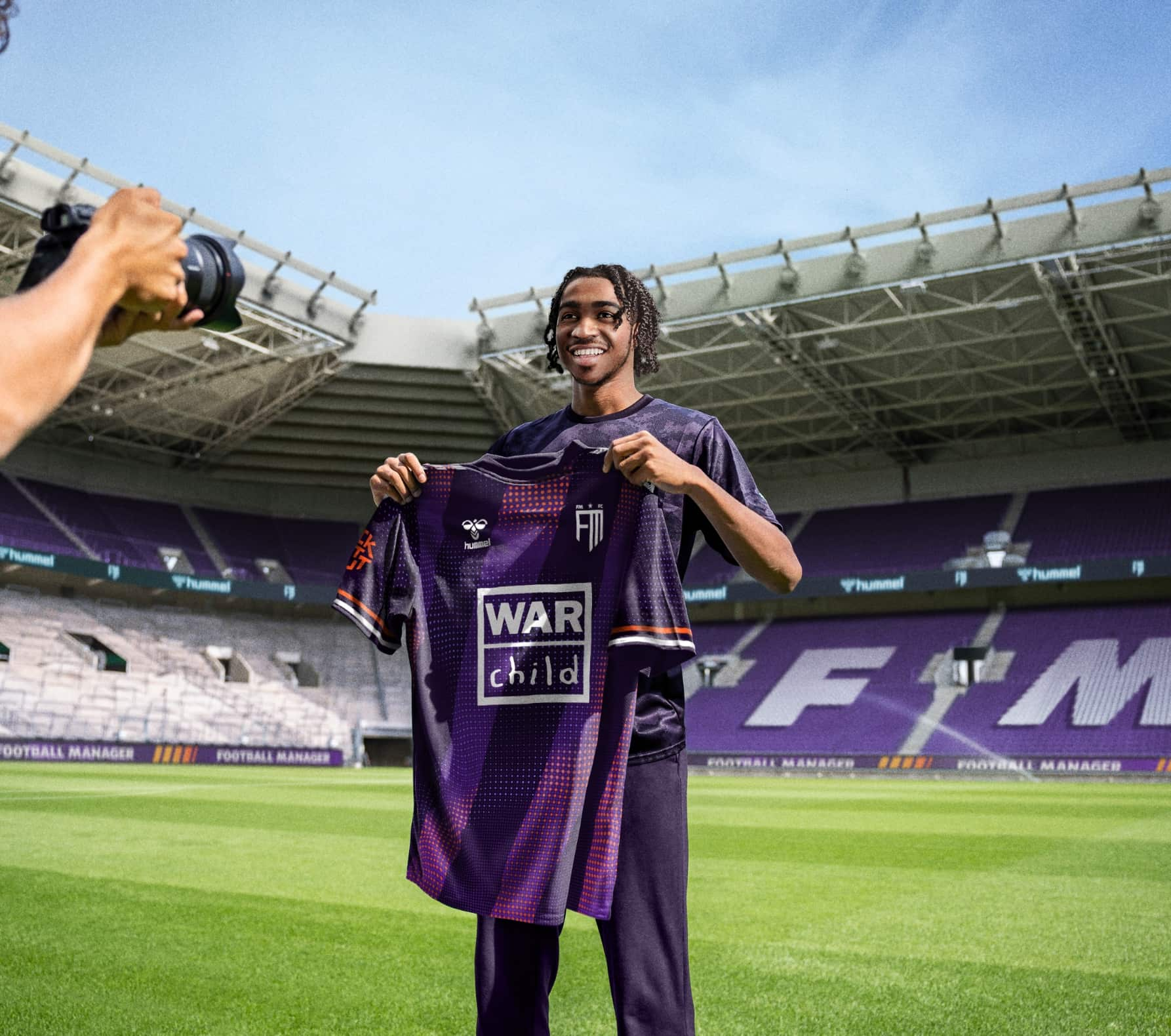 JOIN THE SQUAD
GET REWARDED
Sign up for FMFC to get exclusive feature drops and game updates, personalised content, plus member-only rewards and incentives.
Explore Our Features Roadmap