Scott Borthwick | Why I Love FM
Extra Time: Interviews
06.06.20
The first cricketer to take part in Why I Love FM, Surrey's Scott Borthwick, comes to the crease to tell us about his best bits from the game over the years.
Like all of us, the England-capped all-rounder has had to change a lot of his real-life plans of late, something that has given him more time to continue his progress on Football Manager 2020. We caught up with Scott to discuss his best-ever save, go-to tactic and FM alter ego…

How did you get into Football Manager?
I've loved football since I was a kid and I'd always enjoyed playing football related computer games. What really appealed to be about this game over the others was getting to explore football from a manager's perspective and seeing if I could back up my football opinions with good managerial decisions.
Somewhere along the line I created a bit of a Football Manager alter ego called 'Jurgen Di Badger' (my nickname in cricket is Badger) and I've got a full back story for him – he was born in South Shields but grew up in Germany. He got 49 caps for Germany and scored five goals, so I like to think he was a box-to-box midfielder.
Who introduced you to the game and when was it?
I don't remember anyone specifically introducing me to the game, but in the cricket dressing rooms I've been in the lads would always be chatting about it, right back from when the game first launched. Every year when the new FM game comes out feels like Christmas Day to us!
What do you look for when selecting a team?
I always have a save with my beloved Sunderland, who I support, but as they've dropped down the leagues it's got more and more challenging to succeed with them! I did once win the Euro Cup with them after five seasons which was an amazing feeling.
I usually stick with an English team and I normally end up with a mid-table top-flight team to try and take them into Europe and maybe win some domestic trophies along the way.
Lately, I've been playing as Everton, Leicester and most recently with Wolves who I'm currently on my fourth season with – we've had a couple of domestic trophies and three seasons of Champions Cup football so I'm enjoying the challenge.
What's the first thing you do when you start a save?
I'll check out my squad and the values of players and then think about different tactics I can use with what I've currently got. Then I'll look at where I can strengthen and which players I can sell to make a bit of cash, before checking out my coaching and scouting staff to see what support I've got.
I like to get in a Director of Football to look after the hiring and firing of the non-playing staff and the renegotiations of current staff and younger players – I'm more of a tactics man than into the admin!
Then I'll start scouting players – I like to look at the players that I have worked with in past saves. I am happy to stick to what I know!
What's your set-up when playing FM?
With the game coming out in the winter it's the off-season for cricket so I've usually got a lot more time on my hands, whether I'm at home or playing overseas away from family. FM has been great over the years at keeping me entertained on long-haul flights to Australia or New Zealand.
If I'm at home, I'll tend to set myself up on the sofa with a coffee, some snacks and music or something light-hearted on the TV as a bit of background noise.
How do you approach transfers?
I put a lot of trust in my scouts so if they report a player to me with excellent ratings then I will back them. I look for players that will fit well into my current squad. If I'm signing players from overseas then I check if they can speak English and research what their best mental attributes are so I can see how well they'll adapt to the move.
While I don't like to hold the back in the transfer market, I normally attempt to spread the cost over a three-year period which leaves some money in the kitty.
Favourite type of player?
I'd say central midfielders are the players I'm normally drawn to. With my central midfielders, I generally like to play with one who can sit in front of a back four but can also find a pass, one who can get forward to create and score goals, and a third with plenty of energy who usually operates box-to-box.
I also like my wingers to be able to tuck in and play as inverted wingers, so I'm a big fan of wing-backs who can to get forward to give me width and put crosses in.
What's your go-to tactic?
I normally go with a 4-3-3 formation. I like to use the Gegenpress approach so we're positive in our play – I like to think with Jurgen Di Badger's background he would be well educated in German footballing methodologies!
I like to play with overlaps on both flanks for my wing-backs, playing out from the back with an extremely high tempo.
Greatest managerial achievement?
I would have to say winning the Euro Cup with my hometown club Sunderland would be my greatest achievement. I did manage to take them to the Champions Cup final but I lost to Barcelona.
Recently I've won back to back European titles with Everton, with Moise Kean grabbing 40 goals a season before I eventually sold him on to Manchester City for £150m.
Why do love FM?
I like how it gives me a different platform to enjoy football, in a way that I can't experience from just playing or watching the game. I love getting into the mindset of being a manager and exploring behind the scenes of the game – whether that's thinking about match tactics or finding a young player and tracking their development to the big time. I'll always find myself getting stuck into a save and thinking of ways to improve my team even when I'm not playing – FM does that to you…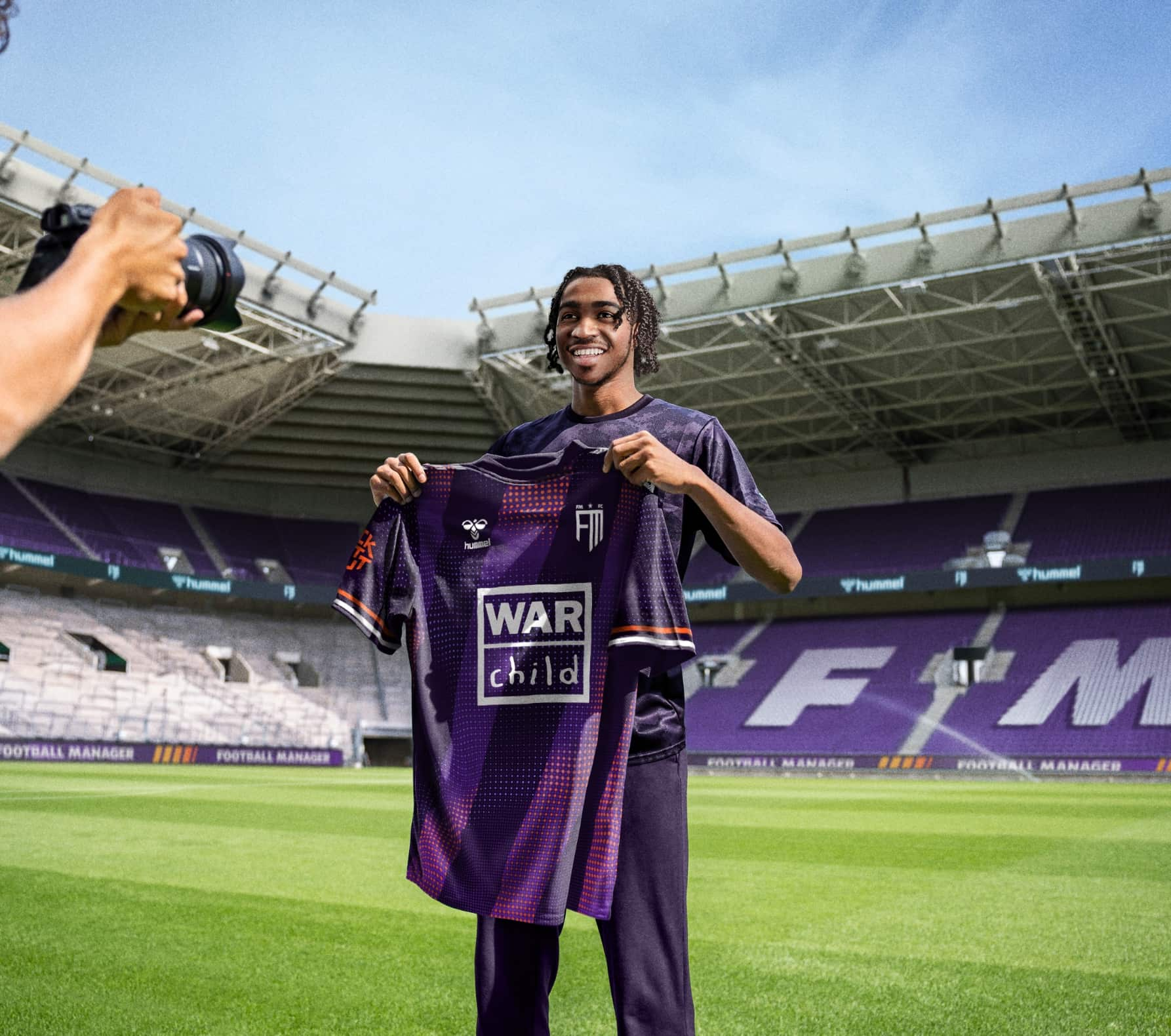 JOIN THE SQUAD
GET REWARDED
Sign up for FMFC to get exclusive feature drops and game updates, personalised content, plus member-only rewards and incentives.