Why we love FM
Interviews
14.02.20
Read Time

: 3 Minutes
Football Manager fans come from all walks of life and so far on Why I Love FM we've spoken to professional footballers, basketball players, journalists, record producers and content creators. In this Valentine's Day special, we sat down with three members of the Football Manager team at Sports Interactive to discover their FM highs and lows and learn how their relationship with the game has changed since working here.
Joshua: Senior Software Engineer, joined the team in 2013.
Jonny: Senior Core Tech Engineer, joined the team in 2018.
Tom: PR Manager, joined the team in 2012.
---
How did you get into playing Football Manager? What was the first version you played?
Josh: I started playing when I was about 10. It was a game like no other at the time - the game provided the framework of a realistic football world you were dropped into as a manager. I was hooked straight away; I loved the stories it let me generate in my mind, even as someone who was pretty terrible at the game.
Jonny: The first game I remember properly playing is FM05. Back then Dundee United were a team to be reckoned with, featuring the legendary Mark Kerr alongside other greats such as Derek McInnes, Barry Robson and Jason Scotland.
Tom: My two older brothers got me into the game when I was younger. I think I was six when I played my first version and I would always start as Blackburn Rovers because of my (ongoing) infatuation with Alan Shearer CBE, who was still plying his trade there – Christ, I'm old. Anyway, Blackburn played Everton in the season curtain-raiser in that version and I must've played that match about 100 times without winning it – yes, I quit and restarted. I was six. Sue me. That should've been it for me and FM, a case of 'the one that got away', but thankfully I stuck with it and it finally clicked a couple of years later.
What have been the high points of your FM career?
Josh: It would have to be my all-conquering West Ham team in FM12. They'd just been relegated, so it was a great challenge to take them back up into the top flight under Mark Noble's leadership with Carlton Cole banging in the goals. I slowly built them up into a title-winning team that also conquered Europe, all while playing the 'West Ham' Way. I think I might even have the save somewhere at home, I should probably dig it out.
Jonny: Spending days when I should have been going to university on FM09, winning the EURO Cup with Dundee United and getting to the European Champions Cup final – that extra time defeat to Real Madrid still hurts! In FM17, or maybe FM18, I enabled the lower English leagues so I could play with Didcot Town where I went to secondary school. I didn't win any European silverware with them, but I did make them a stable championship team before leaving which I was pretty happy with.
Tom: Strap in. We're talking FM14 and Colchester United– the club representing Britain's oldest town but whose best success on the pitch was a tenth-placed finish in the Championship over a decade ago. Flash forward to 2050 and they're the best club in the world with a trophy cabinet that's bursting at the seams. I had the stadium named after me, had my son come into the first-team and then saw him capped by England (under my management) – what a save.
I actually saw one of the stars of that save, former Colchester winger Drey Wright, while having breakfast a few years later and I toyed with letting him know that he'd not only been the lynchpin of four seasons of domestic and European dominance but was also named the best player in Europe. I bottled it though and just sat there gawping at him.
Do you have a favourite signing or newgen?
Josh: Alan Giraud, my French newgen left-back in FM14. Signed for a few million, he was not a flashy player, but a hard-worker who never complained. Alan was the first name on my team sheet from when he joined my West Ham team at the age of 19, to when he retired at the age of 34. A good team functions as a machine, where all players need to work well together in order to be successful and to have a player doing that for 15 seasons without ever letting the standard drop made him a firm favourite with me.
Jonny: A few years ago (can't remember exactly which year), I managed to snap up Callum Hudson-Odoi in my Dundee United save. I'd never heard of him at the time but he was a revelation and we had several great seasons together so it's nice to see him getting some recognition now. Not strictly a signing, but I also have to mention Ryan "Scottish Messi" Gauld, who I built one of my most dominant United teams around. It's a real shame he hasn't lived up to the hype the media placed on him as a kid.
Tom: Just one? That's tough. I'll have to say, Malcolm Hay – he came through my youth setup in the early 2030s in that Colchester save. He never grew above 5"2' but he absolutely ran the midfield for me over the course of about 15 seasons. Imagine David – as in the one that beat Goliath – but with a wand of a right foot. I think I even preferred him to my aforementioned son, what a boy.
What have been the highlights of working on Football Manager?
Josh: Definitely the people who make the game. Sports Interactive takes great care to hire the right people, which meant, despite coming in as a very shy, very nervous grad in his first job, at a studio he almost worshipped, I felt valued from day one. I've found everyone easy to get along with, and always happy to help out. Many are now my closest friends. Not only that, but the passion and excitement for making Football Manager comes across every day I work here. It's an extraordinary set of people who make Football Manager, and I'm proud to work with them.
I'm also lucky enough to work on the match AI area of the game with studio co-founder Paul Collyer, whose knowledge and understanding of football and tactics, as well as the ability to translate that into working AI, is astonishing.
Jonny: Just being around this many people who are also fans of the game is great – I can always find someone to talk to about almost any football (or game) related subject. I've also been working on the Stadia version over the past few months which has been very interesting.
Tom: Meeting Alan Shearer at a charity event a few years ago. I didn't embarrass myself and the man was an absolute delight. Also, getting to work on the game that I've spent thousands of hours playing as a fan is incredible; it still feels a bit surreal to walk into the office and see the SI logo.
How has your relationship with Football Manager changed since working here?
Josh: I still love the game and play regularly, although I probably now play with my critiquing hat on slightly more, thinking about how we can improve the game. I am slightly worried that I appear to be getting worse at the game as my time at Sports Interactive progresses, although that may be due to me now managing more in the lower leagues and trying to get them to play beautiful Tiki-Taka football which may be slightly beyond them.
Jonny: I have a new appreciation for the intricacies of the match engine, especially now I can see the code. I notice a lot more bugs in the game now than I ever have before because I know exactly how things should be working, but now I know exactly who I can pester to get the issue fixed!
Tom: I've got a lot more appreciation for the scale of work that goes into creating the game, for a start. I didn't know that there was a network of scouts across the globe and now I truly appreciate the amount of effort that goes into compiling and updating the FM database each year.
Who would you say is the best FM player in the office?
Josh: We put this to the test somewhat with The Match Team Challenge, which has run in FM14 (Woking Challenge), FM19 (Bayer Herausforderung), and FM20 (Inter Miami Challenge). The aim has been to give people in the studio, who aren't sure who they want to manage, an excuse to play the game and an ability to discuss the experience of managing the same team which hopefully leads to new improvements and feature requests for future titles. They're purposefully run for just a single season so people don't have to commit a massive amount of time to it.
After choosing Woking and Bayer Leverkusen in previous years, we selected Inter Miami this year because one of the match team members, David, lives and works in America and because of the unique scenario an expansion team presents. Needless to say, these have shown that we have some people in the office who are very good at the game, and that I am most certainly not one of those.
Jonny: I think I was incredibly lucky to win the challenge this year – I was one of two people in the office to get knocked out in the first round of the MLS playoffs. Winning the US Cup carried me through. I also benefitted from Russell (last year's winner) capitulating when he ran out of international player slots.
Tom: I wouldn't say I was the best manager in the office, but I'm in the top one.
Finally, why do you love FM?
Josh: I love FM for the stories it lets you create. They take you through all the emotions you experience in football, by giving you a believable football world that you're just one tiny part of. I've been playing the game for 20 years and it's still as magical to me as it was on day one.
Jonny: No other game lets me build a legacy in a world of my own. One moment I could feel like the next Johan Cruyff, showing the world a beautiful new style of football, while the next moment I'm throwing my laptop out the window because I've just been knocked out by Cluj on away goals.
Tom: Because it's a game that envelopes you like nothing else on the market. You really do get immersed into every aspect of the game and get attached to the players and teams you manage to the point where you're up into the early hours saying you'll just play one more game because you know that you're a small step away from getting your front three to gel. Show me another game that forces you to think in the way that FM does, that makes you feel so powerless and yet so in control. Quite simply, it's an absolute masterpiece.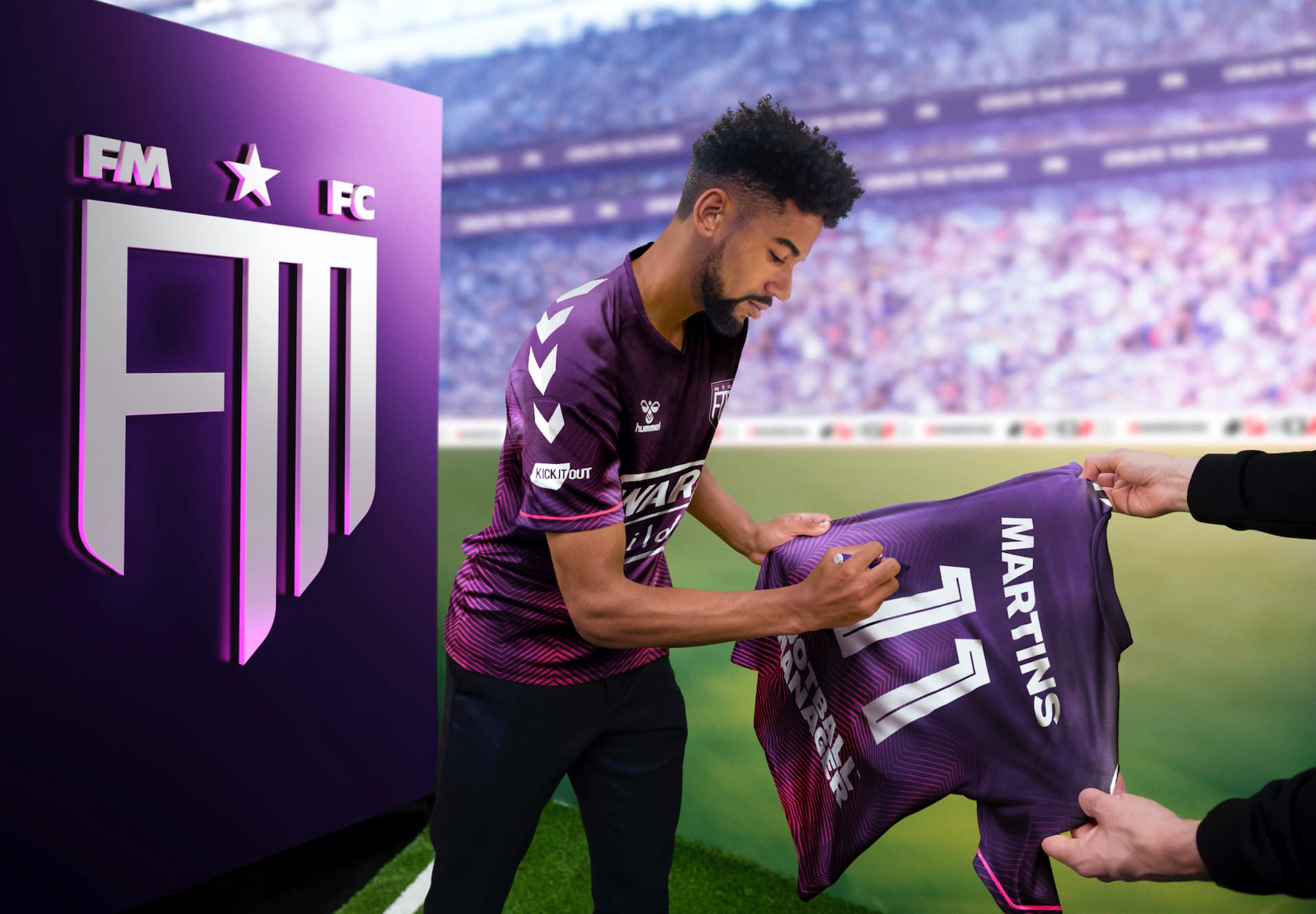 JOIN THE SQUAD
GET REWARDED
Sign up for FMFC to get feature drops and game info before anybody else, content more relevant to your game preferences plus member-only rewards and incentives.