Joe Lolley | Why I Love FM
Extra Time: Interviews
13.05.19
Welcome to the latest instalment of Why I Love FM – our regular series of interviews with famous fans of Football Manager. This week we sat down with Joe Lolley, Nottingham Forest's newly crowned Player of the Season, who told us all about his pioneering 2-7-1 formation.
What do you look for when selecting a team?
I usually start right at the bottom somewhere in England, semi-professional where you can build a club from top to bottom, or if it's in the EFL I like a club who've got a good young squad and low wages. I must say though I just flat out refuse to manage abroad.
What's the first thing you do when you start a save?
I tend to go through the squad and then the Under 23s and Under 18s and start plotting ideas for a tactic and trying to move players on and loan them out then usually straight into a tactic. It's a very time consuming first day.
How do you approach transfers?
As I start lower league (and usually at the bottom) there's no money to spend. I don't like to break wage structures for just one player etc, I'm happy to be patient for free transfers and maybe one or two very good loans. As the game goes on, though, it's all about buying the best young players.
What do you look for in players?
I like my own view. I do listen to my scouts, but mainly I just have a tactic with specific roles and try to find players who fit those roles. I've never gone down the route of signing ex-teammates.
Favourite type of player?
I love quick centre-halves (so I can play a very high line) and ball-playing midfielders with good off the ball attributes and movement as I try to play good football.
Greatest managerial achievement?
I had a save with Shrewsbury and by about 2035 I had a squad where 50% of the players had come through the academy. We played a 2-7-1 formation and won every trophy going. I can remember beating Atalanta away 13-0 in the group stages in Europe and having 50 odd shots. Total domination.
Best save?
It'd have to be that Shrewsbury one. We won the domestic league and were the best team in Europe every year for about eight to 10 years. I finished around 2040 playing a ridiculous formation (which I've never ever been able to replicate with any success) and winning roughly every game in the Joe Lolley stadium. Good times.
My current save with Oxford City is up to 2037 and I've gone from conference South to five top flight titles and three European trophies, so that's right up there.
Best signing?
There were three players I had when I managed Derby (forgive me, I was a young University student and didn't know any better). One, Giamarchi, was my record goal scorer with about 700 goals. I signed him when he was just 16 and he retired when he was about 36. Legend. Then there was a 6'4 winger called Kevin Smith with a bullet throw. He was a genius on the pitch and like Delap with a ball in his hand… a lethal combination. Last of all, we had a right-back called Gonzalo. He had 20 for dribbling and just used to go on mazy runs from all areas of the pitch and score and assist consistently.
Most disappointing signing?
I can't remember from the old games, but on my current Oxford City save I signed a striker called Jean Lambert in my second season in the top flight. I thought he was going to be unbelievable, but unfortunately two years later he'd scored about eight goals and was shipped off for a loss.
Best player you've managed?
Silvestre Giamarchi, he was unplayable and a true leader.
Best newgen?
Josh Egbo, a Shrewsbury midfielder during that dynasty. He went on to be our record appearance holder and was captain by 20, a wonderful midfielder. We still speak now.
Why do you love FM?
Who knows, it's been part of my life on and off since 03/04. Once I'm into a game, it's impossible to get me off it. Just creating things tactically and seeing things you want to happen actually happen is amazing, especially now with the likes of defenders splitting from goal kicks and playing out from the back and seeing players take up positions you want them too. It's just a wonderful game for a football nerd like me.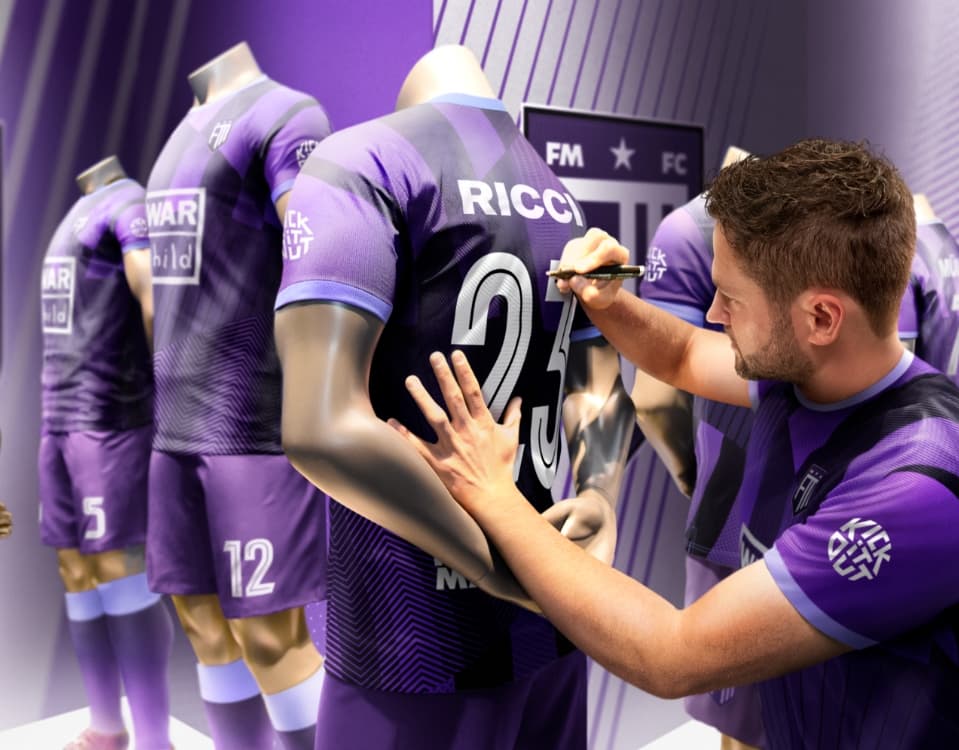 JOIN THE SQUAD
GET REWARDED
Sign up for FMFC to get exclusive feature drops and game updates, personalised content, plus member-only rewards and incentives.
Join the
squad