Gegenpress – How to use it in FM21
The term 'Gegenpress' first entered the public consciousness after Borussia Dortmund burst back onto the European stage with successive Bundesliga titles and a continental cup final appearance. Their playing style was intense and entertaining, later defined as 'heavy metal' football. It captured the imagination of fans and pundits alike. It was an obvious candidate for inclusion when tactical presets were added as part of Football Manager 2019's tactics overhaul. But what does 'Gegenpress' exactly mean, and how can we translate this into FM? Rock's End FM provides a detailed guide.
History and Goals
The concept of 'Gegenpress' has become almost inseparable from German football, but, in truth, the idea behind it has a long history. Like most pressing schemes, it can trace its roots back to the great Dutch sides of the 1970s. Those teams pressed in a mostly disorganised manner, swarming the ball-carrier to win the ball back. Later developments would instead focus on shrinking the space the team in possession had to operate in, reducing the chances of a counter-attack and increasing the likelihood of the ball being turned over through an error. German football would hop on this trend, with several teams ditching the sweeper-led back five and focusing instead on zonal marking and intense pressing.
The idea is that when an opposition player initially wins the ball for their team, they are not entirely aware of their position, or that of their teammates, on the pitch. The defensive side accordingly switch their focus to intensely pressing this player before he has time to set himself and start a counter-attack. The defensive team press both the ball carrier and the adjacent passing lanes to maximise their chances of a quick recovery.
But how do we apply this in FM? Time to go to the tactics blackboard.
The Tactic in FM
To illustrate the Gegenpress, I've taken over as manager of Atalanta, a squad with several players perfect for this style of play.
Initially, we're presented with the option of three core formations; a 4-3-3 with a DM, a 4-2-3-1 Wide and a 4-4-2 with a Narrow Diamond. The formation you chose plays a vital role in the way the team plays, as it dictates the general area where players operate in and the defensive positions they'll occupy once the team are without the ball. I'll opt for the 4-3-3 as it best fits the players at my disposal.
In my homeland of Argentina there's a saying that teams should be built from the back, so I start with the defence. In goal, an effective Gegenpress requires a Sweeper Keeper who can build from the back and sweep balls behind high defensive lines. However, the injury of Pierluigi Gollini (who's is out until the start of the league season) poses a problem. Our second choice, Marco Sportiello, isn't as good with his feet, which could lead to more mistakes. On the other hand, Boris Radunović is a more competent passer but has less command of the box. I'll need to use them both in pre-season to see who is better suited to the system.
Our back four is, if we follow the preset directly, comprised of two Ball-Playing Defenders and two supporting Wing-Backs. José Luis Palomino, Rafael Tolói, Berat Djimsiti and Bosko Sutalo are all capable of filling the central roles. However, some changes may be appropriate in the wide areas. On the left, Robin Gosens, who has the 'Gets forward whenever possible' trait and is a decent crosser, is the best option. Given his strengths, switching him to Attack and then bringing in a more defensively solid option, namely Hans Hateboer, on the opposite side is sensible.
Further up the pitch, it's suggested we have a Deep-Lying Playmaker on Defend, sitting behind a Carrilero on the right and a Box-to-Box Midfielder on the left. The Deep-Lying Playmaker is in charge of recycling possession and providing defensive structure for our midfield. Theoretically, our best option here is Marten de Roon, but his high Aggression and 'Arrives late in Opponents' Area' trait don't quite fit with the role. As such, I'll move him to a supporting Ball-Winning Midfielder to maximise his dynamism and defensive prowess. However, that means I need to accommodate a playmaker elsewhere.
The Box-to-Box Midfielder would normally offer a real energetic presence in the middle of the park but with de Roon doing a similar job behind, I can focus on bring some different elements into play. Remo Freuler, a natural Box-to-Box Midfielder, is also great as a Roaming Playmaker; he's got good Passing, First Touch, Vision, Decisions and the 'Dictates Tempo' trait.
To his right, the Carrilero is a more limited version of the Box-to-Box Midfielder, linking attack and defence but with fewer physical requirements and less chance of being caught out of position. However, without a clear fit for the position, I can take advantage of the cover provided by Hateboer and use a more risky option in midfield. While most regularly deployed as an Attacking Midfielder, I'm using Ruslan Malinovskyi as a Mezzala on Attack to exploit the spaces in front of the more cautious Hateboer.
Finally, we have the attacking trio: two Inside Forwards on Attack flanking a Pressing Forward on Attack. On the right, tricky left-footer Josip Ilicic perfectly fits the bill. He's a flair player with great Finishing, Dribbling and Passing, as well as the Player Traits 'Shoots from Distance' and 'Plays One-Twos' that complement the role.
The only position that might cause us problems is on the left wing as Atalanta only have two players at the club capable of playing there and neither are 'natural' in the position. However, Luis Muriel should prove a great choice. He has great Pace, Agility, Dribbling, Technique, Flair and Off the Ball, while he also possesses the 'Plays One-Twos', 'Likes to Beat Man Repeatedly' and 'Runs with Ball Often' traits. As he's an out and out striker, he's likely to score a fair few chances that come his way, which makes him a strong option, even though you may want to dip into the transfer market for more depth.
For the lone striker we're spoiled for choice with players such as Duvan Zapata, Andreas Cornelius, Sam Lammers and the aforementioned Muriel, who have great quality and different skill sets that will allow me to switch approach depending on my needs. For the starting 11, however, I'll go with Zapata, whose Team Work, Work Rate and clinical Finishing make him a great option.
With the starting 11 settled, let's look at the Team Instructions. We have instructions for when the team is In Possession, In Transition and Out of Possession. When the team has the ball, we make the Attacking Width 'Fairly Narrow'. This encourages short, quick passes through the middle to break the opposition down; this also means that if the team loses the ball, they can quickly surround and press the opposition. Under Approach Play we will look to 'Pass into Space', 'Play Out of Defence' and set an 'Extremely High Tempo'. These mean that the team will make a concerted effort to build from the back at high speed. They'll look to shake off the opposition defence with ball movement, exploiting the space in behind.
In Transition, we're set to 'Counter' and 'Counter-Press'. These are at the core of the tactic, meaning the team will look to both actively press the opposition ball-winner to recover the ball quickly and launch quicks counter to take advantage of a disorganised opposition. The goalkeeper is expected to 'Distribute to Centre-Backs' and 'Take Short Kicks'; this, of course, plays into the idea of building up play from the back.
Out of Possession the team is set up with a 'Much Higher Line of Engagement' and a 'Higher Defensive Line'. This compresses the space the opposition get to play in, closing players down and blocking passing lanes. We also have our Pressing Intensity set to 'Extremely Urgent', meaning our players will press as hard as they can, getting on top of the opponents quicker. We also have 'Prevent Short GK Distribution', so our attackers press the passing lanes for the opposing Goalkeeper, forcing him to try a long pass that can be contested.
Extra tips
This is as far as the preset will take us, but what if we want to delve deeper into the inner workings of the Gegenpress?
First port of call here should be heading over to the Opposition Instructions. With an informed idea of how your next rival plays, you can prepare a set of pressing triggers to further break down the oppoition. For example, you should be looking to set Tight Marking to 'Always' on the opposition's playmaker; this, combined with the intense pressing, will mean he will have a hard time getting space and time on the ball, minimising his effect on the game. You can also look to select 'Always' on Pressing Intensity for your rivals' wide players. This puts the opposition against the edges of the pitch which reduces their time to make the correct pass. If you've found out your opponent is trying to play from the back but perhaps lacks the players to do so, you can try putting Pressing Intensity on Never on their weakest ball-playing defender, while intensely chasing the other, forcing your opponent to regularly go through their weakest player.
Adding Team Instructions
In terms of Team Instructions, perhaps look at 'Run at Defence' and 'Be More Disciplined'. The first will take advantage of any space free after the ball has been won further up the pitch by encouraging your players to run forwards at the defence. The second one may sound more counter-intuitive than counter-pressing but it's actually a building block of other high pressing tactics; it instructs your players to stay closer to their designated positions, meaning that when the ball is lost they are more evenly spread across the pitch for a more effective press.
Under Out of Possession you can find one of the staples of vintage high defensive line sides, the offside trap. Activating 'Use Offside Trap' will get your team seeking to move forwards at the right times to put any attacker out of play. However, you're going to need smart (high Positioning, Decisions, Concentration, Anticipation, Teamwork) and agile (high Agility, Balance and Acceleration) defenders to play this effectively.
However, a good tactic is only as good as the players carrying it out. Gegenpress is not a style you can pull off without the right players, so I highly recommend starting with a team (like Atalanta) which already has some that fit the bill. If you're looking for a smaller side or one that does not have the right personnel, you will need to do some clever recruitment. You're looking for players with the right technical skill set for their position, but also for the right mental and physical skill set for counter-pressing. High scores for Anticipation, Concentration, Decisions, Positioning, Off the Ball, Teamwork and Work Rate are key. Player Traits like the ones discussed are important to look for, as well as 'Likes To Switch Ball To Opposite Flank' for your full-backs or 'Tries Killer Balls Often' for your attackers.
The Gegenpress is one of the most interesting and entertaining styles of modern football. Recreating it on Football Manager can be a complex task, needing careful consideration and the right set of players. However, when the pieces fall into place, it can be unbelievably effective and beautiful to see in action. Hopefully this guide has helped you to get a better grasp at how to make it happen.
Happy managing,
Rock's End FM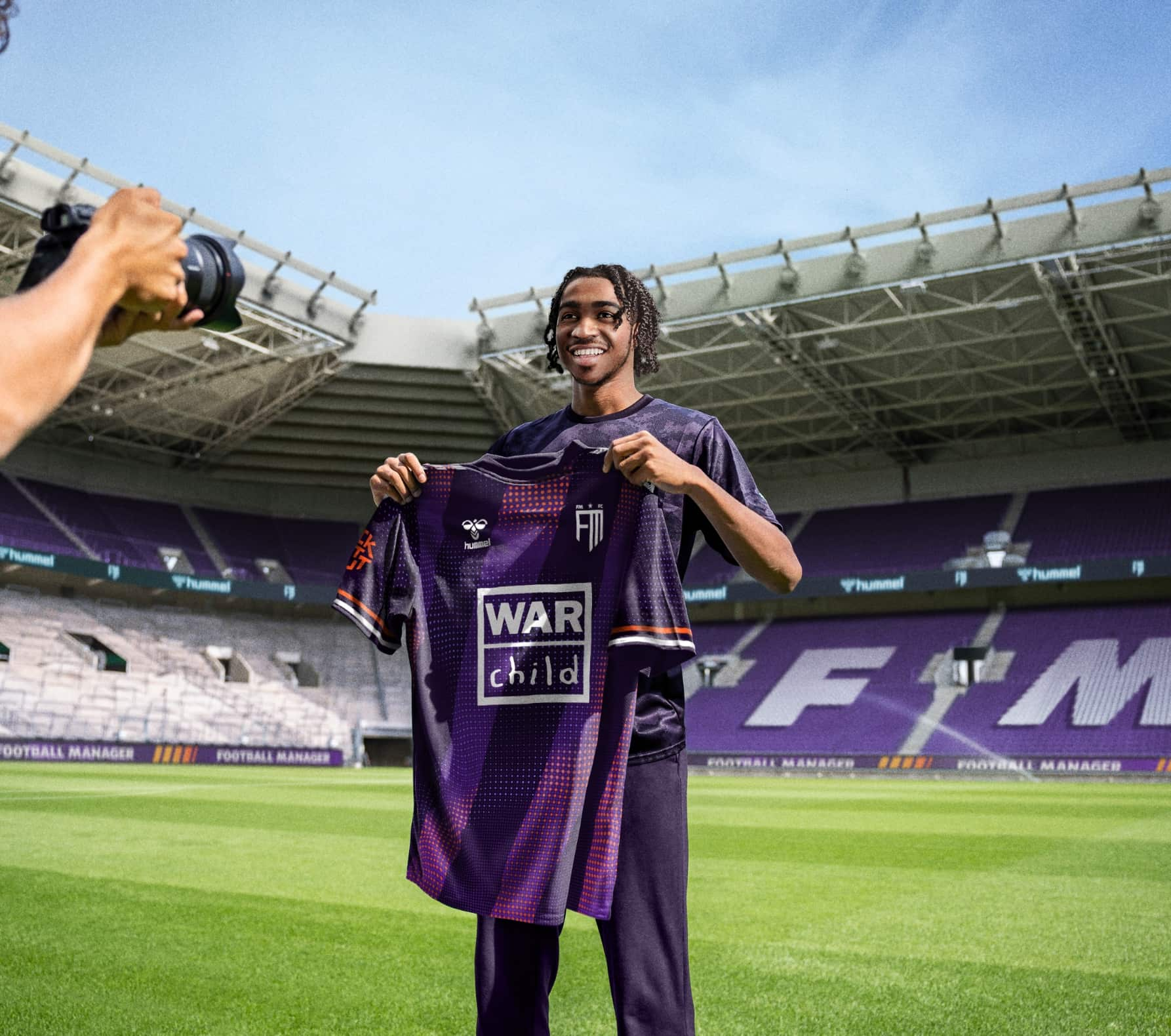 JOIN THE SQUAD
GET REWARDED
Sign up for FMFC to get exclusive feature drops and game updates, personalised content, plus member-only rewards and incentives.
Explore Our Features Roadmap