Newgen XI - Meet the Team
In June, we launched a competition to build a Football Manager 2023 all-star newgen XI, powered directly by you, our FMFC members.
We wanted to hear directly from you about your best FM23 newgens, learning about those bargains you snapped up from non-league to those international wonderkids that had powered you to UEFA Champions League glory.
Hundreds got in touch via FMFC, with many more sharing their stories with us on our social media channels.
Most of the entries we received were for strikers, which was hardly surprising given how much we all love a great goalscorer. However, we couldn't just pick a 0-0-11 formation, so instead a panel of experts from the FM team whittled the shortlist down to a final XI that lines up in a 4-2-4 and combines a host of world-class talents with those players that had unique importance for their managers.
Let's see who made the starting lineup…
Goalkeeper: Kevin Freund
Having moved over from his native Austria to England at the age of 20, Kevin Freund is the sort of world-class Goalkeeper that doesn't come around very often.
Impressive in the air with 18 Aerial Reach and 18 Jumping Reach, Freund earned his money for club and country with his hugely impressive Attribute scores of 20 for One on Ones and Positioning.
We're sure that his Gets Crowd Going Trait made him a huge crowd favourite, as did the fact he'd won seven major trophies by the age of 25.



Right Back: Jorge Sala
One of the youngest players in this XI, 19-year-old full-back Jorge Sala stood out for one of our Turkish FMFC members because of the instant impact he made for his team in Spain.
Signed from Argentina to replace a bit of a club legend, Sala's abilities were initially questioned by the fans. However, he responded to those critics in fine fashion, recording five assists in 27 games as his new team enjoyed championship success.
Sala's impressive first season in European football saw him finish third in the annual NXGN list. We can't wait to hear how he gets on as his career progresses.
Central Defender: Alessandro Zonzini
San Marino is not a footballing hotbed. In fact, it's the complete opposite and has been called, more than once, the worst team in international football.
Although they weren't world-beaters in FMFC member Jamie's save, they did record their first-ever competitive win. Key to that victory was the performance of 17-year-old newgen defender Alessandro Zonzini, with the debutant chipping in with several last-ditch tackles to help his nation to a famous, famous night under the lights.
Now also plying his trade for the club side that Jamie's managing, Zonzini has already etched his name in legend.
Central Defender: Pedro Nava
Partnering Zonzini in the heart of defence is the Mexican Pedro Nava, one of those players whose story throughout a save is what makes Football Manager so special.
FMFC member Charlie initially snapped up Nava as a bargain wonderkid to anchor his defence at Mainz 05. Nava was key from the off, playing an important role as the Rhineland outfit finished fourth in the Bundesliga and qualified for the UEFA Champions League for the first time.
Two years later, Charlie followed the well-trodden coaching path from Mainz to Borussia Dortmund and signed Nava for the second time in his career. Again, Nava shored up a leaky backline but this time his contribution was even bigger – he scored the winning goal in the UEFA Champions League final to secure an historic treble for Der BVB.
Left Back: Jhon Rueda
The second South American in this team, Jhon Rueda was snapped up as a free agent at the age of 17 and never looked back.
Blessed with 19 Acceleration, 17 Agility and 14 Crossing, Rueda proved himself as an exceptional wing back for both his club, Werder Bremen in the Bundesliga, and his country, Colombia.
For the latter, he played a starring role at the age of 19 in 2026, almost guiding them to a first victory in the biggest tournament of all.
Central Midfielder: Erwin Mussa
There aren't really words to describe what a special player Erwin Mussa has been. Instead, we'll let his stats do the talking.
Over the course of 11 seasons in Belgium, Mussa scored 179 goals and produced 146 assists in 359 league appearances for an average rating of 7.68. That's 0.91 goal contributions every game. From central midfield.

Oh, and on top of all of that, Mussa's slate of fantastic Mental Attributes made him an obvious choice, and hugely successful one at that, for captain. A special player indeed.
Central Midfielder: António Sitoe
If Mussa is the sizzle of this newgen XI midfield, António Sitoe is the hard-working, underrated steak.
Signed directly from his native Mozambique for a shade under £80,000, Sitoe seamlessly slotted into the world of Polish football, captaining his new side, and guiding them to a league and cup double.
Perhaps the best way to describe this midfield workhorse are the words of FMFC member Oliver in his competition entry: "António has been ever-present in my team and while he doesn't have many individual achievements, his ability in best stated by how noticeable it is when he's not in the side."
Right Wing: Stanley Ikwu
Providing attacking quality while cutting from the right wing, Stanley Ikwu was one of the first names on our team sheet.
Even though he was only 17 when he first moved from Nigeria to the Netherlands, Ikwu was immediately the best player for his new team. Nine straight Eredivisie titles later and Ikwu is still there and still one of the club's best players.
All the while, he has been the epitome of loyalty for FMFC member Ray, never complaining and never asking to leave. We agree with Ray when he says there's no other winger that's more deserving of a spot in this team than Stanley Ikwu.
Left Wing: Cecil Laybe
Looking to form an effective attacking combination down the left of this XI with Jhon Rueda, Cecil Laybe has the sort of newgen story we'll never get tired of hearing.
An academy product at Middlesbrough, Laybe was given regular opportunities to star for the Teesside club from the tender age of 16. Tall and languid, Laybe's scores of 16 for Dribbling and 17 for First Touch meant he regularly created opportunities but often lacked consistent end product. He did, however, have an uncanny habit of scoring important goals and crucial moments.
His most special goal came at Wembley, coming off the bench in extra-time to score a last-gasp header that won Middlesbrough their first Carabao Cup title in 25 years. Football, there's nothing like it.
Striker: Álvaro Farto
Meet Álvaro Farto. He's tall, quick, good in the air and a lethal finisher. He's a manager's dream and a defender's nightmare and has everything you could possibly want in a striker.
Honestly, we're not kidding – Farto has got 17 Acceleration, 17 Jumping Reach, 17 First Touch, 17 Dribbling, 18 Pace and 18 Finishing.
48 goals in his first season for Blackburn Rovers was a healthy return but nothing in comparison to 77 league goals the following year and a brace in the UEFA Champions League final.
In the words of our Ukrainian FMFC member, players like Farto are the reason people play Football Manager.
Striker: Andy Morris
Partnering Farto up top is another equally impressive and prolific striker, Andy Morris.
At club level, Morris hit the ground running at Coventry City after moving from Rangers, scoring at a rate of almost a goal a game in the league and netting a total of 70 times in all competitions in the season that he fired the Sky Blues to a UEFA Champions League spot.
Internationally is where his star has shone even brighter, with Morris breaking Scotland's all-time scoring record in just 27 games and currently sitting on a tally of 64 in 33 appearances.

We have had tremendous fun putting this Newgen XI together over recent weeks, going through all the stories you submitted. Keep sharing them with us on social media @FootballManager.
Stay tuned to FMFC in the coming weeks and months for more exclusive game news and rewards.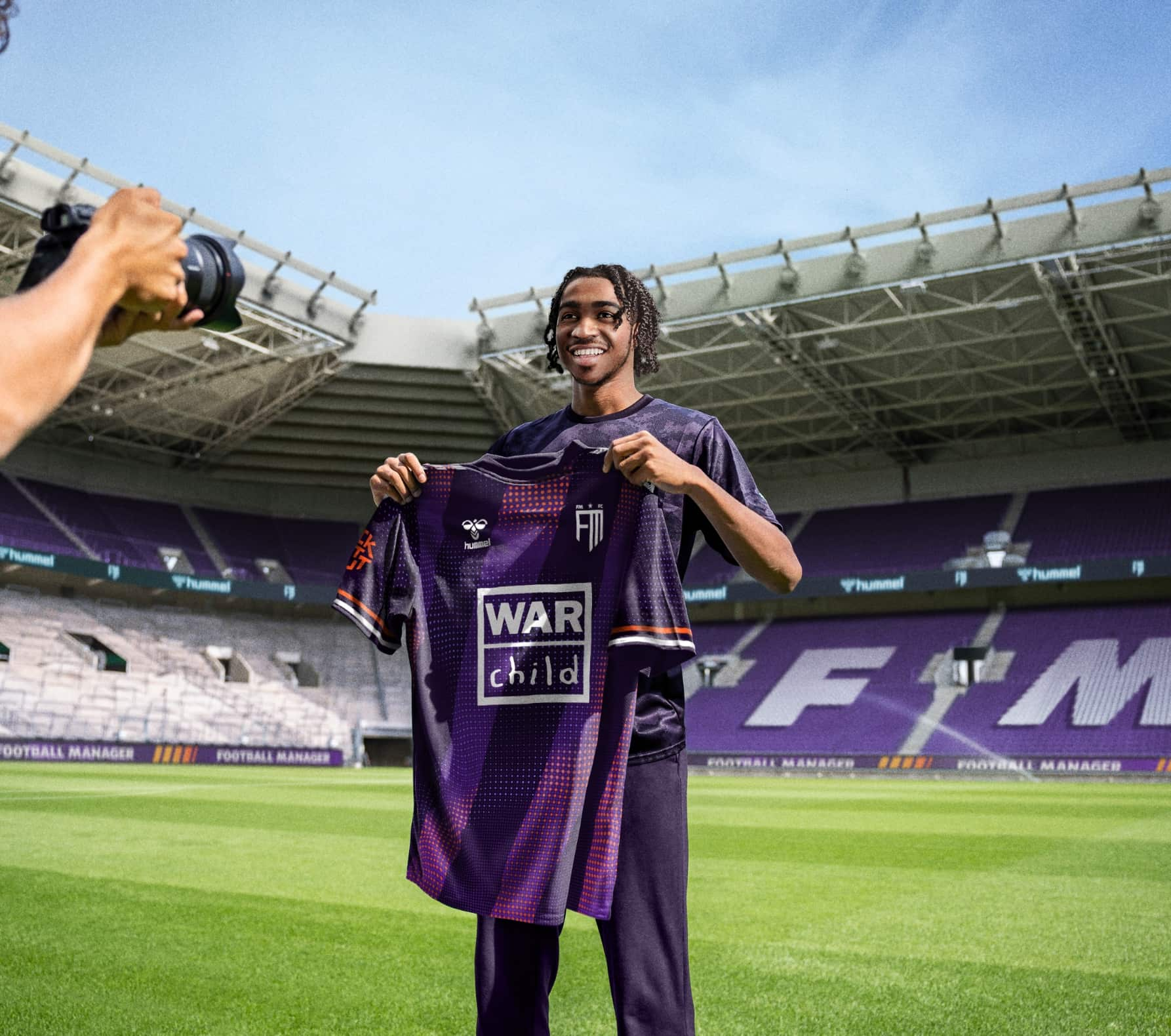 JOIN THE SQUAD
GET REWARDED
Sign up for FMFC to get exclusive feature drops and game updates, personalised content, plus member-only rewards and incentives.
Explore Our Features Roadmap