How to use Target Forwards in FM22
Tactics: Player Roles
19.07.22
The Target Forward is one of FM22's most specific roles. Almost like no other role in the game, a player's suitability for it is largely determined by their Physical Attributes. This can make building tactics around the role a bit hit and miss but if you find a well-suited player and a system that gets the most out of their unique skillset, playing with a good Target Forward feels almost like using a cheat code. Ihor Crusadertsar explains how you can create a tactic to maximise Target Forwards in FM22.
Before we delve into the tactical development section of this piece, let me explain what I mean when I say that the Target Forward is a unique role.
For many roles in FM22, there's a lot of flexibility in which Attributes work. For instance, you could have amazing playmakers that are short and fast just as easily as you can a physical beast with great Tackling. Similarly, a fleet-footed Winger with great Dribbling can perform just as well as a slower but hard-working Wide Midfielder with great Crossing. Both players will patrol their assigned flank and provide width to the formation, albeit in different ways. Central Defenders too can be quite varied in their make-up - fast and technical defenders can hold the line just as well as the slower, taller ones. They just do it in different ways.
With a Target Forward, however, you need to be specific in your player selection. You need someone tall and physically powerful that can outjump opposition defenders, while also having the requisite Strength and Balance to be able to take the ball into feet and retain possession.
The Target Forward is perfect as the focal point of your attack. Unlike a more creative attacking midfielder, Target Forwards are quite difficult for the opposition to mark out of the game. Indeed, if you've got someone with the right profile, they'll draw multiple defenders out of position, thereby creating more space for other strikers and wide players to operate in.
Perfect against low blocks
This brings us to one of the main functions of a Target Forward in your formation. Any central striker can act as a spearhead for your attack; Poachers and Advanced Forwards are especially good at this. However, only a Target Forward can become a battering ram that specialises in breaking down low blocks where space is at a premium.
First off, what is a low block? Often referred to as 'Parking the Bus', a low block is a defensive tactic where players defend very deep in their own half and restrict space for opponents to exploit. Unlike the much more proactive, high-pressing Gegenpress, there isn't much movement from a team playing a low block. It's a very static form of defence but one that can be very effective. It does what it aims to do – overloading central areas to obstruct opposition attacks, winning the ball back and counter-attacking quickly when it's safe to do so. Managers who use low blocks don't care much about maintaining possession or pressing high up the field. They don't want to concede, even if that means sacrificing attacking intent.
These styles tend to operate with two banks of four and therefore the 4-4-2 and 4-1-4-1 are the most common formations deployed by teams using them.
These two formations provide a good base for defensive stability, but they do tend to play quite narrow. As they are trying to restrict the space you can operate in, they populate the middle of the pitch with bodies and clog up the half-spaces. By doing this, however, they leave the wings largely undefended, meaning that the more attacking team can focus their efforts out wide, particularly in the form of crosses.
Maximising Width
Now that we've addressed what makes a low block tick, we can start addressing the importance of the Target Forward and the tactical tools that a player has at their disposal to break down even the most stalwart low blocks.
With all the space opened up out wide against a team employing a low block, you really need good Wing-Backs at your disposal to lead your attacks on the flanks. This entails making well-timed crosses, providing short layoff passes to your Target Forward or any on-rushing midfielders and being comfortable enough with the ball at their feet to keep opposition wide players occupied. Therefore, any player you use in these positions will need good Crossing, Passing and Dribbling.
When your Wing-Backs bomb forward, the opposition wide midfielders and full-backs will be drawn wide, stretching the defensive line and making their formation less compact in the middle. This, in turn, helps to neutralise the main strength of a low block as the defending team's two central defenders and two central midfielders are now facing four attackers.
Adding Creativity
You'd think that would you put you on an equal footing but you need something else to break down a solid low block and that's creativity. Creativity from your attacking midfielders, creativity from your wide attackers and creativity from your striker leading the line.
Any team will benefit from having unpredictable flashy players capable of breaking down defences with a brilliant dribble or a defence-splitting pass to the striker. However, it is how you spread the creativity through your formation that matters.
I usually designate one of my wide attackers as the side's creative pivot, an unofficial playmaker if you will. I do not want him to act as a ball-magnet, and hence the Inverted Winger role is perfect. I prefer to use such a player on the wing as opposed to the more traditional central playmaker position because it makes it harder for the opposition to mark them out. If you have a very mobile player, it can help in creating more space by confusing the opponents.
I'll always aim to have one creative talent in each strata of my formation, with each player often boasting great Technical and Mental (particularly Flair) Attributes.
However, short passing and technical creativity are not always enough. Imagine it's 70 minutes into the match and you still cannot score that all-important winning goal. The opposition low block has left you struggling to find space in the attacking third. At such times, you need a game-changer that gives you a different dynamic – throughout FM22, my preference has been to inject a bit of old-school football physicality into the mix with a Target Forward.
Strength, Power and Precision
In the past, Target Forwards were viewed as the preserve of long-ball teams. However, in recent seasons we've seen leading European clubs use big Target Forward-type strikers in possession-based systems and they've proved highly effective.
The same is true in FM22. Target Forwards are the best roles in the game when it comes to helping you create the width needed to counter a low block. Sometimes when all else fails, you really need a human battering ram to break through their defences. Good Target Forwards, as discussed already, have the power and skill to go toe-to-toe with even the biggest Centre-Backs, often drawing them out of position.
With a good Jumping Reach, Heading ability and Strength, many Target Forwards pose too much of a threat to be left unmarked near the opposition goal, particularly when the defensive side are facing a barrage of crosses from Wing-Backs. By drawing defenders to them, they open channels and opportunities for their more nimble teammates to attack. They'll also, by virtue of their size and aerial acumen, score a fair share of easy header goals from floated crosses.
That's not to say that your Target Forward should be a one-trick pony only capable of scaring defenders and scoring easy headers. Far from it. As you can see from his attributes, my Target Forward wonderkid is a rather technical player with great Technique and Flair and above average Passing, Vision and Teamwork. He might not be our flashiest player but is nevertheless one who is more than capable of predicting and participating in complex plays. He's able to control the ball with his back to goal and pass it short to a teammate, who is either in position to shoot or to play a ball through to another attacker. In this way, the young Target Forward has registered several pre-assists, or what they would call secondary assists in Ice Hockey, for my team this season.
Possession Football should not be about pointless passing. Otherwise you will definitely run into trouble when facing ultra-defensive outfits. As a dominant team you should design your tactic around controlling the pitch, especially the space around your opponent's goal. One enjoyable way of doing that is through a Target Forward. I don't think that the value of having a good central striker can be underestimated. This is true for any tactic that aims to progressively move the ball up the pitch and neutralise opposition defences. If anything, by injecting a healthy dose of aggressive physicality, a good Target Forward will make your attacking transition harder to predict and will make it less likely that your attack gets stifled by a low block.
Hopefully that's shown you how you can get the most from a Target Forward.
Happy managing,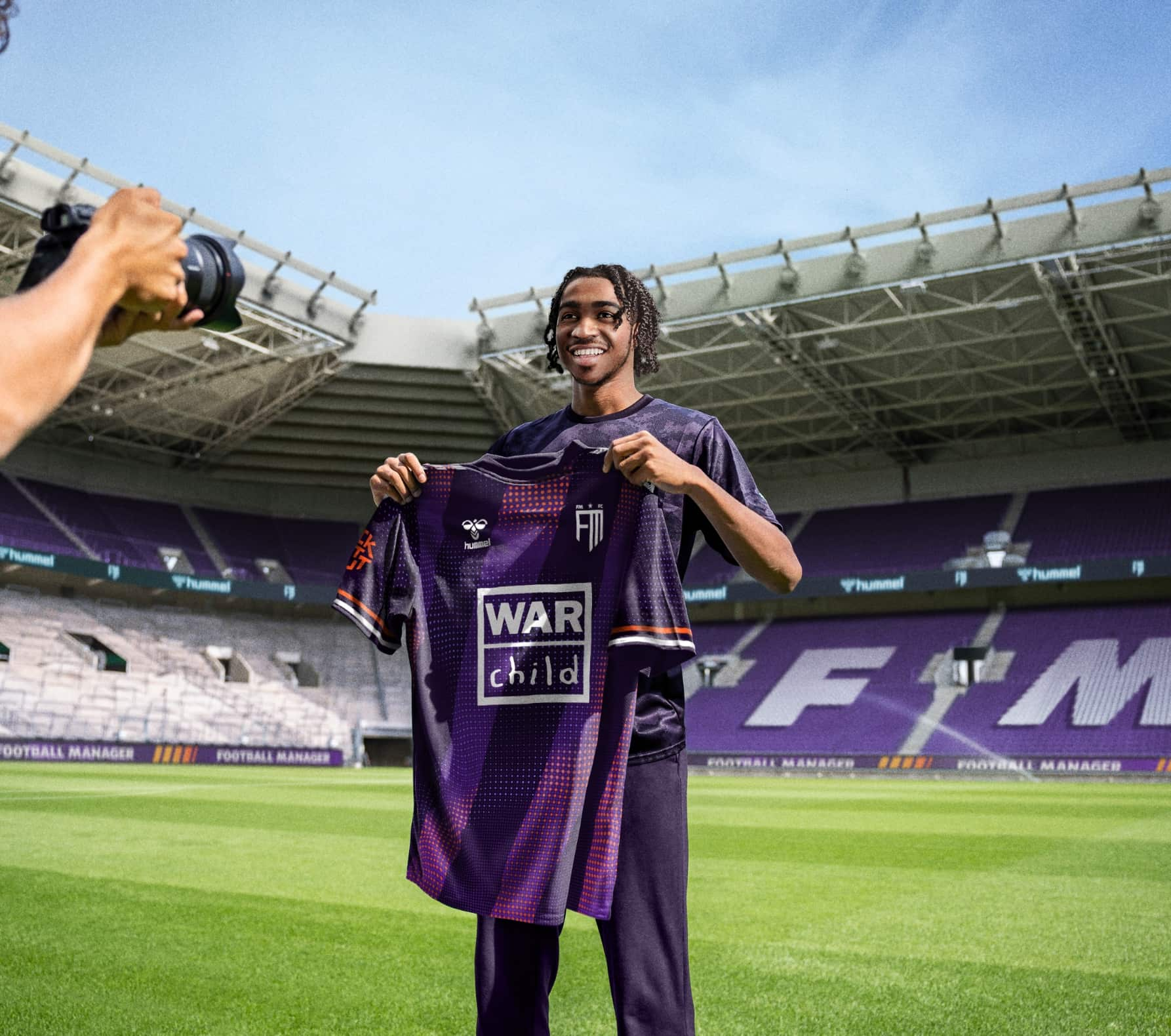 JOIN THE SQUAD
GET REWARDED
Sign up for FMFC to get exclusive feature drops and game updates, personalised content, plus member-only rewards and incentives.
Explore Our Features Roadmap