Jonny Sharples | Why I Love FM
Extra Time: Interviews
06.05.19
Welcome to another instalment of Why I Love FM – our regular series of interviews with famous fans of Football Manager. This week, we sat down with Twitter sensation Jonny Sharples to discuss his love of the game and how it created a legend.
What do you look for when selecting a team?
I typically plump for a club that has crept up in my life somehow; I had a save with Gateshead because I had a lovely day out in the Metro Centre once, one with Wigan because I took advantage of their cheap tickets to go along to a few of their matches as a student, and one with Dynamo Dresden because I went to an Amanda Palmer gig – she's the frontwoman of the Dresden Dolls.
What's the first thing you do when you start a save?
The first thing I usually do is head straight for the transfer screen, even before I've even assessed the squad currently at my disposal. The wheeler-dealer in me can't resist the pull of Contract Status: Expired, Sort by: International caps and handing out trials like they were sweets on Halloween.
What do you look for in players?
I tend to rely heavily on my scouts, they've got 20:20 vision in terms of Judging Player Ability and Judging Player Potential for a reason. It also gives me a get out clause in my fictional press conferences and media interviews when people are questioning my movement in the transfer market; it's all the scouts' fault, blame them.
Favourite type of player?
I have a real affinity towards defensive midfielders and ball-winning central midfielders that's developed over recent years. My favoured formation will have a DM with good passing stats that can spray balls from deep, and just in front of him a central midfielder that is flying into tackles. Maybe it's from watching my team trying to defend counter attacks growing up.
Greatest managerial achievement?
I've been very lucky, from humble beginnings at Dynamo Dresden on Football Manager 2013 I made my way to Celtic and Hearts - and at Celtic I found my home. Literally. I had a stadium named after me, Sharples Park, and I'm currently in the process of having a second stadium named after me, the Sharples Arena. All this due to countless titles and domestic cup wins, and 15 European titles.
Best save?
My save with Celtic on Football Manager 2013 has been, and continues to be, a lot of fun. However, I'd have to say my best save came on Football Manager 2010 when I took Gateshead from the Conference Premier to the very top. The star of the show was undoubtedly Wesley Ngo Baheng, a striker who ended up scoring in every season in every division on our way to the top tier. It was the first time in all my years of playing the game that I'd ever managed to stick it out for more than a couple of seasons.
Best signing?
There's been lots and lots of newgens at Celtic that I could claim to be my best signing, but I think I'd have to hand that particular title to Nathaniel Chalobah. I brought him to Celtic on a free transfer in 2019 and he was the bedrock of my defence for the next seven years, becoming club captain and leading us to European glory in 2022. He was the first big signing that I made at Celtic and helped take the club into a new era.
Most disappointing signing?
I had a save on Football Manager 2009 where I signed what is now a Who's Who of Football Manager wonderkids and legends. The only trophy they helped to deliver was a solitary domestic Cup. In hindsight, maybe I should have signed some highly rated defenders to go alongside all my attacking talent.
Best player you've managed?
In a network game I had with two of my housemates, I managed to sign Ángel Di María for Aston Villa and he was a complete revelation. Every time he scored or assisted a goal I would shout his name with an extremely long rolled R in María, much to the annoyance of my two housemates.
Best newgen?
Getting to 2065, as I am now with Celtic on Football Manager 2013, I've had a lot of newgens come and go and each of them have a special place in my heart. From Raymond Dekker, the 6'10 Dutch goalkeeper I signed in the summer of 2018, to Marc Mason, my current striker that hit 59 league goals last season.
However, there can only be one winner and that's Ivica Strok; the Croatian striker that hit a massive 836 goals for the club over a 22-season career. He also broke out the game and into the real world; he's been featured on the BBC and a Celtic shirt bearing his name and number and programme created for his testimonial made their way into the National Football Museum. The programmes were also sold to raise money for a charity called CALM.
Arriving back from 2042 and joining @IvicaStrok10's shirt at the @FootballMuseum will be his testimonial programme. pic.twitter.com/Kd74woYF36

— Jonny Sharples (@JonnyGabriel) September 30, 2015
Why do you love FM?
There's so much I love about Football Manager. The level of immersion is incredible as is the ability for escapism, to get lost in the virtual world - Football Manager is like the world's biggest Choose Your Own Adventure book where every page has thousands of options of what to do next. However, I'd have to say the thing I love most about Football Manager is the sense of community, not just online but in the real world – say Tonton Zola Moukoko or Kerlon to the right person and it's like a secret handshake into a private member's club.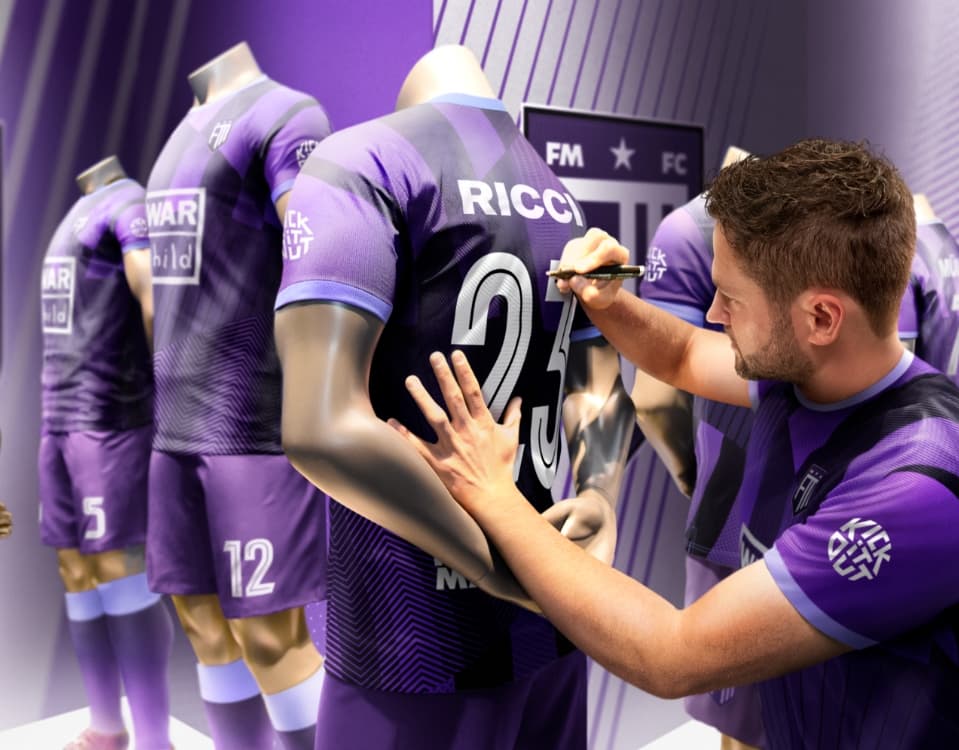 JOIN THE SQUAD
GET REWARDED
Sign up for FMFC to get exclusive feature drops and game updates, personalised content, plus member-only rewards and incentives.
Join the
squad