Eight Pick up and Play Challenges in FM20
Challenges
22.03.20
Read Time

: 3 Minutes
Whether you're a newcomer to the series or a seasoned veteran, every team in Football Manager presents its own distinct challenge. Some might expect success on a limited budget, some might give you a huge transfer kitty to work with and some will want you to stay true to the club's identity on your way to the top.
It can be difficult to work out which club has the right level of challenge for you, especially when it's your first time playing the game or if you can't dedicate too much time to your managerial career.
Paris Saint-Germain
You shouldn't be waiting too long to pick up your first piece of silverware with the French giants. Boasting a ridiculous level of talent in their squad and with plenty of cash in the bank to play with, the path is set for you to dominate in France for years to come. The big challenge is establishing PSG as a force to be reckoned with in Europe as, despite dominating domestically, they've not reached a continental final since being taken over by Qatar Sports Investments in 2011. With the squad that you'll inherit at PSG, you've got a great chance to finally bring that elusive European prize to the Parc des Princes.
Fulham
In FM20, Fulham are one of the favourites to gain promotion from the Sky Bet Championship, having been relegated from the top flight last season and have retained most of their squad from the previous campaign. The Cottagers have arguably the best striker in the league in Aleksandr Mitrovic and a strong supporting cast containing the likes of Tom Cairney, Ivan Cavaleiro and Anthony Knockaert that should create plenty of chances throughout the season. The Sky Bet Championship is one of the most competitive leagues in the world so earning promotion won't be easy, but you have the tools at your disposal to be right in the mix at the end of the season.
The Old Firm
Celtic and Rangers – two clubs in very different but equally exciting positions. Celtic are the defending champions having dominated Scottish football for the past decade while Rangers are back nipping at their heels after a decade their fans will want to forget. With both sides competing for multiple trophies and the bragging rights as the best team in Scotland, the challenge for both teams is to finish above the other. Both teams have squads that blend youth and experience, and both have highly valued foreign strikers who could score 20 a season, which means you shouldn't find it difficult to hit the back of the net.
SSC Napoli
SSC Napoli have a storied history stretching back to 1905 and was finally founded in 1926. However, it was in the mid-1980s and early 1990s that the club produced its greatest period of success with an unforgettable Argentinian playmaker leading them to two league titles. Since then, the team have been on a rollercoaster journey that saw them drop down to the Italian third tier at one point, but they are now back and challenging for trophies. With a squad that features some exciting young talents, can you build on their recent revival and bring the league title back to Naples?
Ajax
The Netherlands' most successful club have long been renowned for their production line of wonderkids and that conveyer belt of talent does not look like stopping any time soon. The likes of David Neres, André Onana, Donny van de Beek and Ryan Gravenberch look set to have very bright futures in the game and are already demonstrating what they're capable of in the Eredivisie. If you can keep them in Amsterdam on a long-term basis and build your team around them then there's every chance that you could be a major player in European football for seasons to come.
FC Bayern München
The dominant force in German football, FC Bayern München have won the Bundesliga for the past seven seasons which would you make think that an eighth successive title would be a piece of cake. Well, it's not quite that easy as this year's Bundesliga features the most competitive field for years with wonderkids galore amongst the top teams. Your main challengers will include the likes of Borussia Dortmund and RB Leipzig who have both built squads that feature some of the best players in the league. You'll need to challenge for trophies in Europe as well and bring a new wave of elite players into the squad over the next few seasons. Definitely not as easy as it seems.
GNK Dinamo Zagreb
For those who fancy a save game a little off the beaten track, then Dinamo could well be the team for you. Croatia's most successful club are hoping to make their mark in Europe with an exciting young squad built around homegrown talent. Getting further and further in European competition might take a few seasons but you should be able to pick up domestic success given that the club has won the league title for 13 of the past 14 seasons. That gives you a chance to build your team over the years and to bring in the sort of players who can take you to the next level.
Arsenal
There are a number of challenges awaiting you as Arsenal manager. Firstly, you need to finish above your London rivals to claim the bragging rights in the capital but with an expectant fanbase looking on, that won't be enough to satisfy them. Trophies will though, so you'll need to guide the club back to the summit of the English top flight and then try to bring European glory to Emirates Stadium for the first time. But, if that wasn't enough, the anticipation will be that you play entertaining, attacking football while doing so. It helps that you've got a squad that contains the likes of freescoring Pierre-Emerick Aubameyang, his strike partner Alexandre Lacazette and the club's record signing Nicolas Pépé. What's more, if you want the full Arsenal experience then grab the Arsenal Edition of FM20 and enjoy the club crest, kits and player faces. Playing beautiful football in a beautiful, fully licensed kit – what more could you ask for?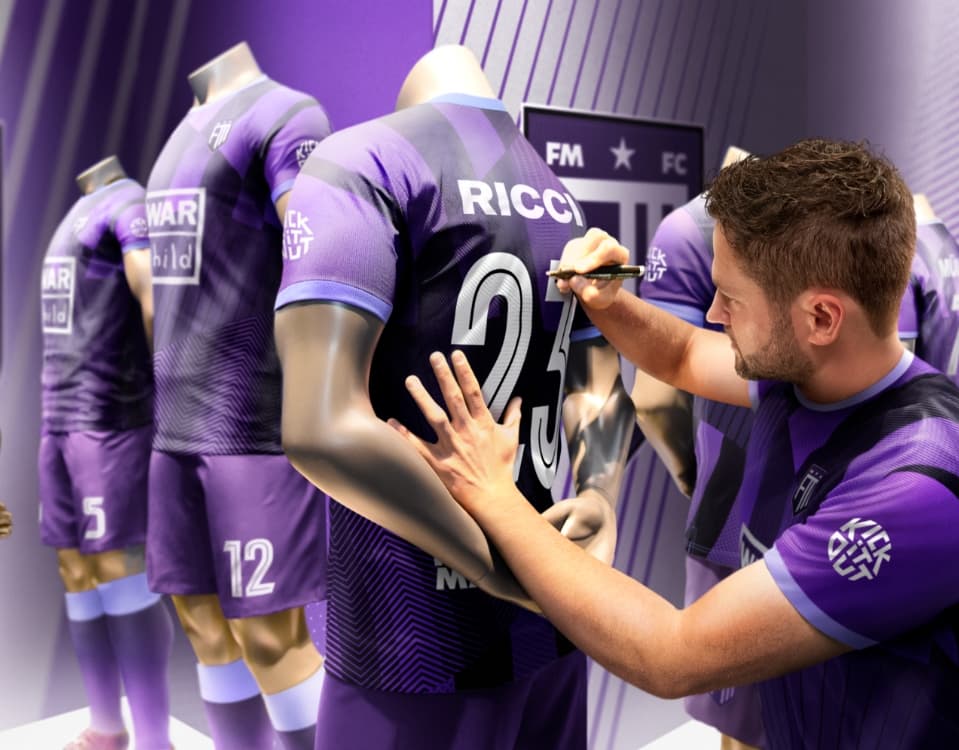 JOIN THE SQUAD
GET REWARDED
Sign up for FMFC to get exclusive feature drops and game updates, personalised content, plus member-only rewards and incentives.
Join the
squad