AS Roma Let's Play | Part Two
To celebrate Football Manager 2019 being up to 70% off until July 9th, we've decided to start a brand new save as Italian giants AS Roma and we're bringing you on the journey with us. Right, now that's out of the way, let's get down to business.
We've had a strong start. Okay, we've had a start. We have started.
A disappointing away defeat to Sassuolo was not how we wanted to get going this season. Next up we have another away trip, this time to Naples – the perfect opportunity to bounce back and erase the memories of our previous disappointment.
Napoli (A)
In the real-world Napoli have comfortably been the best of the rest, so if we're to compete we need to get an upper hand on them. Although this is just game three of the season, it's a big one.
We decide that we need to change tack for a game that could shape our season, so we drop the number 10 and bring De Rossi into defensive midfield. 'Capitan Futuro' is just the man we need for the big occasion.
There's no other way to put it, we get off to a shambolic start and go 1-0 down almost straight from the kick-off. We fight our way back into the match, though, young Zaniolo proving that he is closer to his potential than we may expect. He and El Shaarawy combine well to set up the big man, Dzeko, for the equaliser. Back in it. The second half is poor, cagey really, like both teams knew what it means to lose.
But Zaniolo is merely a kid, he doesn't feel pressure, he's got the swagger of a man with an untucked shirt and dangerously low socks on, showing a glimpse of the tiny shin pads beneath. He gets a lay off from Dzeko 30 yards out and caresses it first time into the corner. Cue limbs. Both in the office and in the stands. Roma have risen from their ruins etc, etc.
"We've done it."
Napoli kick off with what must be seconds to spare as the game plays out for a vital three points for the Romans, what a victory against the od… oh for f… Napoli equalise, in literally the very same minute. We'll be honest, we didn't think that was possible.
Full-Time: Napoli 2-2 Roma
---
Tactical Changes
This incredibly frustrating keyboard-smashing result is followed by a 3-1 loss at home to Parma who have made a very nostalgia-pleasing start to the campaign. Something needs to change.
Full-Time: Roma 1-3 Parma
---
We decide to alter our instructions both in possession and out of it, going more aggressive in the press and quicker from back to front. We keep the swap from attacking midfielder to defensive midfielder to give De Rossi/Nzonzi the job to shield our apparent vulnerable back four. Although we'll still be on the front foot in the majority of games, this should allow us to counter quickly too, that's the plan. It seems like a good plan, at least that's what we're telling ourselves.
We know what you're thinking and yes we have gone with the gegenpress but at least we've customised it. Give us that. At least give us that. These are desperate times.
The absolute best/most annoying thing about managing in Italy is the competitiveness, there truly are no easy games, illustrated by our start to the season with one win, one draw and two losses… with Inter next up. A chance for a fight-back under the new system.
Inter (H)
A confident second half performance sees us run out 2-0 winners with Pellegrini taking home the man of the man champagne after a ridiculous strike past Handanovic to wrap up the three points. Yes we got a bit lucky with Icardi's penalty miss, but we won't dwell on that too much…
Full-Time: Roma 2-0 Inter
---
Moving up the Table
This result seems to kick the boys into gear, isn't it nice when a tactical change works instantly? Our Roma side take this win and run with it. Momentum builds, with us winning seven of the next eight games (only interrupted by a draw at Torino). Slowly but surely, we're creeping up the table… the nightmare start is quickly being forgotten and we're closer to where we want to be for the first time this season.
This run sees a 6-0 decimation of SPAL, featuring a Lorenzo Pellegrini hattrick, a player who is slowly turning out to be our most important asset. During this spell we also travelled to the San Siro for a battle with Milan and kept a clean sheet there too with a strangely comfortable 2-0 victory.
Our goals are coming from all over the squad, which we suppose, is a good thing? But it would be nice to have the top scorer in the league… a goal a game *puffs out cheeks*.
The latest game in this spell is another huge occasion, as we travel to Fiorentina who are impressively high in the table, pushing The Old Lady to be at their very best.
Fiorentina (A)
It seems silly to call the 13th game of the season a 'must win' but it is, isn't it? We travel to Florence with our trusty new 4-1-2-3 system and in great form, we're AS Roma, we can beat anyone.
Fiorentina line up with exactly the same system, mirroring our exciting wingers with two of their own in Chiesa and Pjaca. With five yellow cards in the first half it's certainly a nervy, scrappy and fairly unenjoyable game to watch, especially with so much on the line. It's December – how can we be so nervous about a game already?
Despite being away from home we seem to dominate, at least with the majority of the ball, we just aren't able to break them down. A draw is enough for them, but it certainly won't sit right with us.
Highlights are ticking by and, despite us having a handful of shots on target, we're not giving Fiorentina's young Alban Lafont any problems.
That is, until, our savior comes along and does it again, and in style too, taking the game by the scruff of its neck with two stunners. Not only is Pellegrini a dangerous playmaker with a lovely haircut, but he's two footed as well. One with the left, one with the right both from a silly distance, he can do it all. When that first one went in we're not ashamed to say there were fist bumps, verging on knee slides in the office.

Full-Time: Fiorentina 0-2 Roma
---
That win is followed by Juventus dropping points to Sassuolo. It's a lifeline, we're back in the race. Our initial hopes of bringing the league back to Rome might not be a pipe dream after all…
If you missed part one of our Roma Let's Play (I mean, why you're reading part two without having read part one is anyone's guess but each to their own) then you can catch up right here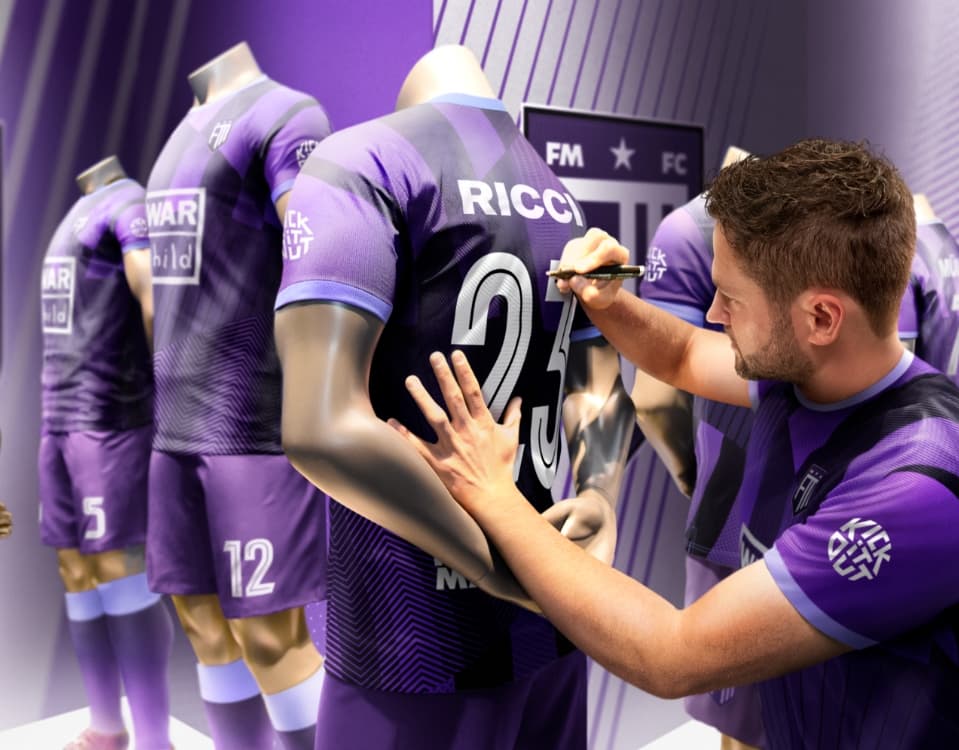 JOIN THE SQUAD
GET REWARDED
Sign up for FMFC to get exclusive feature drops and game updates, personalised content, plus member-only rewards and incentives.
Join the
squad