Eight ways to manage debt in FM23 without selling your best players
Extra Time: Guides
22.11.22
In the current climate, it seems like debt and football go hand in hand. Whether it's top-flight teams splashing the cash or a lower-league team desperate to stay afloat, many clubs are in a difficult place financially.
If you take over a team in debt in Football Manager 2023, don't panic or throw the save aside and pick another club. Tackling that debt creates another fun challenge, one faced by many real-life clubs.
Matthew Hallsworth provides eight top tips on how to manage a club in debt without having to sell all your best players.
If you find yourself in charge of a club with debt problems, the first thing to do is take stock of the situation. Assess the squad and ask yourself the following question: how far from the next level is the club? Is your team close to being able to challenge for promotion or even the European places? If so, then you might not have to do much, other than be a good manager and steer the ship sensibly.
The resulting prize money, more extravagant fixtures and the boost in reputation from competing in the biggest competitions should help hack away at any debt. It might even wipe the debt altogether. After all, with higher reputation comes better sponsorship deals and higher ticket sales.
It won't all be plain sailing though; you should still follow the steps below. This is especially true if your team is in a seriously tricky predicament.
#1 Assess your first-team squad
The first, and most obvious, tip is to look at your first-team squad. Unless you're playing in multiple competitions you don't need more than 22 players. Any extra spaces can be taken up by promising youth-team players who'll relish the first-team experience when called upon.
We also don't always inherit balanced squads. Maybe you have four left-backs. You may have five strikers but only play with one-striker formations. Use the greater visibility provided by the Squad Planner to highlight the deadwood or expendable players. You can sell these or loan them out if another team is willing to take on the wages.
My favourite task, and the most important element here is to look at player's squad status.
Ideally, I like to have my squad made up as follows: Four Important players, Seven Regular starters, 11 Backups/Squad players.
Any more than the above in each area means you have a bloated squad and are overpaying in wages. There's also the likelihood you'll face squad disharmony sooner rather than later. Can you keep six important players happy? Can you rotate four wingers who all expect to be regular starters? Probably not.
Learn your squad inside out and adjust some squad statuses to more realistic levels.
#2 Implement a wage structure
I'd never considered implementing a wage structure in FM until I read a blog a few years ago and I've done it ever since - even if my club isn't in debt.
This is mostly because it helps keep wages from spiralling out of control and also allows you to get a hand on squad management.
Here's how to do it.
When starting a save, I immediately consult the Finances tab. I split whatever weekly wage budget I've got into the following segments: 30%-30%-30%-10%. These figures apply to my three main squad status categories outlined above and my youth team respectively.
I then divide these totals by the number of players in each category to see the maximum weekly wage I can offer a player based upon their squad status. If anyone earns more than their squad status dictates, you can't afford them. Unless it's your 20-goals-a-season striker or you can make savings elsewhere, it's time to sell.
I haven't covered youth players as it depends on the structure of your club. But don't exceed the 10% of total wages unless you're well under budget in your playing squad.
If you're in a lot of debt you can pick a total wage budget lower than that assigned by the board. For example, if I had a total of £300,000, I might go with £280,000 instead. That £20,000-a-week saved over a year would be not far off a million in total.
If you work with a Director of Football, you can set these maximum wages when he's trying to sign your transfer targets. This means any new signings will be in line with your wage structure going forward.
#3 Keep an eye on the future
Once you've got a wage structure in place, take a look at the future wages of your players in the following screen: Finances > Wages > Salary Commitments.
Here you can see each player's current wage and what it will be for the following few seasons. If you have a player whose current wage fits their squad status but increases rapidly (and beyond the means of the team) over the next couple of seasons, you need to either restructure their contract or look to sell them in an upcoming transfer window.
If you're a team close to reaching the next level, you have more flexibility here. Getting promoted or sealing continental football usually means a rise in wage budget.
Some tough decisions will have to be made but I assure you that's part of the fun.
#4 Avoid short-term thinking: Clauses and instalments
It's very easy to let your heart rule your head in FM23. Signing new players and negotiating contracts for existing players is when this can occur the most. It's time to let your head take over, for a moment at least. You might think you're saving money by paying in instalments, however it's very easy to lose track. When you've signed three, four or five players, those future instalments can really add up. All your hard work will be undone, and the club will be losing money again.
The same situation applies when negotiating contracts. Those agent fees, appearance fees and goal bonuses soon add up very quickly. Especially when multiplied across 22 players in your squad. Once again, some tough decisions need to be made. Just like real life, if a player wants too much you have to be prepared to move on.
#5 Don't cancel staff contracts
Sometimes in FM, you don't inherit particularly strong or well-stocked backroom teams. It's easy to think about cutting your losses, cancelling their contracts and starting afresh.
The costs here add up quickly though. Although you might not feel your Fitness Coach is up to the mark, it might cost you £200,000 to terminate their deal. The sensible thing to do is keep them around until their contracts expire and then recruit from the free agent market – there's almost always an upgrade available.
#6 A lucrative pre-season
Pre-season friendlies are a potential goldmine and a vital tool in any debt-combatting arsenal.
In FM22 I implemented something that I called the Friday-Monday method. Before kicking off the first season, my team played a whopping 11 pre-season friendlies in the following format:
Fridays – first team players versus a stronger team.
Mondays – backups against a weaker team to keep morale up.
It seems like a lot of friendlies but this approach has two advantages. The first is that the entire first team squad were completely match fit when the season started. The second bonus is that the 'glamour' ties I'd arranged netted the club £520,000. For a team not in the top-flight, and not in a good financial situation, that's a lot of money.
#7 Recruiting based on reputation and market size
When recruiting players, even free agents and loan signings, it's worth hunting out high(er) reputation players. Players with a higher reputation will, somewhat inevitably, draw more attention to your club. This can earn you extra money in shirt and ticket sales.
So, when you're looking to sign a new player take some time to consider your options. Are you better off signing a 23-year-old who you can develop and sell for a profit or a 32-year-old higher reputation free agent who can provide valuable experience and potentially help generate extra income.
Another option is to look players from nations with big football-watching audiences, like South Korea for example. You can receive a huge financial boost from the extra income this way. Such a benefit is often flagged in Scouting reports.
#8 Formation choice
It's no secret that some positions cost more than others. Strikers and wingers are the glamour roles and cost much more to recruit than midfielders and defenders.
So, depending on your level of debt, you might be better developing a system which only uses one striker, rather than two. Or sacrificing wingers for a narrow formation. You can still put together a winning tactic, only it'll cost much less to do.
That's one of the main reasons I prefer a 5-3-2 formation over the typically more popular 4-3-3 and 4-2-3-1.
So, if you find yourself managing a team in debt, don't run away. Use these tips and embrace the challenge – if my experiences are anything to go by, it'll give you a save to remember.
Happy managing,
Matthew Hallsworth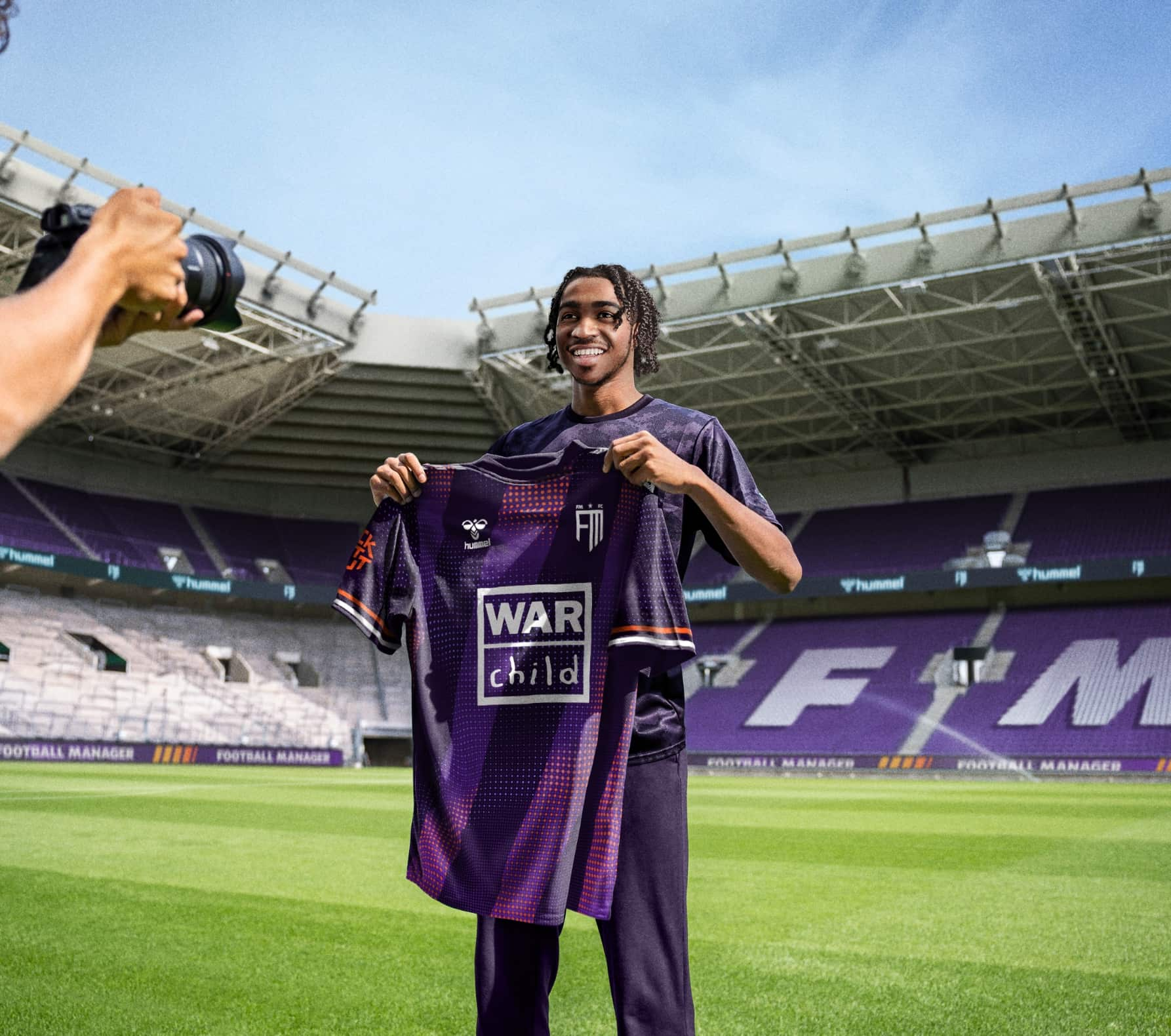 JOIN THE SQUAD
GET REWARDED
Sign up for FMFC to get exclusive feature drops and game updates, personalised content, plus member-only rewards and incentives.