AS Roma Let's Play | Part Three
We've had some ups and downs already in this series, from the euphoria of winning our first match to dropping points in the following back-to-back games.
Part two saw us arrest that form with crucial wins over Inter, Milan and most importantly Fiorentina who we're battling with for the second spot. Lorenzo Pellegrini is quickly establishing himself as the first name on the team sheet and a game against leaders Juventus is on the horizon. This episode is going to be massive.
To really ramp up the narrative, our win in Florence last time out was coupled with the Old Lady dropping points, giving us a chance to close the ever-expanding gap. If you want to create your own FM19 story then you can pick it up now for up to 70% off the usual asking price.
Anyway on with the show and what an opening game we have...

Juventus (H)
We go into our next tie with the league leaders with an injury-hit squad. Kolarov, Dzeko and De Rossi are forced to miss out with a variety of knocks and strains.
We attack from the off with the high tempo that our recent tactical change ensures, it was nice to see that our nervous energy isn't transferring from the dugout to the players – they are majestic. Szczesny's goal is getting – in want of a better word – peppered. Had Edin Dzeko been fit he would have certainly started so this is a big opportunity for Patrik Schick.
The young forward latches onto a Diego Perotti ball and slides it into the Juventus goal in the 31st minute, a just reward for our fast start.
We immediately drop the line of engagement and slot into a balanced mentality to ensure we don't get overwhelmed or caught out. In truth, it's all quite comfortable, oddly. Either we're simply too good, or Juventus just aren't at the races – probably a mixture of both. We only ever look in danger of conceding when Ronaldo picks the ball up from deep.
Perotti puts the chocolate dusting on top of the tiramisu by adding a 91st minute goal to his impressive assist with a low-driven strike from distance to secure our most celebrated victory to date. We knew we brought this confetti popper to the office for a reason.
If the whole idea of this journey is to dethrone Juventus and become the Kings in the North Italy, we just overcame one of the very biggest hurdles. The overwhelming sense is of relief more than anything else.
Full-Time: Roma 2-0 Juventus
---
That historic victory sees us go just one point behind the leaders.
Bologna (A)
There's little time to sit back and celebrate, though. This league campaign is fast, furious and stops for no fictional manager, especially in this busy winter period. The next tie sees us travel to Bologna, a team that had made a solid start to the campaign, a team that very much represents a potential banana skin (or dodgy Bolognese).
We overcome it, albeit nervously, through a Cengiz Under goal. Proving once more that we have goals from all over the pitch, the attribute of a title-winning team, some might say…
Full-Time: Bologna 0-1 Roma
---
Next up - another huge occasion. Our first taste of derby day. We're tempted to light some sort of pyro at our desks, but decide against it after consulting our building's health and safety regulations. We're the most in-form team in the league, but that means very little when it comes to rivalries.
Lazio (H)
Edin Dzeko comes back into the side after having trained well, an experienced player more than used to the big occasions.
Despite the confidence we had going into the game the first highlight was like a slap in the face as Lazio defender Wallace nods home in the first 10 minutes. Our misery is compounded as Ciro Immobile ghosts past our backline to add a second just before half-time – this wasn't supposed to happen.
Not only are we losing in a derby, in front of almost 65,000, but we aren't really sure how to fix it either. We've had more possession but created very little and the 'visitors' look like scoring every time they get forward. There's only one thing for it, a stern half time team talk – what's Italian for 'hairdryer'?
The boys react well, but there isn't an instant breakthrough, we just can't get through Lazio's flexible 3-3-2-1-1 system, if that's a thing, more like a 5-4-1 we guess.
We get a lifeline through a Stephan El Shaarawy goal on the hour which gives us hope. Some attacking substitutions mean we have much more energy than our opponents in the latter stages with Kluivert, Pastore and Zaniolo causing havoc.
Despite the creative quality of the subs in question it's defender Juan Jesus who gets us back on level terms, poking home a scramble that manifested from a Ünder corner and Dzeko lay-off. We quickly went from despair to belief and we're sure it had everything to do with our half-time motivational speech...
The Jesus goal *insert pun about him being our savior* means that we have 15 minutes to get a winner. 15 minutes of:
"Oh come on, please, come on boys, you can do this."
The game ticks on by with little action, many shots but none really troubling anyone in a Lazio jersey. We start to tell ourselves that we'd have been happy with a draw all along...
In the 92nd minute Karsdorp finds Ünder on the Ünderlap who cuts inside and squares the ball to Dzeko, the deadly marksman, the man for the big occasion, from 6 yards out, who… hits the post *record scratch* so close but yet so far.
The game that breaks the 10-game winning run – genuinely gutting.
Full-Time: Roma 2-2 Lazio
---
Cagliari (A)
The next game brings the Boxing Day fixture and a trip to Cagliari where we pick up a very routine 3-1 win with all of our goals coming in the opening half an hour, including a brace from Edin Dzeko. It's good to see he put the miss behind him.
Full-Time: Cagliari 1-3 Roma
---
We finish the festive season with a win, but we can't rest on our laurels, we have a January transfer window to think about. Hopefully we'll have room in our upcoming budget for one or two reinforcements while batting away interest in our most prized assets. "Keep your hands off of Lorenzo Pellegrini."
If you've missed any of the action from our Let's Play so far then you can catch up on all the episodes here. Join us next time when we'll be trying to wheel and deal our way around the transfer market.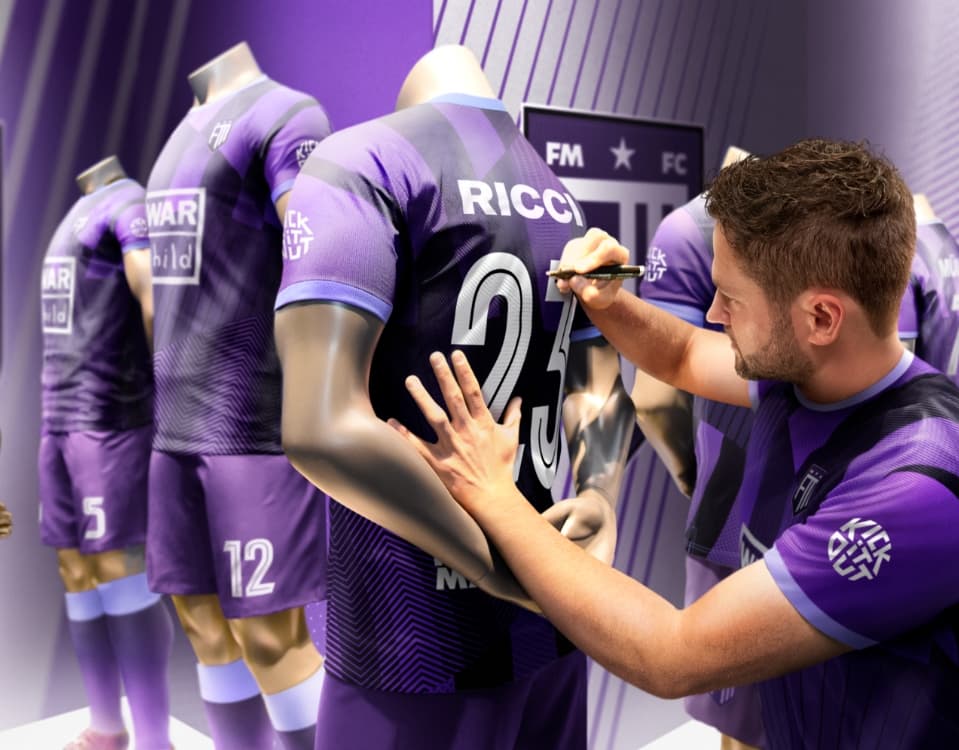 JOIN THE SQUAD
GET REWARDED
Sign up for FMFC to get exclusive feature drops and game updates, personalised content, plus member-only rewards and incentives.
Join the
squad